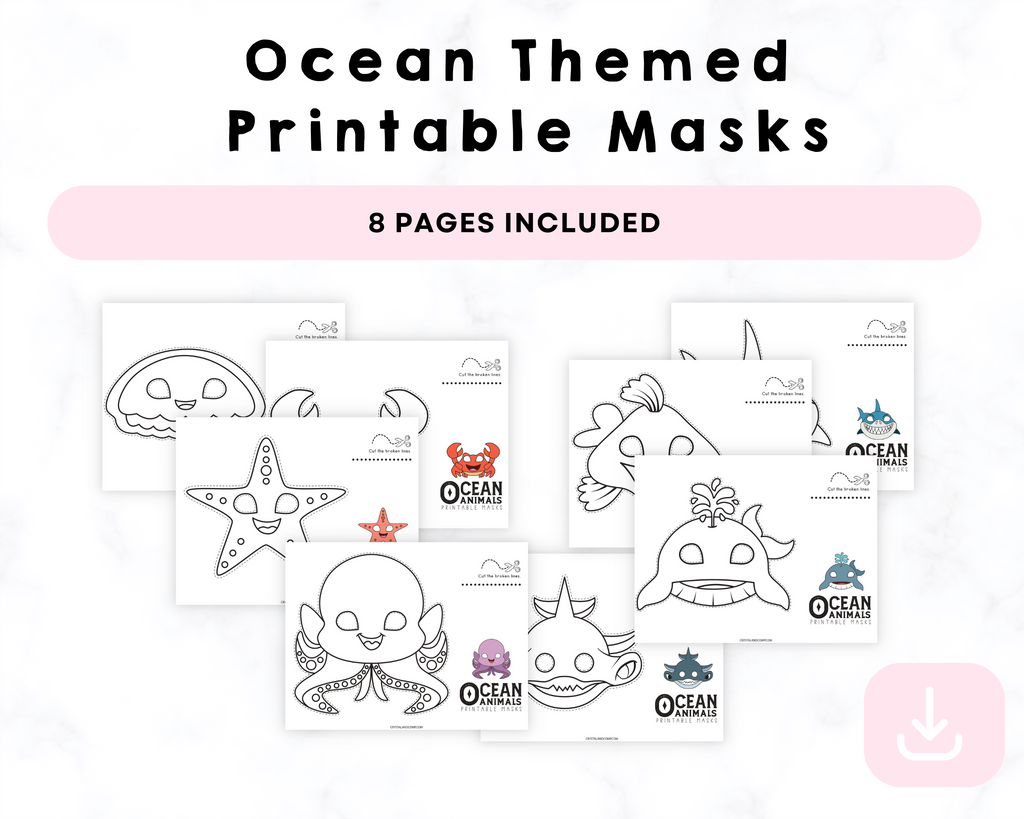 Ocean Themed Printable Masks
Ocean Themed Printable Masks
description
Introducing our Ocean Adventure Printable Masks for Preschoolers – a creative and educational way to engage young minds in the wonders of the deep blue sea. Dive into the world of imagination with these 8 captivating pages of ocean-themed printable masks, designed to make learning fun and interactive for your little ones.

🌊 **What's Inside:**

**Clever Crab**: A mask that turns your child into the smartest crab under the sea! Perfect for imaginative play or costume fun.

 **Majestic Mermaid**: Let your child's inner mermaid shine with a beautifully detailed mask. They can add their personal touch with vibrant colors.

**Lovable Dolphin**: A mask that will make your child feel like they're jumping through the ocean waves with their dolphin friends. They can add their own flair to these playful sea creatures.

**Gentle Sea Turtle**: Discover the world from the perspective of a sea turtle, slow and steady. Your child can have a blast customizing their turtle mask with different hues.

**Curious Octopus**: With a mask like this, your little one will feel like the king of underwater exploration. They can color in their octopus friend in a rainbow of colors.

**Inquisitive Shark**: Unleash the power of the ocean's top predator, the shark! Kids will have a blast personalizing their own shark mask with their favorite colors.

🖍️ **Coloring Fun:**
Encourage your child's artistic expression as they bring these masks to life. These printables are not just masks but also coloring pages, giving your preschooler the freedom to choose their favorite colors and add their own unique touch to each mask. This activity helps enhance their fine motor skills and creativity while having a blast.

🧒 **Perfect for Preschoolers:**
Our Ocean Adventure Printable Masks are tailored for preschoolers, with easy-to-cut designs and a comfortable fit. They're perfect for dress-up play, craft time, themed parties, or even educational activities centered around marine life.


Dive into the world of the deep blue sea with our Ocean Adventure Printable Masks for Preschoolers. Grab your set today and watch your child's creativity and love for marine life flourish!
Please note: This is a digital product. No physical items will be shipped. After purchase, you will receive a link to download your printable pack.
Contact us
Crystal & Co.
P O Box 55263
Hurst, Texas 76054
crystalandcomp@yahoo.com
Sign up to our mailing list