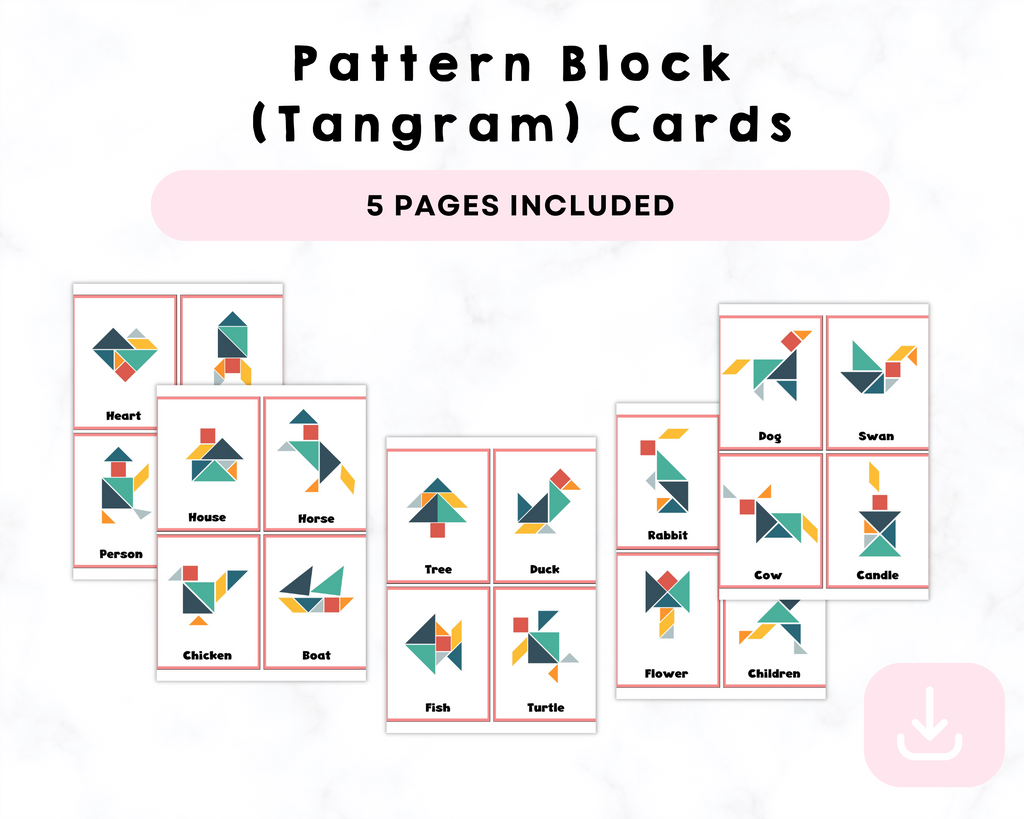 Pattern Block (Tangram) Cards Printables
Pattern Block (Tangram) Cards Printables
description
🔷🔺 Unlock Creativity with Our 5-Page Pattern Block (Tangram) Cards Printables! Explore Shapes and Patterns in a Tangram Adventure! 🌟🎨
Step into the world of shapes and patterns with our captivating 5-page Pattern Block (Tangram) Cards Printables! These versatile cards offer a delightful way to engage young minds in the exploration of geometric shapes and creative design.
🔶🔹 Educational Adventures:
Geometry Exploration: Engage in a hands-on learning experience that introduces various geometric shapes and their configurations.

Pattern Creation: Foster spatial awareness and creativity by rearranging the tangram pieces to form diverse patterns and shapes.
🎨 How to Use:
Print, arrange, create, and design! These printables offer a versatile platform for children to explore shapes, spatial relationships, and unleash their creative potential. Perfect for parents, educators, and caregivers seeking to inspire imaginative play and geometric understanding.
🌟 Why Choose Our Tangram Cards?
Diverse Shapes: 5 pages offering a collection of tangram cards with varied shapes and configurations for endless creative possibilities.

Interactive Design: Engaging activities that promote critical thinking, spatial reasoning, and artistic expression through pattern formation.

Versatile Learning: Encourage exploration and experimentation with shapes and patterns, fostering a deeper understanding of geometry.
👶 Perfect for Little Explorers!
Inspire a love for shapes and design with our Pattern Block (Tangram) Cards Printables. Whether for home-based activities, classroom enrichment, or as an engaging learning tool, these printables offer an enjoyable journey through geometric exploration.


🛒 Add to Cart Now and Let the Tangram Adventure Begin! 🔷🔸🎲 


Please note: This is a digital product. No physical items will be shipped. After purchase, you will receive a link to download your printable pack.


Contact us
Crystal & Co.
P O Box 55263
Hurst, Texas 76054
crystalandcomp@yahoo.com
Sign up to our mailing list