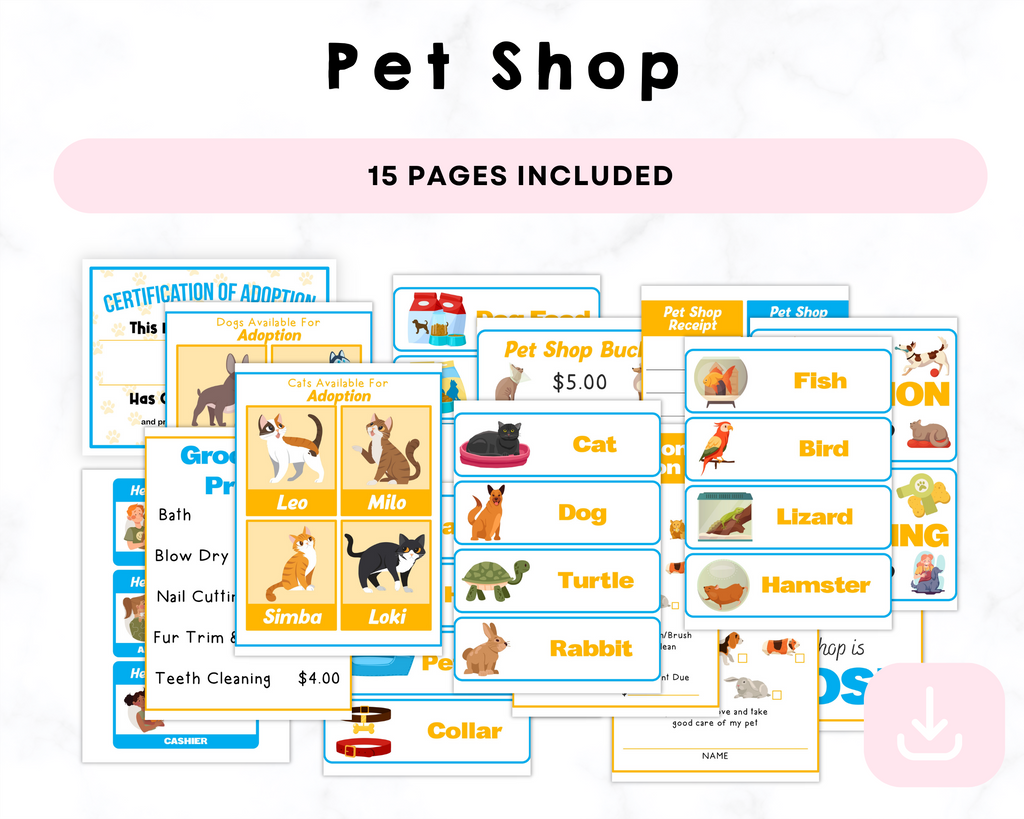 Pet Shop Adoption Play Pretend Printable
Pet Shop Adoption Play Pretend Printable
description
Let your little ones embark on a delightful adventure with our 15-page Pet Shop Pretend Play set, designed to spark their creativity and imagination. This printable pack is not just a fun activity; it's an educational tool that helps develop vital cognitive and social skills.

🐶🐱 Features:
- Engaging and colorful design to capture your child's attention.
- Interactive pages to encourage role-playing and decision-making.
- Foster empathy and responsibility by caring for their new pets.
- Educational value: learn counting, sorting, and even basic money concepts.

📜 **Certificate of Adoption:**
Watch your child's face light up as they receive their very own adoption certificate, complete with their name, the pet's name, and the date of adoption. It's a beautiful way to celebrate the bond between your child and their new furry friend.

🐕🐈 **Cats and Dogs Available for Adoption:**
Explore the different cats and dogs waiting for their forever homes. Your child can practice caring for them, feeding them, and even organizing a playdate in the included play areas. Each pet has a unique personality and story, making the adoption process even more exciting.

🧾 **Pet Shop Receipt:**
Teach your child about money and responsibility with the included pet shop receipt. It helps them understand the concept of buying and taking care of a pet. This hands-on learning experience will stay with them for a lifetime.

This 15-page Pet Shop Pretend Play Printable is the perfect addition to your child's playtime. It encourages creativity, empathy, and critical thinking while offering endless hours of fun. Plus, it's a fantastic educational resource for preschoolers.

Download our Pet Shop Pretend Play Printable today and watch your child's imagination take flight. Let the adventure begin! 🐾✨
Please note: This is a digital product. No physical items will be shipped. After purchase, you will receive a link to download your printable pack.
Contact us
Crystal & Co.
P O Box 55263
Hurst, Texas 76054
crystalandcomp@yahoo.com
Sign up to our mailing list