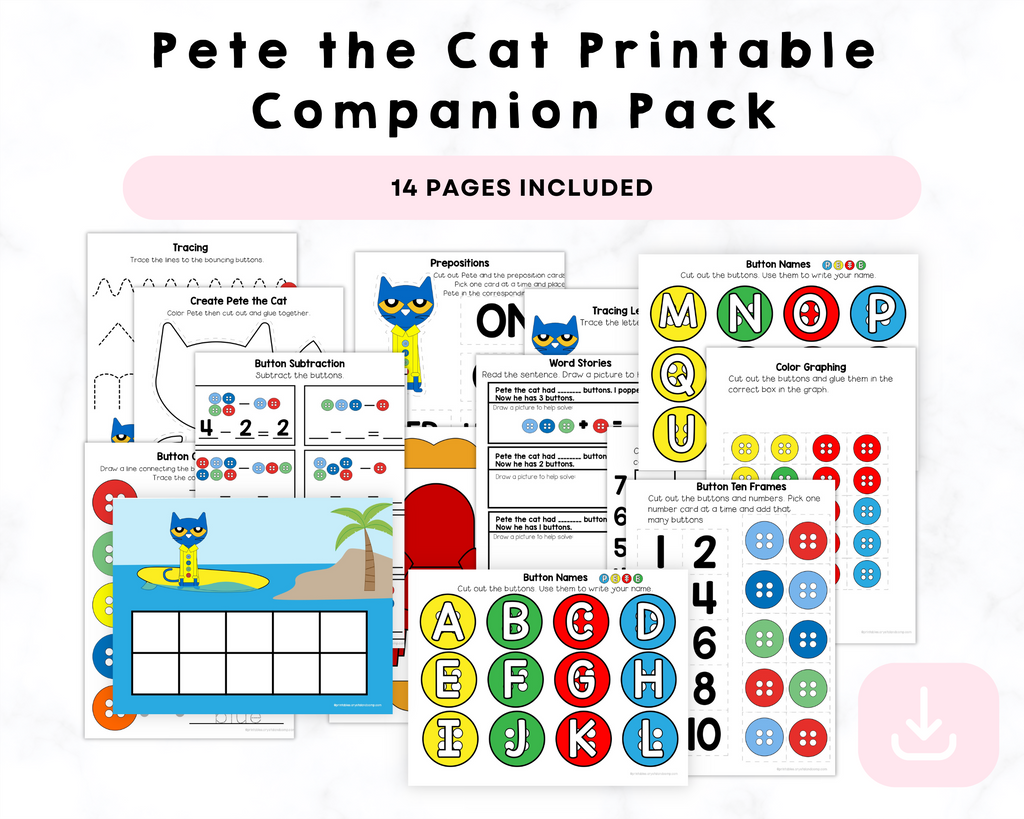 Pete the Cat Printable Companion Pack
Pete the Cat Printable Companion Pack
description
🐾📘 Step into Fun with Our 14-Page Pete the Cat Printable Companion Pack! Dive into Cut, Color, Paste, Tracing, Prepositions, and Button Subtractions for an Adventure with Pete! 🎨✂️
Join Pete the Cat in an exciting learning journey with our comprehensive 14-Page Printable Companion Pack! Packed with a variety of engaging activities like cut, color, paste, tracing, prepositions, and button subtractions, this pack is designed to captivate and educate young minds.
🔍 What's Inside?
Explore 14 pages filled with interactive and Pete-themed activities. From creative cut, color, and paste exercises to tracing, prepositions exploration, and fun button subtraction challenges, each page brings Pete's adventures to life while reinforcing crucial learning concepts.
🎨📏 Educational Adventures:
Cut, Color, Paste: Stimulate creativity and fine motor skills with Pete-themed crafting activities.
Tracing: Enhance writing skills through tracing exercises centered around Pete's world.
Prepositions Exploration: Dive into Pete's adventures while learning about prepositions.
Button Subtractions: Engage in a fun math activity with Pete-themed button subtraction challenges.
📝 How to Use:
Print, trace, color, solve, and explore with Pete! These printables are designed to entertain and educate, making them perfect for kids eager to learn through play, at home or in a classroom setting.

Please note: This is a digital product. No physical items will be shipped. After purchase, you will receive a link to download your printable pack.

Contact us
Crystal & Co.
P O Box 55263
Hurst, Texas 76054
crystalandcomp@yahoo.com
Sign up to our mailing list