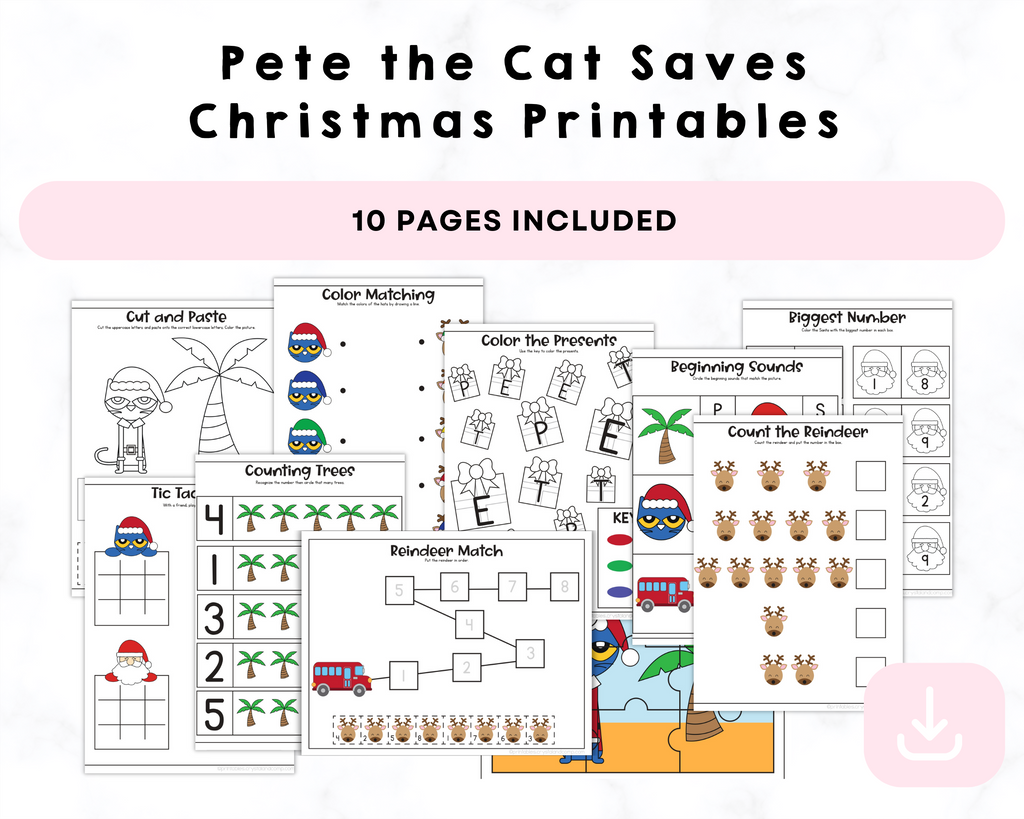 Pete The Cat Saves The Christmas Printables
Pete The Cat Saves The Christmas Printables
description
Introducing "Pete The Cat Saves The Christmas Printables" - a delightful 10-page activity bundle designed to bring festive cheer and learning to your little ones during the holiday season!

Get ready for a purr-fectly festive adventure with Pete The Cat as he saves Christmas! This printable pack is bursting with engaging activities that blend fun and learning seamlessly. From cut and paste tasks to color matching challenges, counting games, reindeer matching, and more, your child will embark on an exciting learning journey while embracing the holiday spirit.

**Activity Highlights:**

1. **Cut and Paste Fun:** Foster creativity and fine motor skills as your child cuts and pastes to create colorful Christmas scenes with Pete The Cat.

2. **Color Matching Bonanza:** Help your little one develop color recognition skills by matching various festive hues with the cheerful illustrations of Pete The Cat and his Christmas adventures.

3. **Count the Reindeer:** Counting has never been more exciting! Your child will love counting the reindeer and improving their numeracy skills while immersing themselves in the holiday excitement.

4. **Reindeer Match Challenge:** Let's play a matching game! Match the reindeer to their respective Santa hats and enhance memory and cognitive skills in a fun, interactive way.

... and more!

 This printable pack is perfect for parents, teachers, or anyone looking to infuse a touch of holiday magic into the learning experience. Get your digital download today and watch your child's imagination and skills flourish in a jolly, festive way!

Please note: This is a digital product. No physical items will be shipped. After purchase, you will receive a link to download your printable pack.

Contact us
Crystal & Co.
P O Box 55263
Hurst, Texas 76054
crystalandcomp@yahoo.com
Sign up to our mailing list