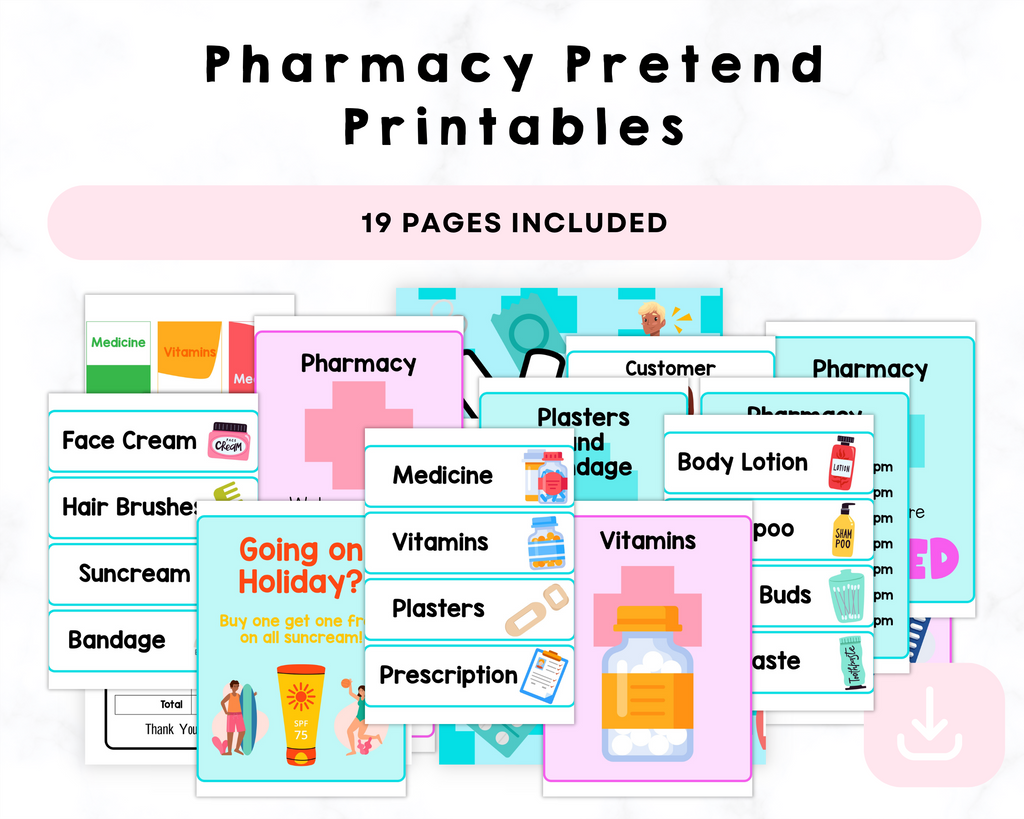 Pharmacy Pretend Printables
Pharmacy Pretend Printables
description
🌟 Unlock a world of imagination and learning with our Pharmacy Pretend Printables, designed especially for preschoolers. This delightful set of 19 pages is perfect for young minds eager to explore the world of healthcare, develop essential skills, and engage in creative play.

🧪 What's Inside:
1. **Prescription Pad**: Encourage your little ones to practice writing skills and foster empathy as they play the role of a caring pharmacist or doctor.
2. **Medicine Labels**: Teach them about different types of medications and their purposes in a fun and interactive way.
3. **Pharmacy Sign**: Create a mini pharmacy with our eye-catching sign, adding a touch of authenticity to their pretend play.
4. **Pharmacy Counters**: Develop basic math skills as they count and organize medicines and supplies.
5. **Pharmacy Register**: Introduce money management and counting skills in a playful manner.

👨‍⚕️ **Learning Through Play**: Our Pharmacy Pretend Printables are more than just fun – they're educational too! Your child will:

- Enhance fine motor skills through cutting, coloring, and assembling.
- Build communication and social skills by taking on different roles during imaginative play.
- Develop an understanding of the healthcare world, fostering empathy and curiosity.
- Boost early math and literacy skills in a creative and engaging manner.

🖨️ **Easy to Use**: Simply download and print these printables at home, and your little one will be ready to embark on a pretend pharmacy adventure in no time.

👶 **Designed for Preschoolers**: These printables are thoughtfully crafted with preschoolers in mind, featuring large, easy-to-read fonts and colorful illustrations to capture their attention.

📚 **Educational and Entertaining**: Whether used in a homeschooling setting or as a fun activity at home, our Pharmacy Pretend Printables are an excellent way to merge education with entertainment.

🎁 **Great for Gifts**: Looking for a unique gift for a preschooler? These printables make a thoughtful and educational present for birthdays, holidays, or just because!

🛒 **Shop with Confidence**: We are dedicated to providing high-quality, engaging, and educational products for children. Your purchase is backed by our satisfaction guarantee.

Don't miss out on the opportunity to ignite your child's imagination and learning journey with our Pharmacy Pretend Printables for Preschoolers. Order now and let the pharmacy adventure begin!
Please note: This is a digital product. No physical items will be shipped. After purchase, you will receive a link to download your printable pack.