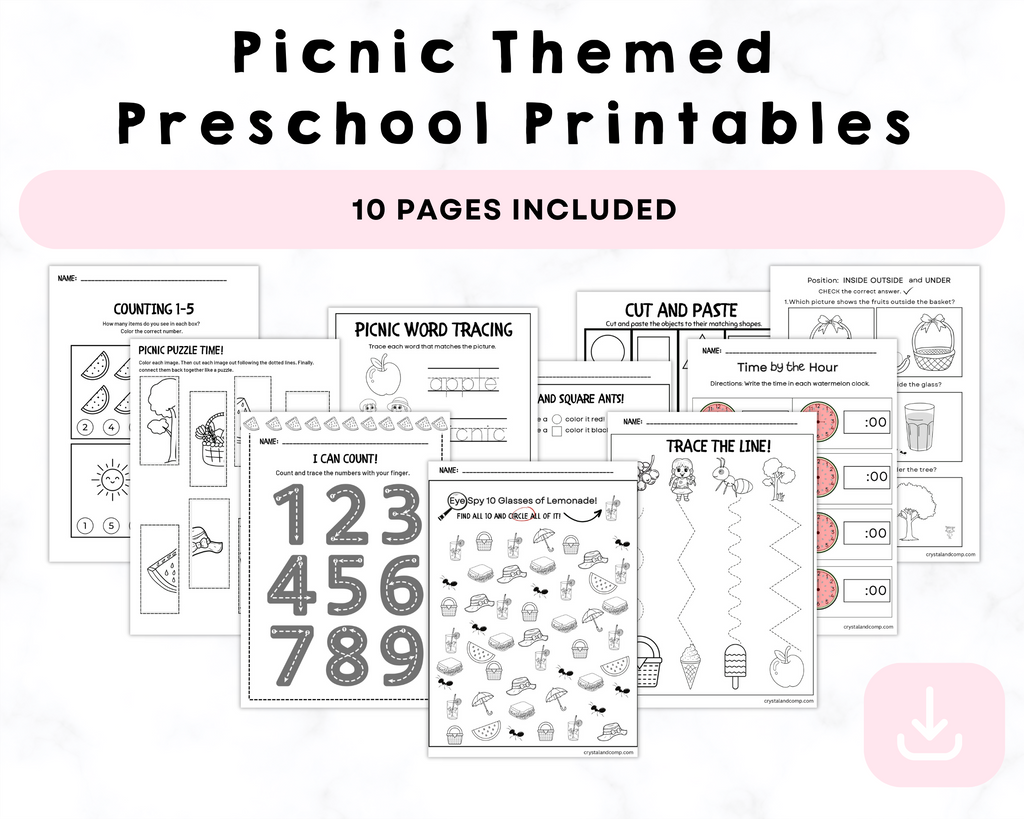 Picnic Themed Preschool Printables
Picnic Themed Preschool Printables
description
Introducing our Picnic Themed Preschool Printables - 10 pages of educational and entertaining activities designed to make learning a delightful adventure for your little ones! Packed with engaging coloring, word tracing, and counting exercises, these printables are perfect for preschoolers who love picnics and want to develop their early learning skills in a fun way.

**Product Description:**

**Page 1 - Picnic Fun Coloring:**
Let your child's imagination run wild as they bring this vibrant picnic scene to life with their favorite colors. From the checkered picnic blanket to the delicious sandwiches, they'll create a masterpiece that reflects their creativity.

**Page 2 - Word Tracing:**
Get ready to boost your preschooler's literacy skills! This page features a selection of picnic-themed words, perfect for early readers. Your child will have a blast tracing these words and building their vocabulary while enjoying the picnic setting.

**Counting Ants:**
Counting has never been this much fun! Your little one will love counting the cheerful ants as they march around the picnic scene. This activity helps develop their basic counting skills while enjoying the excitement of a picnic adventure.


**Picnic Maze:**
Navigate through a thrilling picnic maze as your child helps the characters find their way to their picnic spot. This maze will challenge their problem-solving skills while providing hours of entertainment.

**Picnic Puzzles:**
Bring the pieces of the puzzle together to complete the picnic picture. Your child will improve their spatial awareness, critical thinking, and problem-solving abilities while having a great time.


Make learning a picnic-worthy adventure for your preschooler with our 10-page Picnic Themed Preschool Printables. Whether it's coloring, word tracing, or counting, these activities are designed to entertain and educate. Buy them today and watch your child's learning journey become a joyful picnic!
Please note: This is a digital product. No physical items will be shipped. After purchase, you will receive a link to download your printable pack.
Contact us
Crystal & Co.
P O Box 55263
Hurst, Texas 76054
crystalandcomp@yahoo.com
Sign up to our mailing list