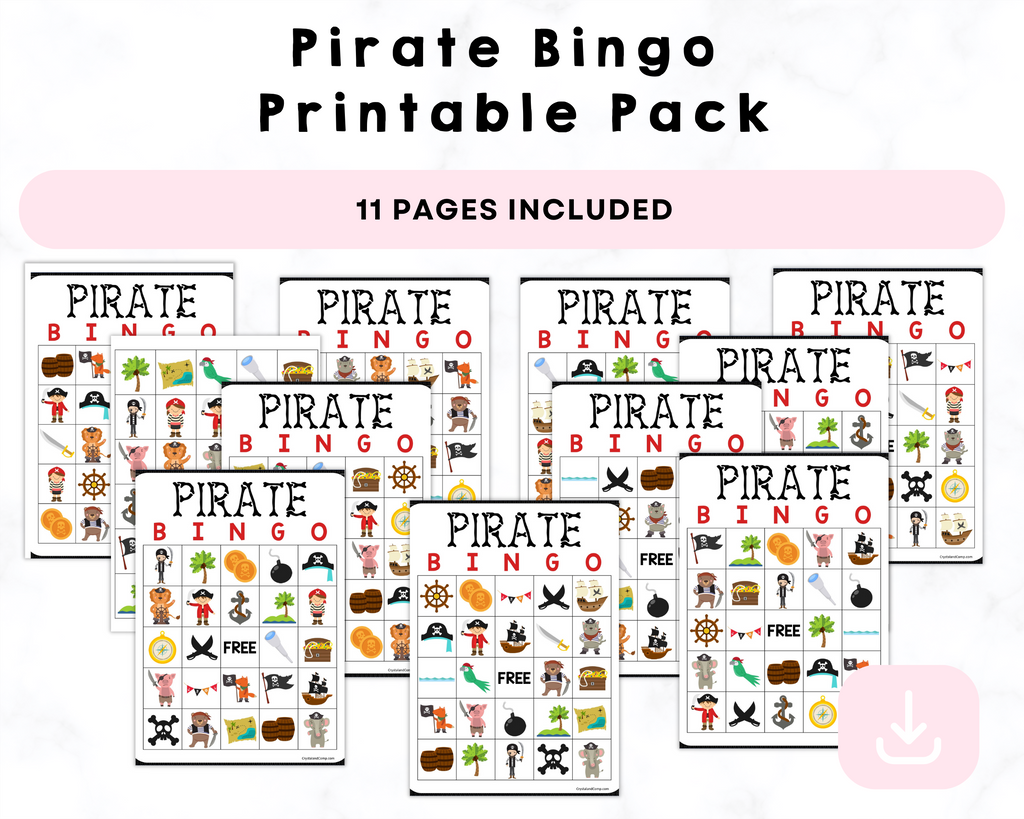 Pirate Bingo Printable Pack
Pirate Bingo Printable Pack
description
Introducing our Pirate Bingo Printable Pack – a treasure trove of adventure and excitement for young buccaneers! Ahoy there, little matey! Set sail on a sea of fun and learning with our 11-page Pirate Bingo Printable Pack, complete with charming animal pirate characters that'll make your young swashbucklers feel like true captains of the high seas.

**Features:**

1. **Eleven Thrilling Pages**: Avast, there's plenty of bingo action to keep your young pirates entertained on their voyage! Eleven specially designed bingo pages, each bursting with vibrant illustrations and challenging gameplay.

2. **Animal Pirate Crew**: Meet our adorable animal pirate crew – from the cunning fox to the courageous lion, these charming characters will guide your child on a journey to uncover hidden treasures and conquer the bingo seas.

3. **Educational Adventure**: Ahoy, learning on the horizon! The Pirate Bingo Printable Pack not only provides hours of entertainment but also helps develop essential skills like pattern recognition, concentration, and teamwork, making it a great educational tool for young learners.

4. **Print and Play**: Easy to print and play, you can enjoy these bingo sheets in the comfort of your own home. Simply print the pages and let the pirate bingo adventure begin!

5. **Perfect for Parties**: Planning a pirate-themed party? Our Pirate Bingo Printable Pack is the ideal addition to your festivities. Keep little buccaneers entertained with a game that'll have them shouting "Arrr!" in delight.

**Set Sail for Fun and Learning!**

Ahoy, young adventurers! Unleash the thrill of the high seas and embark on a bingo voyage like no other. With our Pirate Bingo Printable Pack, your little ones will be enchanted by the whimsical world of animal pirate characters, making learning an exciting and interactive adventure. Arrr! Let the games begin, and may the best pirate win!

Please note: This is a digital product. No physical items will be shipped. After purchase, you will receive a link to download your printable pack.

Contact us
Crystal & Co.
P O Box 55263
Hurst, Texas 76054
crystalandcomp@yahoo.com
Sign up to our mailing list