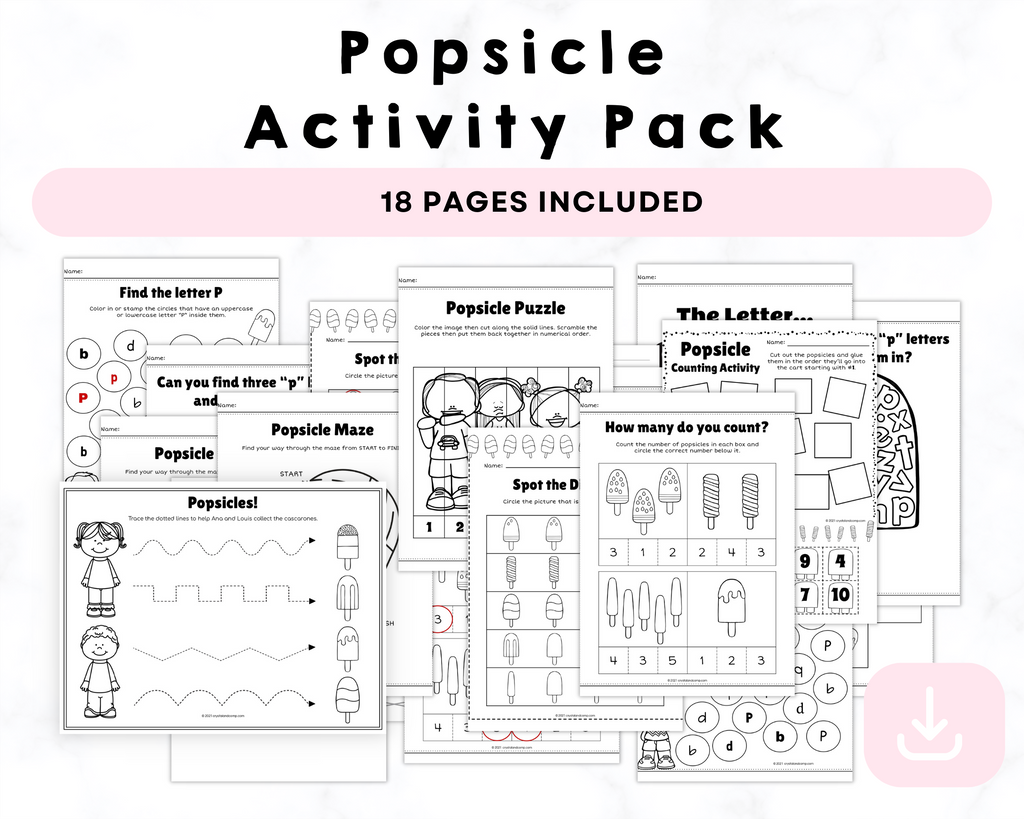 Popsicle Activity Pack Printables
Popsicle Activity Pack Printables
description
🎨🍦 Spark Imagination with Our 18-Page Popsicle Activity Pack Printables for Preschoolers! 🌟🖌️
Discover a world of creativity and learning with our dynamic 18-page Popsicle Activity Pack! Tailored for preschoolers, this pack offers an array of engaging activities designed to inspire young minds while fostering essential skills.
🧩 Educational Adventures:
Popsicle Puzzles & Mazes: Engage in entertaining puzzles and mazes centered around popsicle themes, encouraging critical thinking and spatial reasoning.

Letter 'P' Exploration: Discover and trace the letter 'P,' enhancing letter recognition and fine motor skills while fostering early literacy.

Tracing Lines & Counting Fun: Practice tracing lines and engage in popsicle-themed counting exercises, promoting hand-eye coordination and numerical skills.
🌟 Why Choose Our Activity Pack?
Multifaceted Content: 18 pages offering a variety of activities, ensuring hours of educational entertainment.

Engaging Design: Vibrant illustrations and interactive tasks that captivate young learners, fostering curiosity and skill development.

Holistic Skill Building: Promote cognitive abilities, motor skills, literacy, and numeracy through diverse and age-appropriate activities.
🎁 Perfect for Curious Learners!
Inspire playful learning moments with our Popsicle Activity Pack. Whether for home-based activities, classroom engagement, or as an enriching resource, these printables offer a delightful blend of fun and education.
📥 Instant Download:
No waiting, just learning! Instantly download your printables and embark on a popsicle-themed adventure of creativity and skill-building.
👶 For Ages 3-5:
Tailored to preschoolers' developmental needs, our pack encourages exploration and skill development in a fun and engaging manner.
🛒 Add to Cart Now and Let the Popsicle Learning Fun Begin! 🎨🍦🧩

Please note: This is a digital product. No physical items will be shipped. After purchase, you will receive a link to download your printable pack.


Contact us
Crystal & Co.
P O Box 55263
Hurst, Texas 76054
crystalandcomp@yahoo.com
Sign up to our mailing list