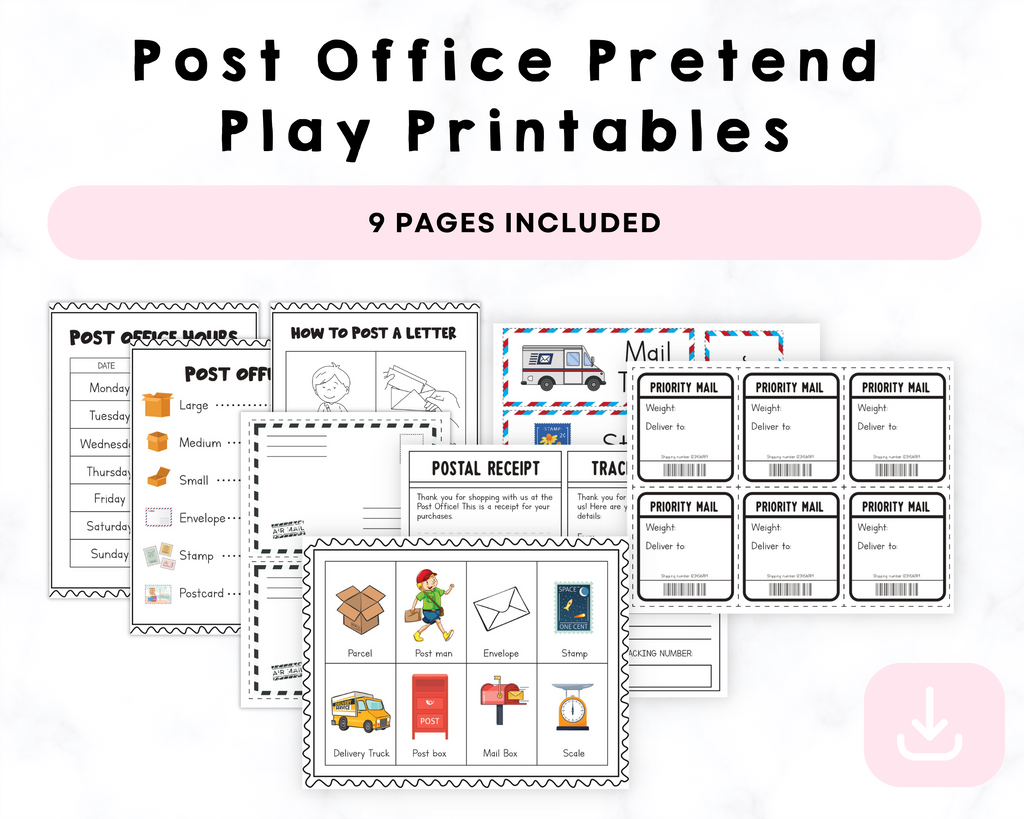 Post Office Pretend Play Printables
Post Office Pretend Play Printables
description
Transform playtime into an exciting postal adventure with our Post Office Pretend Play Printables! This engaging set includes nine beautifully designed pages that will immerse your little ones into the world of mail sorting, delivering, and stamping fun.

## What's Included:
- ** Post Office Sign:** Decorate your play area and set the scene for hours of imaginative play with this vibrant Post Office sign.

- ** Mailbox Sorting:** Teach organization skills as your child sorts mail into different mailboxes. Sorting has never been so much fun!

- ** Stamps and Envelopes:** Create and send pretend mail using adorable stamps and envelopes, encouraging creativity and fine motor skills.

- ** Address Labels:** Practice writing and identifying addresses as your child places labels on envelopes and packages.

- ** Delivery Truck:** Drive the delivery truck around to deliver packages and letters to different locations, adding a dynamic element to playtime.

- ** Package Labels:** Use these labels to decorate and address packages, enhancing creativity and role-playing.

- ** Mail Sorting Task:** Engage in a sorting task, encouraging critical thinking and organization skills as they sort letters based on colors or shapes.

- ** Mail Sorting Checklist:** Keep track of all the sorted mail with a handy checklist, promoting attention to detail and completing tasks.

- **Engaging Imaginative Play:** Encourage creativity and storytelling as your child takes on the role of a postman, sorting mail, and making deliveries.

- **Educational Value:** Develop essential skills like fine motor skills, organization, writing, and critical thinking in a playful and interactive manner.

- **Printable Convenience:** Simply download, print, and start playing! These printables are easy to use and accessible whenever your little one is ready for a post office adventure.

- **Colorful and Attractive Designs:** Each page is designed with vibrant colors and adorable illustrations, making pretend play visually appealing and delightful.

Turn playtime into an exciting postal experience with our Post Office Pretend Play Printables. Watch your child's imagination soar as they embark on a journey of creativity and learning. Order now and let the adventures begin!

Please note: This is a digital product. No physical items will be shipped. After purchase, you will receive a link to download your printable pack.