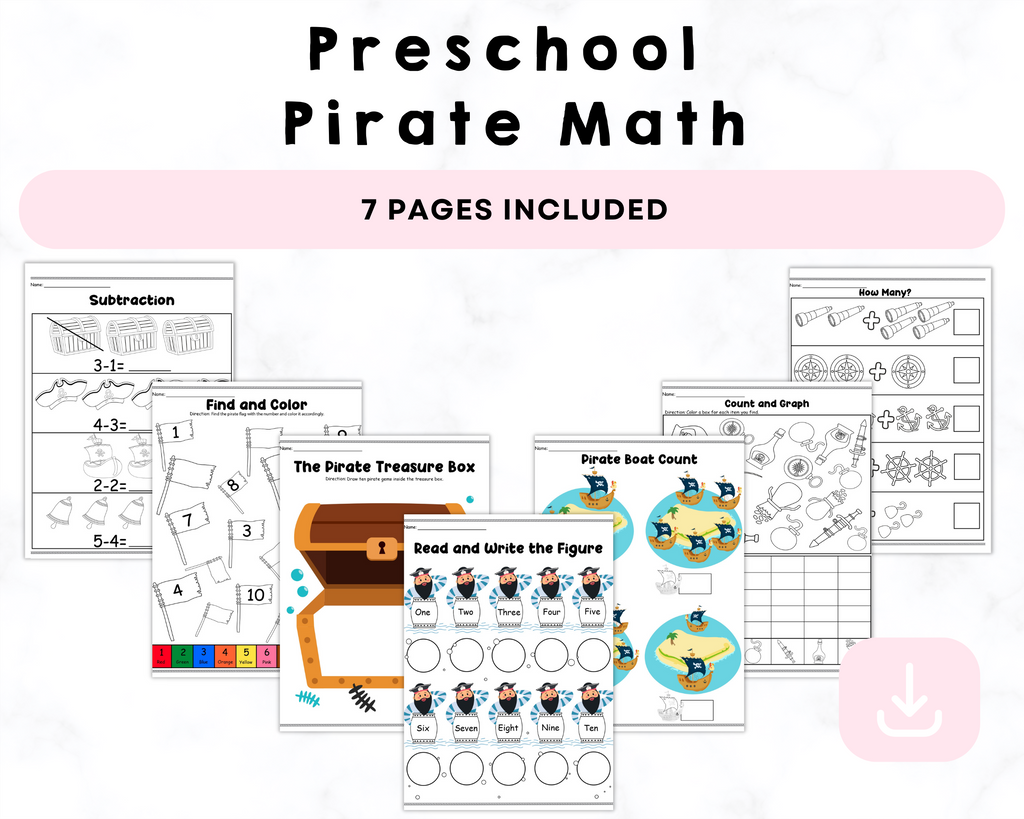 Preschool Pirate Math Printable Pack
Preschool Pirate Math Printable Pack
description
Introducing our "Preschool Pirate Math Printable Pack" - a treasure trove of educational fun for your little buccaneer! Set sail on a mathematical adventure with seven exciting pages designed to teach essential early math concepts while embracing the pirate spirit.

1. ** Coloring by Numbers:**
Ahoy, young mateys! Climb aboard our pirate ship and set your creativity free as you color by numbers. Uncover the hidden picture and learn numbers effortlessly in a swashbuckling way.

2. **Subtraction Adventures:**
Avast ye! Prepare for mathematical challenges as you join our crew in mastering subtraction. With playful pirate-themed illustrations, little learners will conquer the seas of subtraction with enthusiasm and joy.

3. **Count the Boats:**
Hoist the Jolly Roger and count the boats as they sail in the math-laden seas. From one to ten, your pint-sized pirates will learn counting in a lively and engaging manner. Arrr, counting has never been this much fun

and more!

This Preschool Pirate Math Printable Pack is the perfect treasure map for early learners to discover the joy of numbers and subtraction in an adventurous way. Set sail on an educational journey that will have your little ones chanting "Aye aye, captain!" in no time. Grab your compass and navigate your way to mathematical success with this exciting pack!

Please note: This is a digital product. No physical items will be shipped. After purchase, you will receive a link to download your printable pack.

Contact us
Crystal & Co.
P O Box 55263
Hurst, Texas 76054
crystalandcomp@yahoo.com
Sign up to our mailing list