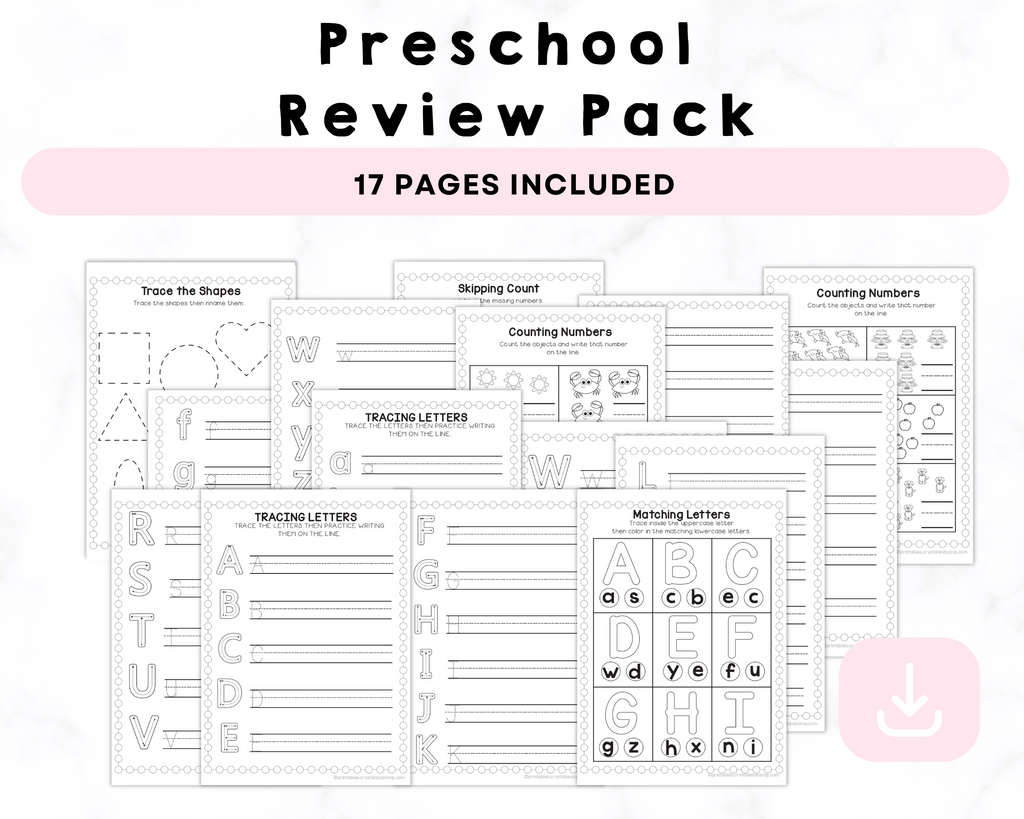 Preschool Review Pack Printables
Preschool Review Pack Printables
description
🔍 What's Inside?
Explore 17 skillfully designed pages offering a diverse array of activities, including matching letters, counting numbers, tracing shapes, practicing skip counting, and tracing letters. Each page is crafted to engage and reinforce key foundational skills.
🔤🔢 Educational Adventures:
Matching Letters: Engage in letter recognition and association through entertaining matching activities.

Counting Numbers: Foster numeracy skills with engaging counting exercises that make learning numbers a joyful experience.

Tracing Shapes and Letters: Encourage fine motor skills and alphabetic understanding with tracing activities that introduce shapes and letters.

Skip Counting Practice: Explore skip counting exercises to strengthen numerical sequencing and pattern recognition.
🖍️ How to Use:
Print, match, count, trace, and learn! These printables offer a versatile set of activities ideal for reinforcing preschool concepts. Perfect for parents, educators, and caregivers seeking to provide comprehensive foundational learning.
🌟 Why Choose Our Review Pack?
Comprehensive Content: 17 pages packed with diverse activities targeting multiple foundational skills.

Interactive Learning: Engaging exercises that make learning letters, numbers, shapes, and counting an enjoyable and interactive experience.

Skill Reinforcement: Promote cognitive and motor skill development crucial for early educational success.
👶 Perfect for Little Learners!
Prepare preschoolers for educational milestones with our Preschool Review Pack. Whether for reinforcing home-based learning, classroom activities, or as supplemental resources, these printables offer a holistic approach to early learning readiness.
🛒 Add to Cart Now and Prepare for Educational Success! 📚🎉🔤


Please note: This is a digital product. No physical items will be shipped. After purchase, you will receive a link to download your printable pack.


Contact us
Crystal & Co.
P O Box 55263
Hurst, Texas 76054
crystalandcomp@yahoo.com
Sign up to our mailing list