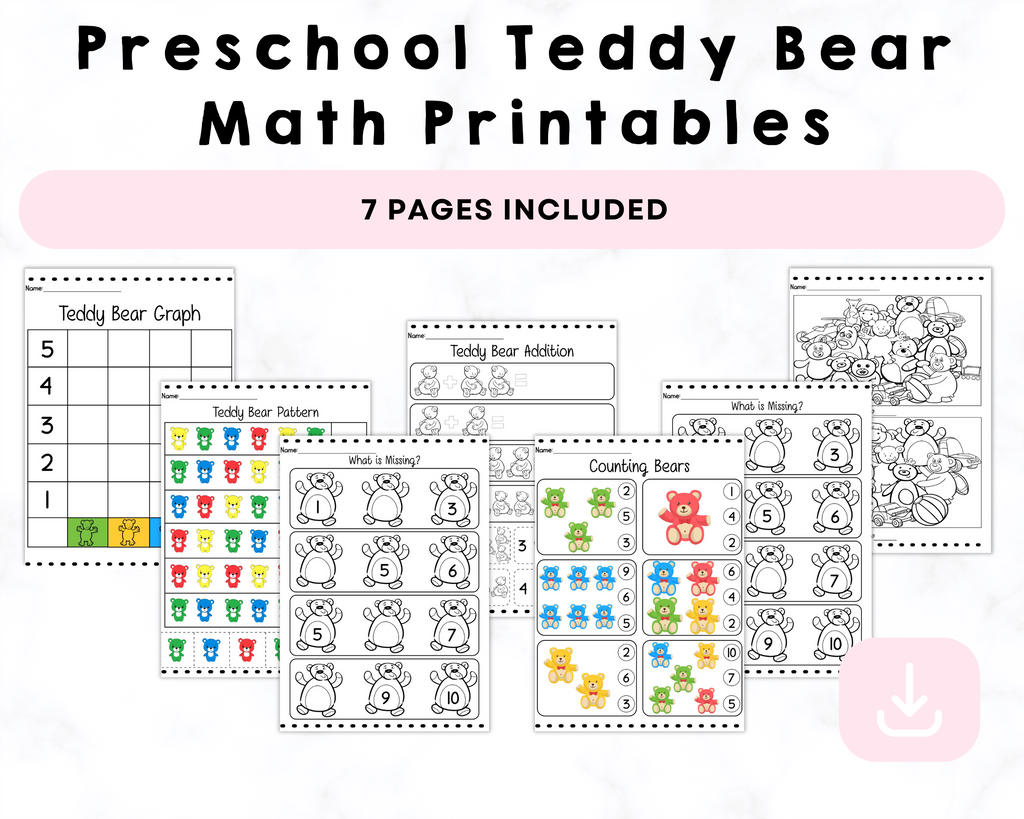 Preschool Teddy Bear Math Printables
Preschool Teddy Bear Math Printables
description
Introducing our delightful 7-page Preschool Teddy Bear Math Printables, designed to make learning math a fun and interactive adventure for your little ones! These engaging printables feature adorable counting bears, captivating coloring activities, and stimulating "find the missing bears" challenges, providing an enriching educational experience for preschoolers.

**Counting Bears Bonanza**
Embark on a counting adventure with our cheerful teddy bears! Your child will practice counting and number recognition while enjoying the playful company of our cuddly bear friends. Watch as they grasp essential math skills in a delightful and visually engaging manner.

**Coloring Fun with Bears**
Let creativity roam free as your child brings these endearing teddy bears to life with a burst of color! Coloring not only enhances fine motor skills but also introduces basic color recognition. Each bear is a canvas waiting to be adorned with your child's imagination.

**Find the Missing Bears**
Challenge your little one's problem-solving skills with the "find the missing bears" activity. This interactive exercise encourages critical thinking and observation as they identify the absent teddy bears in a playful scene. It's a great way to reinforce counting concepts in an entertaining way.

Our Preschool Teddy Bear Math Printables are thoughtfully crafted to make early math learning engaging, enjoyable, and effective. The colorful and adorable teddy bear theme is sure to captivate young minds, fostering a love for learning that will last a lifetime. Add this fantastic resource to your collection and watch your child's math skills bloom with joy and creativity. Get ready for a beary exciting math-filled journey!

Please note: This is a digital product. No physical items will be shipped. After purchase, you will receive a link to download your printable pack.

Contact us
Crystal & Co.
P O Box 55263
Hurst, Texas 76054
crystalandcomp@yahoo.com
Sign up to our mailing list