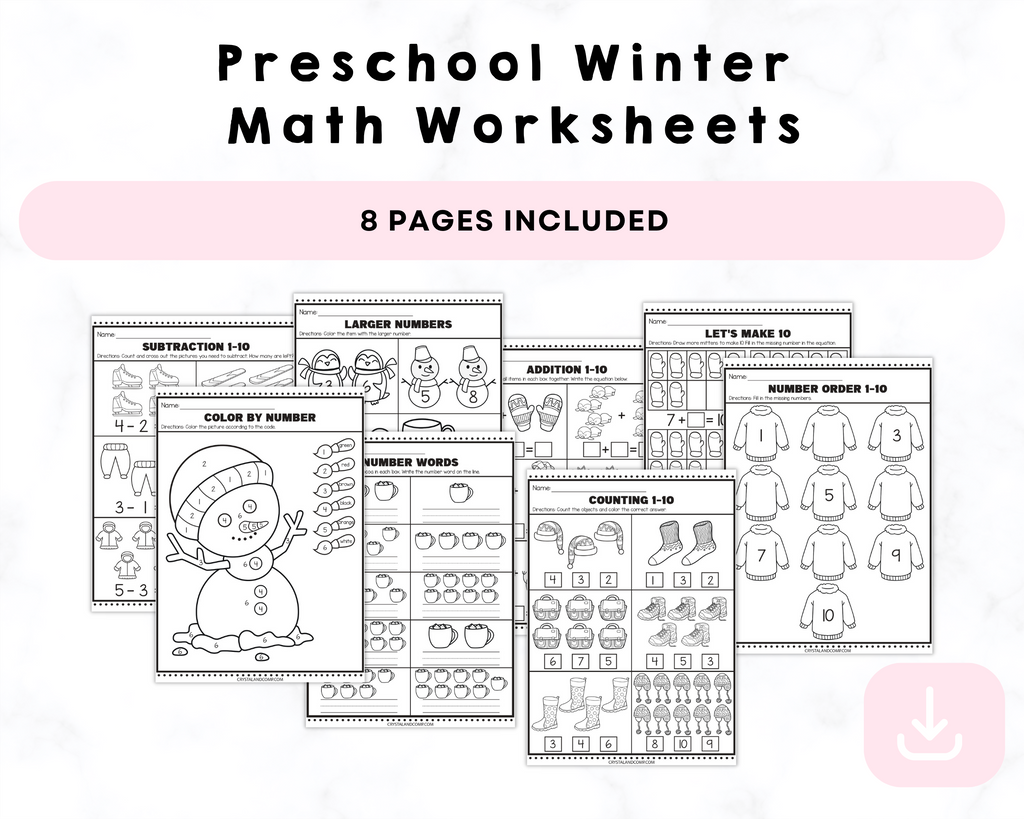 Preschool Winter Math Worksheets Printable
Preschool Winter Math Worksheets Printable
description
Introducing our Preschool Winter Math Worksheets - a delightful collection of 8 engaging pages designed to make learning math a winter wonderland adventure for your little ones! This educational resource is perfect for preschoolers, providing a fun and colorful way to master essential math skills. Let's delve into the snowy world of numbers and subtraction, enhanced with delightful color-by-number activities and enchanting number words.

**Color-by-Number Fun**
Watch your preschooler's creativity come to life as they color various winter-themed images while mastering number recognition and color matching. Each number corresponds to a specific color, making learning a breeze while fostering artistic expression.

**Subtraction**
Help your little one understand subtraction in a playful manner. Let them count snowflakes, subtract, and develop a solid foundation in early math concepts. Our charming winter illustrations will keep them engaged as they learn.

** Number Words**
Let your preschooler explore the world of numbers 1 to 10 through captivating winter scenes. They'll match the number words to the corresponding numerals, enhancing their vocabulary and numeral recognition skills.

** Penguin Addition**
Join our adorable penguins in mastering addition in a delightful snowy setting. Your preschooler will enjoy adding snowflakes, icicles, and more while strengthening their fundamental math abilities.

**Counting Adventure**
Embark on a thrilling sledding adventure while counting various objects. This activity encourages numerical awareness and helps your little one grasp the concept of counting accurately.

With our Preschool Winter Math Worksheets, learning math during the winter season has never been more exciting. These worksheets are carefully designed to stimulate young minds, boost confidence, and foster a love for learning. Add this educational gem to your collection and watch as your preschooler blossoms into a math-savvy adventurer, all while having a blast in the winter wonderland of numbers!
Please note: This is a digital product. No physical items will be shipped. After purchase, you will receive a link to download your printable pack.
Contact us
Crystal & Co.
P O Box 55263
Hurst, Texas 76054
crystalandcomp@yahoo.com
Sign up to our mailing list