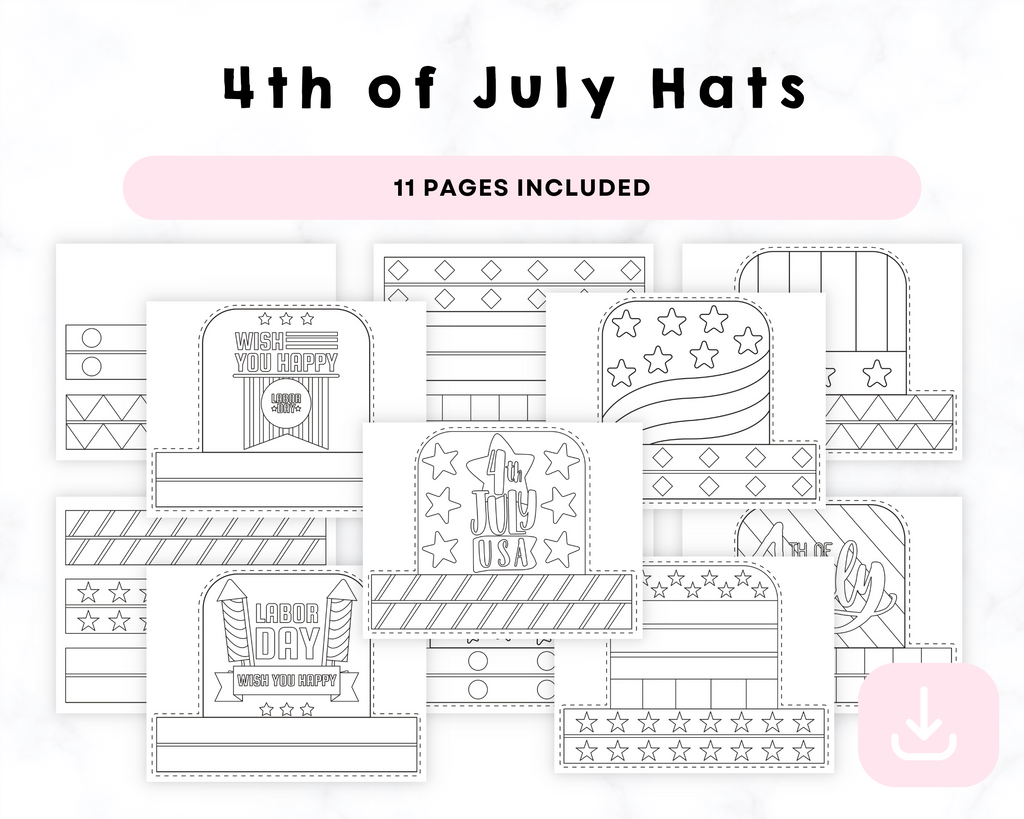 Printable 4th of July Hats
Printable 4th of July Hats
description
Are you ready to add some festive flair to your little one's 4th of July celebrations? Our 11-Page Printable 4th of July Hats for Preschoolers are the perfect way to do just that! These creative and fun hats are not only a delightful activity but also a fantastic way to get your child into the patriotic spirit.

**What's Included:**

1. **Eleven Exciting Designs**: With eleven distinct designs to choose from, your child can get creative and choose their favorite 4th of July hat. From stars and stripes to fireworks and Uncle Sam's hat, the options are endless!

2. **Easy to Follow Instructions**: We've designed these printables with simplicity in mind. Your preschooler will have a blast coloring, cutting, and pasting their hat together, thanks to our step-by-step instructions.

3. **Hours of Entertainment**: Keep your child entertained and engaged with these hats. They'll enjoy every moment of creating their very own 4th of July accessory.

4. **Perfect for Classroom or Home**: Whether you're a teacher looking for a fun classroom activity or a parent seeking an exciting at-home project, these printables are versatile and suitable for both settings.

**Why Choose Our 4th of July Hats:**

- **Educational Fun**: Encourage fine motor skills, creativity, and independence as your child colors, cuts, and assembles their own hat.
- **Holiday Spirit**: Foster a love for holidays and the spirit of Independence Day from a young age.
- **High-Quality Printables**: Our printables are designed to look fantastic and print crisply, ensuring a beautiful end result.
- **Saves Time and Money**: Skip the craft store and expensive pre-made accessories. Our printables provide an affordable and convenient solution.

Get ready for a memorable and creative 4th of July with our 11-Page Printable 4th of July Hats for Preschoolers. Order now and let the patriotic crafting begin! Your child will not only have a blast creating their hat but will also be the star of the 4th of July festivities.
Please note: This is a digital product. No physical items will be shipped. After purchase, you will receive a link to download your printable pack.
Contact us
Crystal & Co.
P O Box 55263
Hurst, Texas 76054
crystalandcomp@yahoo.com
Sign up to our mailing list