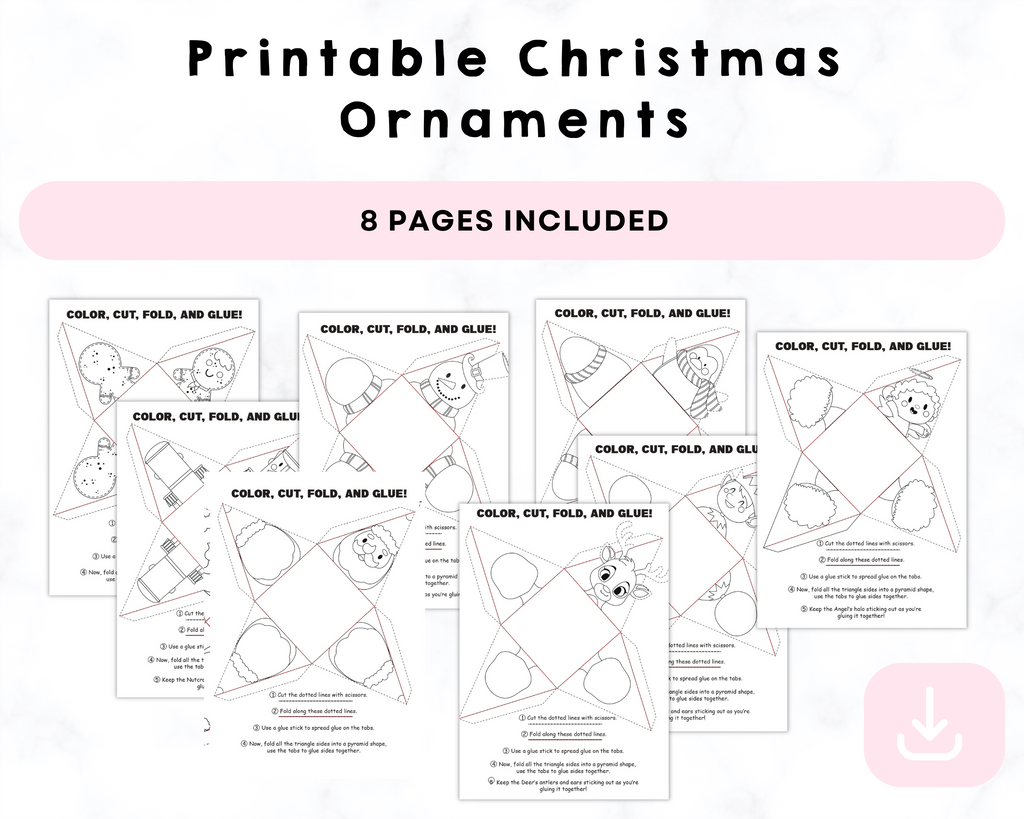 Printable Christmas Ornaments
Printable Christmas Ornaments
description
Introducing our Printable Christmas Ornaments Set: a delightful collection of 8 unique designs to infuse your holiday season with festive charm. Perfect for DIY enthusiasts and those seeking a personal touch for their Christmas decor, these printable ornaments bring a world of creativity to your fingertips.

**Colorful Holiday Cheer:**
Brighten up your Christmas tree and living space with these vibrant, eye-catching ornaments

**Easy Cut & Assemble:**
Crafting your own Christmas ornaments has never been simpler. Our designs come with easy-to-follow cutting guides, allowing you to precisely cut along the lines and create flawless shapes. The process is uncomplicated and suitable for all skill levels.

**Simple Fold & Form:**
Fold along the designated lines to give your ornaments dimension and structure. The folding process is intuitive, making it accessible to both beginners and seasoned crafters. Watching your creations take shape is a joy in itself!

**Secure with a Touch of Glue:**
Bringing your ornaments to life is as easy as applying a touch of glue. Simply follow the assembly instructions provided and apply a dab of glue where indicated. This ensures a secure and lasting bond, allowing you to hang your ornaments with confidence.

**A Variety of Designs:**
Our set includes 8 distinct designs, ranging from classic to modern, ensuring there's something for everyone. 

Make this Christmas truly special by adding a personal touch to your holiday decor. Download, print, and let your creativity flow as you bring these beautiful ornaments to life. Enjoy the satisfaction of knowing you crafted a unique and festive atmosphere for your holiday celebrations!

Please note: This is a digital product. No physical items will be shipped. After purchase, you will receive a link to download your printable pack.

Contact us
Crystal & Co.
P O Box 55263
Hurst, Texas 76054
crystalandcomp@yahoo.com
Sign up to our mailing list