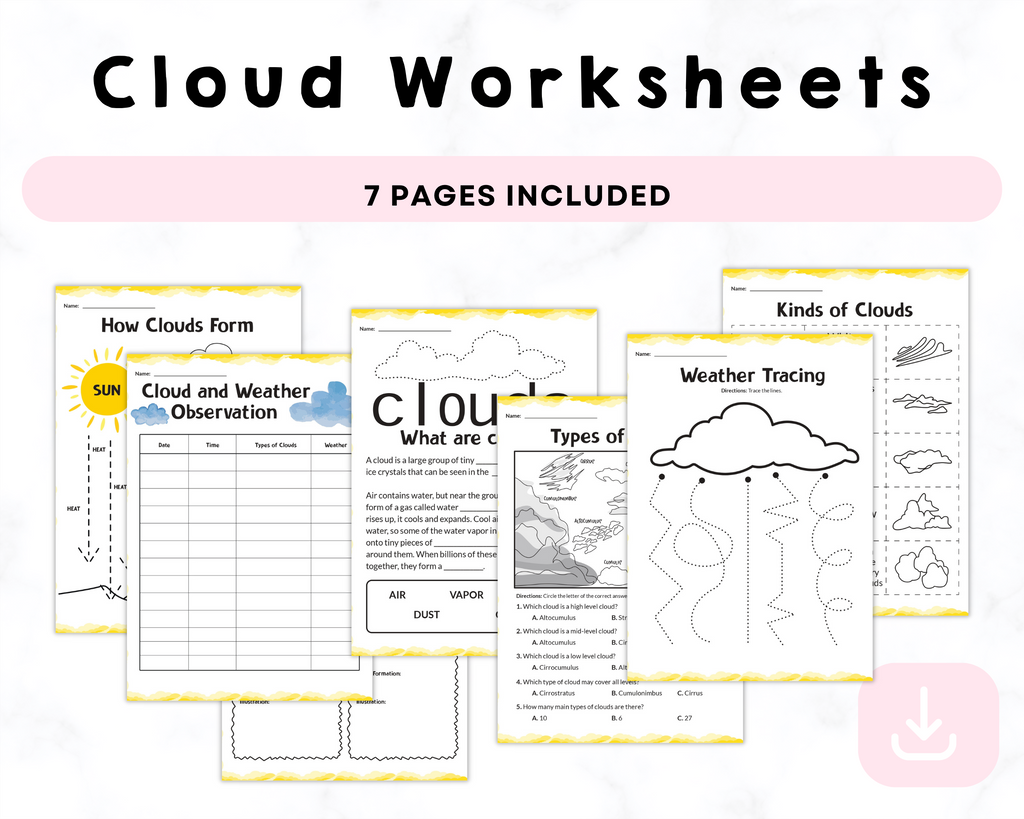 Printable Cloud Worksheets
Printable Cloud Worksheets
description
🌥️ **Spark Imagination with Our 7-Page Printable Cloud Worksheets for Preschoolers! ☁️✨**

Bring the wonders of the sky into your preschooler's learning journey with our Cloud Worksheets! This 7-page printable set is designed to make early education a breeze, offering a delightful blend of fun and fundamental learning about clouds.

🔍 **What's Inside?**

Explore 7 beautifully illustrated pages featuring a variety of cloud-themed activities. From identifying cloud types to hands-on coloring and tracing exercises, each worksheet is crafted to engage young minds and encourage a lifelong fascination with the marvels of the sky.

🧠 **Educational Benefits:**

1. **Cloud Identification:** Introduce your little one to different cloud types—cumulus, stratus, and cirrus—in a way that's both entertaining and informative.

2. **Fine Motor Skills:** Enhance fine motor skills with engaging activities like tracing and coloring, promoting coordination and control.

3. **Weather Connection:** Build a foundational understanding of weather concepts by exploring the role clouds play in our daily sky observations.

📝 **How to Use:**

Print, play, and learn! These worksheets are perfect for individual use, group activities, or as an engaging addition to your preschool curriculum. Turn any day into a cloudy adventure as your child discovers the magic of the sky right from the comfort of home or the classroom.

🌟 **Why Choose Our Cloud Worksheets?**

- **Engaging Illustrations:** Professionally designed worksheets featuring adorable cloud characters to captivate young imaginations.

- **Variety of Activities:** From simple coloring to more advanced tracing, our set accommodates different skill levels, ensuring an inclusive learning experience.

- **Easy to Print:** Hassle-free printing allows for quick access to valuable educational resources, saving you time and effort.

🎁 **Perfect Gift for Little Meteorologists!**

Inspire a love for learning about the world above with our Cloud Worksheets. Ideal for classrooms, homeschooling, or as a thoughtful gift for any preschooler with their head in the clouds and curiosity in their hearts.

Please note: This is a digital product. No physical items will be shipped. After purchase, you will receive a link to download your printable pack.


Contact us
Crystal & Co.
P O Box 55263
Hurst, Texas 76054
crystalandcomp@yahoo.com
Sign up to our mailing list