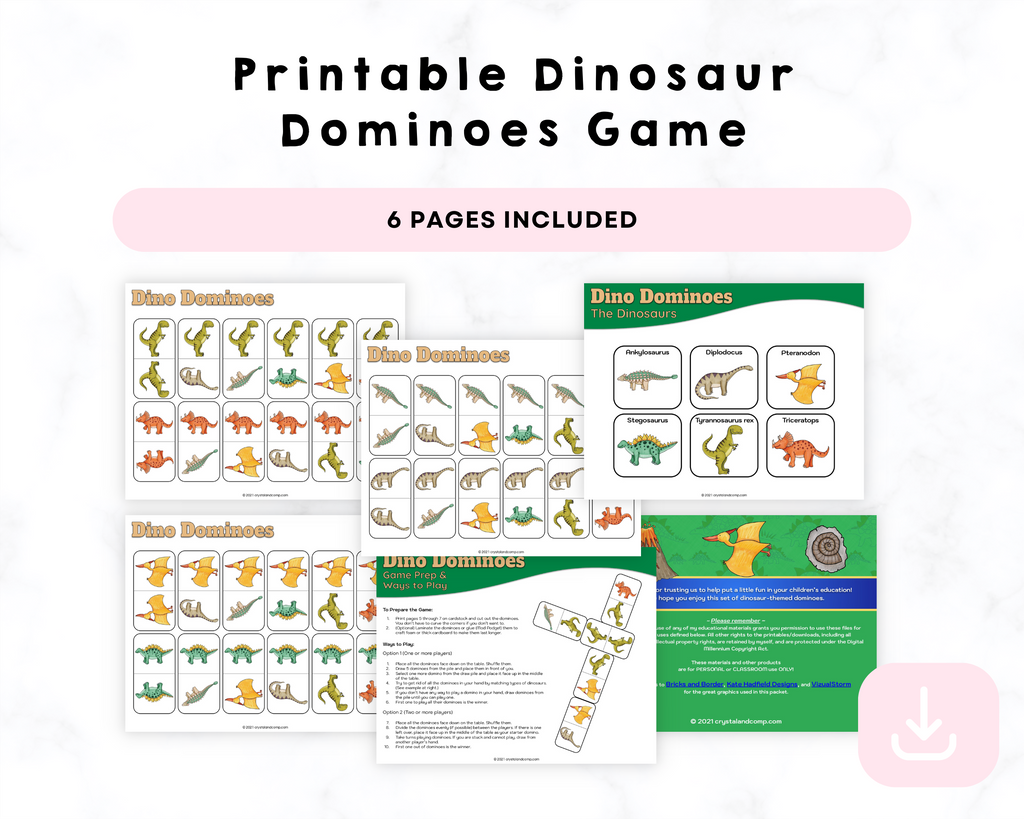 Printable Dinosaur Dominoes Game
Printable Dinosaur Dominoes Game
description
🦕🎲 Roar into Fun with Our 6-Page Printable Dinosaur Dominoes Game! 🌟🦖
Embark on a prehistoric adventure with our exciting game! This delightful set of 6 printable pages is a fun and interactive way for young explorers to dive into the world of dinosaurs while enjoying the classic game of dominoes.
🔍 What's Included?
Discover six captivating pages featuring dinosaur-themed domino cards! Each page showcases colorful illustrations of various dinosaurs, allowing kids to match and learn about these fascinating creatures while having a blast playing.
🦕🎲 Dinosaur Discovery Adventures:
Dinosaur Identification: Engage in matching dinosaur pairs while getting acquainted with different species.
Playful Learning: Enjoy the classic game of dominoes while exploring the world of dinosaurs in a fun and interactive manner.
📝 How to Use:
Simply print, play, and embark on a journey through the world of dinosaurs! These printables offer an educational and entertaining experience, perfect for young adventurers keen on learning about dinosaurs through a game of dominoes.
👦👧 Perfect for Little Paleontologists:
Inspire a love for dinosaurs and games with our Printable Dinosaur Dominoes! Whether for homeschooling, family game nights, or dinosaur-themed parties, these printables promise an enjoyable and educational experience for all young dinosaur enthusiasts.

Please note: This is a digital product. No physical items will be shipped. After purchase, you will receive a link to download your printable pack.

Contact us
Crystal & Co.
P O Box 55263
Hurst, Texas 76054
crystalandcomp@yahoo.com
Sign up to our mailing list