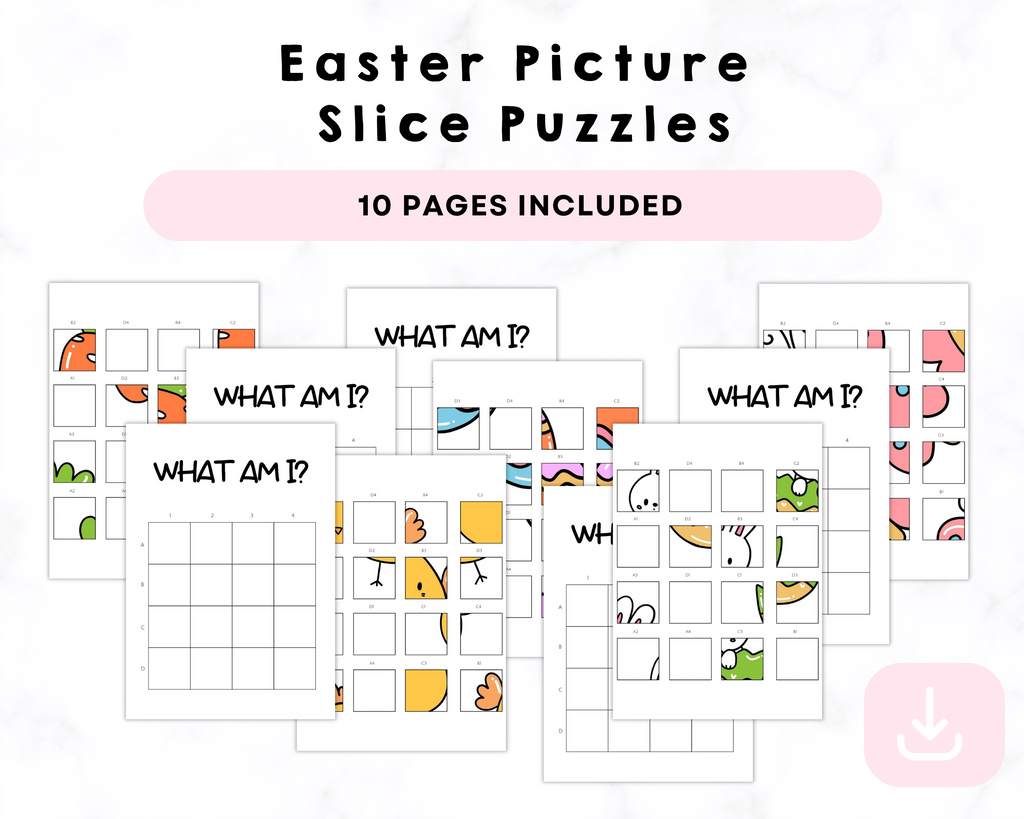 Printable Easter Picture Slice Puzzles
Printable Easter Picture Slice Puzzles
description
🐰🎉 Hop into Easter Fun with Our 10-Page Printable Picture Slice Puzzles for Preschoolers! 🌟🎨
Celebrate the joy of Easter with our delightful 10-page Printable Picture Slice Puzzles! Specially designed for preschoolers, these puzzles are a fantastic way to engage young minds while fostering problem-solving skills and creativity.
🔍 What's Inside?
Explore 10 charmingly illustrated pages, each offering a unique Easter-themed picture slice puzzle. These puzzles encourage children to piece together and complete adorable Easter scenes, igniting excitement and curiosity.
🧩 Educational Adventures:
Critical Thinking: Enhance problem-solving skills as little ones work to assemble the slice puzzles and complete the vibrant Easter images.

Fine Motor Development: Foster dexterity and hand-eye coordination through manipulating puzzle pieces to form complete pictures.

Imaginative Play: Encourage creativity as preschoolers engage with fun Easter scenes, sparking their imagination and storytelling skills.
📝 How to Use:
Print, slice, and play! These printables offer an entertaining activity for Easter-themed learning at home or in the classroom. Perfect for parents, educators, and caregivers seeking engaging and educational Easter activities.
🌟 Why Choose Our Picture Slice Puzzles?
Varied Designs: 10 pages featuring different Easter scenes, providing a variety of puzzles for continued entertainment.

Colorful Illustrations: Vibrant and charming artwork that captures the Easter spirit, captivating young hearts and minds.

Skill Development: Promote cognitive abilities and problem-solving while celebrating the joyous Easter season.
🎁 Perfect Easter Treat for Little Explorers!
Make Easter unforgettable with our Printable Picture Slice Puzzles. Whether for Easter gatherings, classroom activities, or as a delightful gift, these puzzles add excitement to the holiday.
🛒 Add to Cart Now and Let the Easter Puzzle Fun Begin! 🥚🐣🌷
Please note: This is a digital product. No physical items will be shipped. After purchase, you will receive a link to download your printable pack.
Contact us
Crystal & Co.
P O Box 55263
Hurst, Texas 76054
crystalandcomp@yahoo.com
Sign up to our mailing list