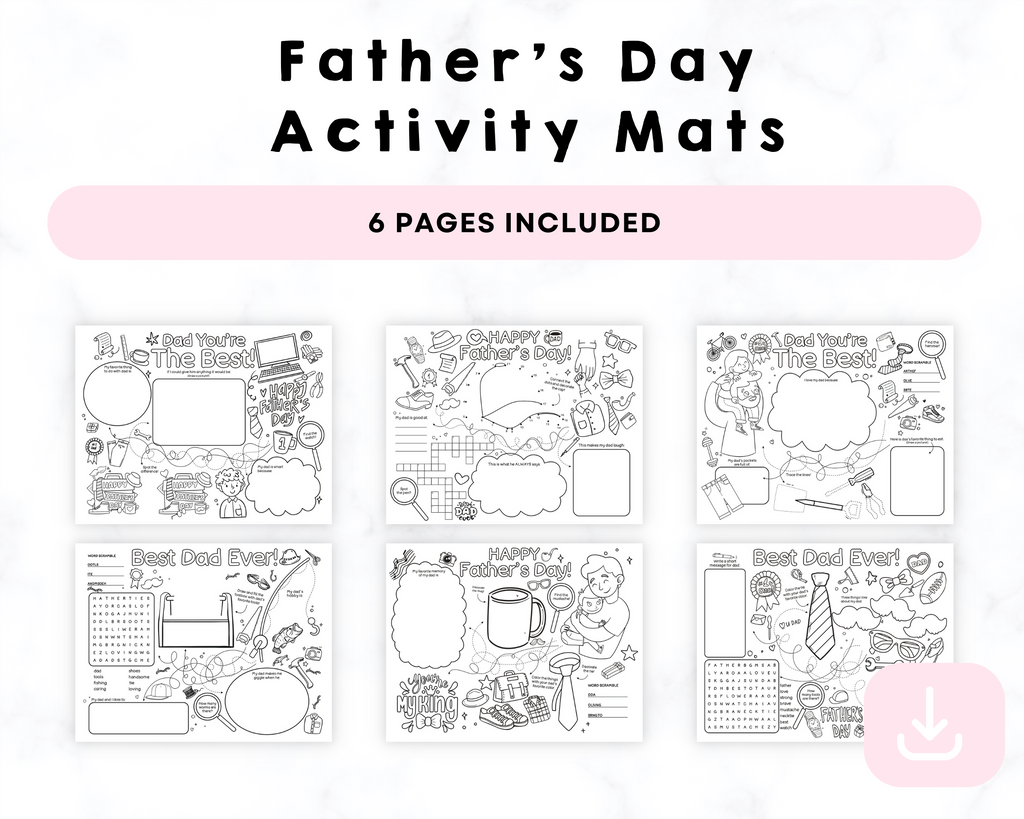 Printable Father's Day Activity Mats
Printable Father's Day Activity Mats
description
Introducing Our Printable Father's Day Activity Mats for Preschoolers!

Make Father's Day extra special this year with our fun and engaging Printable Father's Day Activity Mats designed especially for preschoolers. These 6-page mats are the perfect way to celebrate Dad and create lasting memories together. Packed with entertaining games and activities, they're sure to keep your little ones entertained while fostering creativity and bonding with Dad.

🎨 **Creative Coloring:** Let your child's imagination run wild with our adorable coloring pages. From heartwarming Father's Day messages to delightful images of dad, there's no limit to the artistic expressions your child can create.

🧩 **Mind-Boosting Puzzles:** Our activity mats feature a variety of puzzles like mazes and word searches. These challenges are not only entertaining but also help enhance cognitive skills in a fun and interactive way.

📝 **Customizable Greeting Cards:** Help your child express their love by personalizing the included Father's Day cards. They can draw, write, and add their unique touch to create a one-of-a-kind greeting for Dad.

🎯 **Fun Games:** We've included enjoyable games like "Dad & Me Bingo" and "Superhero Matching" to add an extra layer of excitement to your Father's Day celebration.

👨‍👧‍👦 **Quality Time:** Father's Day is about cherishing the moments spent together. Our activity mats encourage quality family time, fostering a stronger connection between father and child.

🎁 **Easy to Print:** These activity mats are downloadable and easy to print at home, making them a convenient last-minute addition to your Father's Day plans.

Whether you're a parent looking for a delightful way to celebrate with your preschooler or a teacher searching for engaging classroom activities, our Printable Father's Day Activity Mats are the perfect choice. The heartfelt creations and cherished moments they inspire are bound to make this Father's Day an unforgettable one for Dad.

Don't miss out on this opportunity to create lasting memories with your little one on Father's Day. Purchase our Printable Father's Day Activity Mats today and let the celebration begin!
Please note: This is a digital product. No physical items will be shipped. After purchase, you will receive a link to download your printable pack.

Contact us
Crystal & Co.
P O Box 55263
Hurst, Texas 76054
crystalandcomp@yahoo.com
Sign up to our mailing list