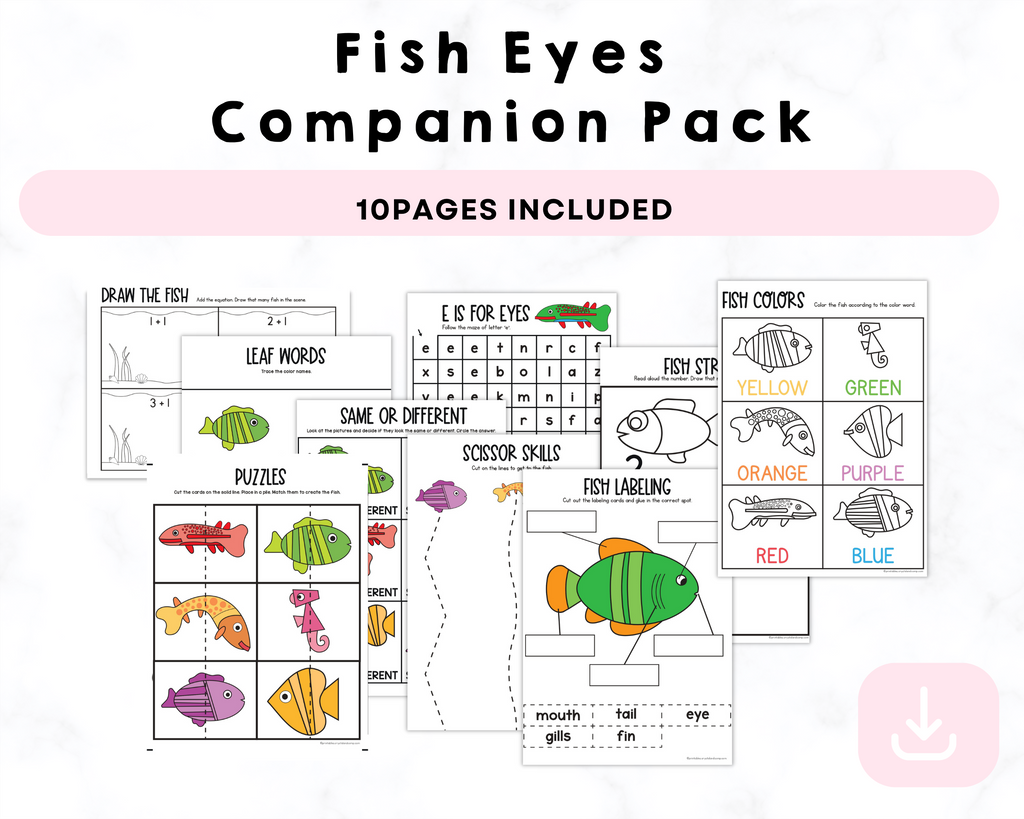 Printable Fish Eyes Companion Pack
Printable Fish Eyes Companion Pack
description
Dive into the depths of creativity and education with our engaging Fish Eyes Companion Pack, designed especially for your preschooler. This printable resource is the perfect addition to your child's learning journey, combining fun and skill-building activities that will keep them entertained and engaged for hours.

**Product Features:**

1. **Coloring Adventures:** Spark your little one's artistic flair with beautifully illustrated fish-themed coloring pages. From the vibrant clownfish to the mysterious angelfish, your child can give life to these underwater creatures using their favorite colors.

2. **Cutting Skills:** Enhance fine motor skills with fun and easy cutting activities. Preschoolers can cut out fish shapes and practice their scissor skills, developing precision and coordination while creating their own fishy masterpieces.

3. **Fish Labeling:** Dive into the world of marine biology by labeling the different parts of a fish. Our educational pages teach your child about the anatomy of fish, combining fun and learning in one colorful package.
..and  more!

**Why You'll Love Our Companion Pack:**

- **Educational:** Your child will gain knowledge about various fish species and their unique characteristics while having fun.

- **Creativity:** Encourage your preschooler's creativity and self-expression through coloring and crafting.

- **Skill Building:** Improve fine motor skills through cutting and labeling activities, preparing your child for future tasks.

- **Easy and Convenient:** These printable pages are ready for instant download, making it convenient for both parents and educators.

**How to Use:**

1. **Download:** After purchase, download and print the companion pack from the comfort of your home.

2. **Color and Cut:** Let your child dive into the coloring and cutting activities, guiding them to develop their artistic and motor skills.

3. **Learn Together:** Engage with your child as they label the fish parts, fostering a love for marine life and learning.

Make learning a splashing good time with our 10-Page Printable Fish Eyes Companion Pack for Preschoolers. Your child will have a whale of a time exploring the underwater world while developing essential skills. Order today and watch your little one's imagination and knowledge bloom!
Please note: This is a digital product. No physical items will be shipped. After purchase, you will receive a link to download your printable pack.