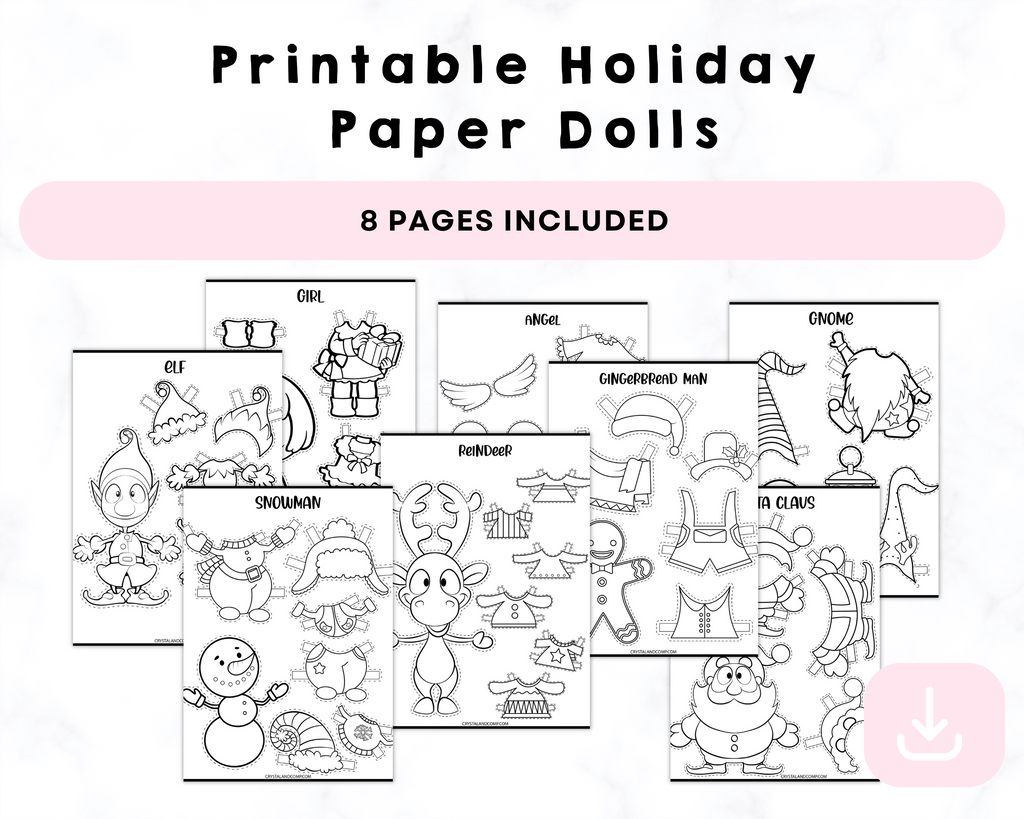 Printable Holiday Paper Dolls
Printable Holiday Paper Dolls
description
Introducing our festive and delightful Printable Holiday Paper Dolls - a charming 8-page collection designed to infuse your holiday season with creative fun and merry memories! Unleash your inner artist and embark on a delightful paper crafting journey, creating your very own Christmas characters to adorn your holiday displays.

🎄 **Product Features:**

1. **Eight Pages of Christmas Joy:** Our carefully crafted set includes eight unique pages, each brimming with delightful Christmas characters, outfits, and accessories. Unleash your creativity and design the perfect holiday ensemble for each charming character.

2. **Assorted Festive Characters:** From jolly Santa Claus and his merry elves to cuddly reindeer and joyful snowmen, this set offers a delightful array of iconic Christmas figures. Every character is beautifully illustrated and ready for you to bring to life.

3. **Easy-to-Cut Designs:** The designs in our Printable Holiday Paper Dolls are expertly created for easy cutting, making this a fantastic activity for crafters of all ages. Simply cut along the marked lines and assemble your very own team of Christmas characters!

4. **Perfect for Holiday Crafts:** Whether you're decorating cards, creating ornaments, or simply enjoying a crafting afternoon, these printable paper dolls are perfect for any Christmas-themed project. Add a touch of handmade magic to your festivities.

5. **Digital Download:** Our Printable Holiday Paper Dolls are available as a digital download, allowing for instant access and endless crafting possibilities. Print them out as many times as you like and let the holiday crafting magic begin!

6. **Gifts and Keepsakes:** Share the joy of crafting with loved ones by gifting them a set of these Printable Holiday Paper Dolls. They make wonderful stocking stuffers and memorable tokens of the season.

🌟 **Make this Holiday Season Extra Special:**

Unleash your creativity and dive into the enchanting world of our Printable Holiday Paper Dolls. Whether you're a seasoned crafter or a beginner, this delightful collection promises hours of joy and festive crafting. Purchase your set today and let the holiday crafting extravaganza begin! 🎁

Please note: This is a digital product. No physical items will be shipped. After purchase, you will receive a link to download your printable pack.


Contact us
Crystal & Co.
P O Box 55263
Hurst, Texas 76054
crystalandcomp@yahoo.com
Sign up to our mailing list