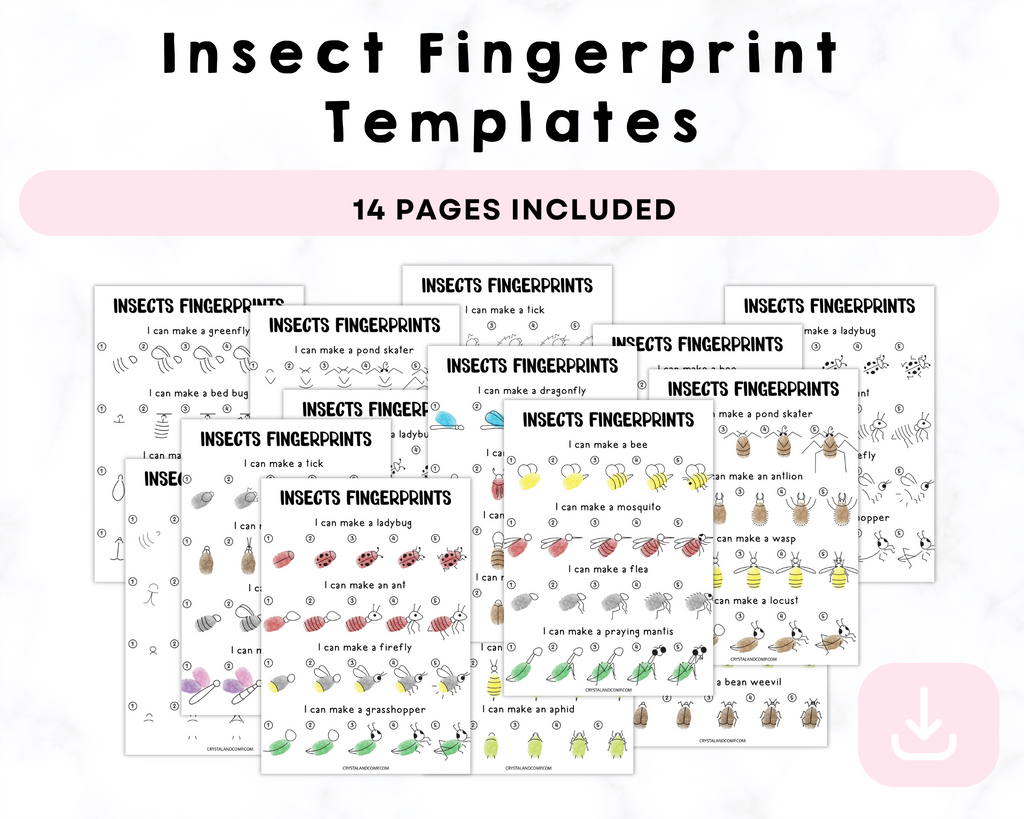 Printable Insect Fingerprint Templates
Printable Insect Fingerprint Templates
description

🐞 Unleash the Creativity 🦋


🌟 **Engage, Educate, and Entertain:** Our 14-Page Printable Insect Fingerprint Templates are the perfect tool to spark your preschooler's curiosity about the world of insects. These templates are not just pages; they're a gateway to a fascinating journey into the natural world.

🖌️ **Fingerprint Art with a Twist:** These templates are specially designed for little fingers to explore and create their own miniature insect masterpieces using just their fingerprints and some colors. It's a unique and hands-on approach to learning and art, which your child will love.

🦗 **Insect Adventure Awaits:** With 14 different insect templates, your child can explore the magical world of ladybugs, butterflies, bees, and more. Each page offers a detailed outline of an insect, ready for your little one to add their personal touch.

🎨 **Boosts Creativity:** Encourage your child's creativity, fine motor skills, and imaginative thinking. Watch as they mix colors, experiment with patterns, and create one-of-a-kind insect art that they can proudly display.

👨‍👩‍👧 **Quality Family Time:** Our printable templates provide an excellent opportunity for quality family bonding. Join your child in the creative process, explore insect facts together, and create lasting memories.

📚 **Learning Through Play:** These templates are not just for fun; they're educational too. Your child will learn about different insects, their colors, and shapes, all while having a great time.

🖨️ **Easy Printing:** Download, print, and start creating! Our templates are designed to be printer-friendly, so you can get started in no time. No need for special tools or materials.

📦 **Instant Access:** Once you make your purchase, you'll have instant access to the templates, so your child can begin their insect fingerprint adventure right away.

🌿 **Eco-Friendly:** We believe in sustainability. That's why our templates are designed to minimize waste. Print only what you need, reducing environmental impact.

🎁 **Perfect Gift:** Looking for a unique and educational gift for a preschooler? Our Insect Fingerprint Templates are the answer. It's a gift that's both thoughtful and fun.

🌈 **Endless Possibilities:** From colorful ladybug spots to vibrant butterfly wings, these templates offer endless creative possibilities that will captivate your child's imagination.

Give your preschooler the gift of discovery, creativity, and learning with our 14-Page Printable Insect Fingerprint Templates. Watch as they transform fingerprints into beautiful insects, one page at a time. Buy now and let the insect adventure begin!



Please note: This is a digital product. No physical items will be shipped. After purchase, you will receive a link to download your printable pack.