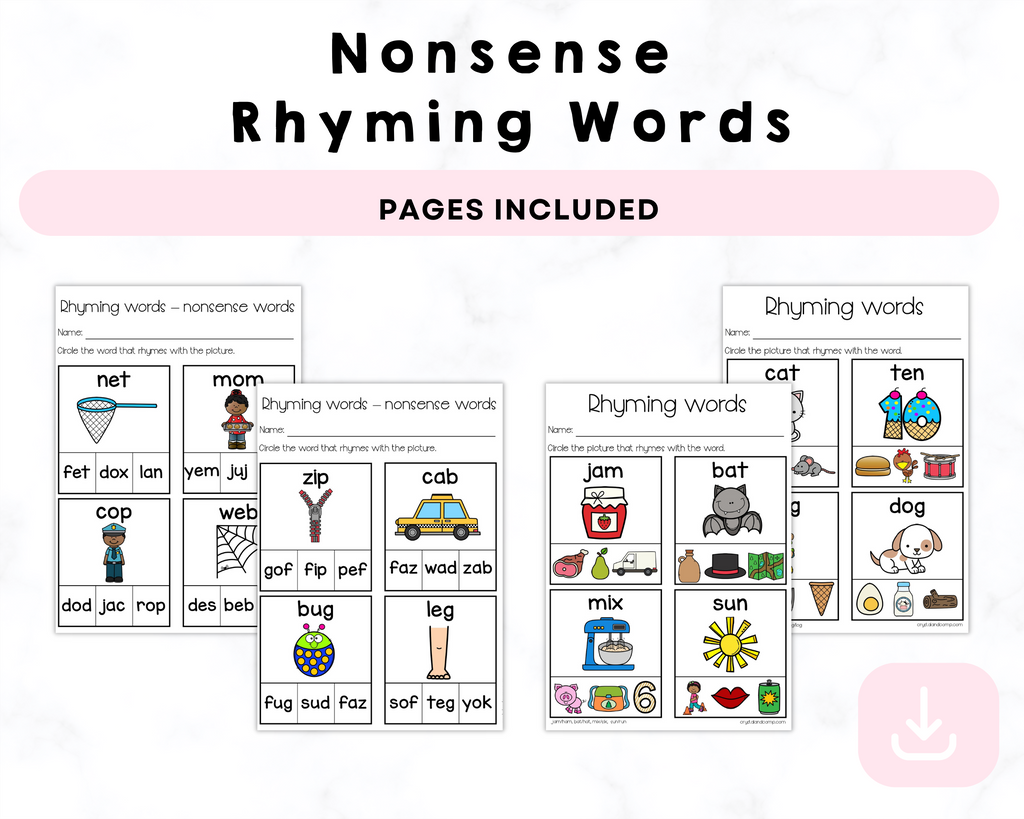 Printable Nonsense Rhyming Words
Printable Nonsense Rhyming Words
description
🎉 **Dive into the World of Silly Sounds with Our Printable Nonsense Rhyming Words for Preschoolers! 🤪📚**

Unleash the giggles and foster early language development with our 5-page Printable Nonsense Rhyming Words designed especially for curious little minds. Make learning fun with this delightful resource that combines laughter and literacy!

🔍 **What's Inside?**

This whimsical set includes five vibrant pages filled with amusing and nonsensical rhyming words. From "zabble" to "quizzle," your preschooler will embark on a language adventure that sparks creativity and expands their vocabulary in the most entertaining way.

🧠 **Educational Benefits:**

1. **Phonemic Awareness:** Boost your child's phonemic awareness as they play with these nonsensical rhymes, laying a strong foundation for future reading skills.

2. **Imaginative Play:** Encourage creative thinking as your little one invents stories and scenarios using these playful and quirky rhyming words.

3. **Language Development:** Watch as language skills blossom, and communication becomes an exciting exploration of sound and rhythm.

📝 **How to Use:**

Print, play, and let the laughter begin! These rhyming words are perfect for solo play, group activities, or as a delightful addition to your preschool curriculum. Foster a love for language early on with this engaging and interactive resource.

🌟 **Why Choose Our Nonsense Rhyming Words?**

- **Colorful and Engaging:** Each page is designed with vibrant colors and captivating illustrations to keep young learners entertained.

- **Easy to Print:** Hassle-free printing means you can start the rhyming fun in minutes!

- **Versatile Learning:** Use at home, in the classroom, or during playdates—wherever learning and laughter collide.

🎁 **Perfect Gift for Little Wordsmiths!**

Surprise your little one with a gift that makes learning irresistibly fun. Our Nonsense Rhyming Words are an excellent addition to your educational toolkit, providing hours of entertainment while building crucial language skills.

📥 **Instant Download:**

No need to wait! Download your rhyming words instantly and let the linguistic adventures commence.

Please note: This is a digital product. No physical items will be shipped. After purchase, you will receive a link to download your printable pack.

Contact us
Crystal & Co.
P O Box 55263
Hurst, Texas 76054
crystalandcomp@yahoo.com
Sign up to our mailing list