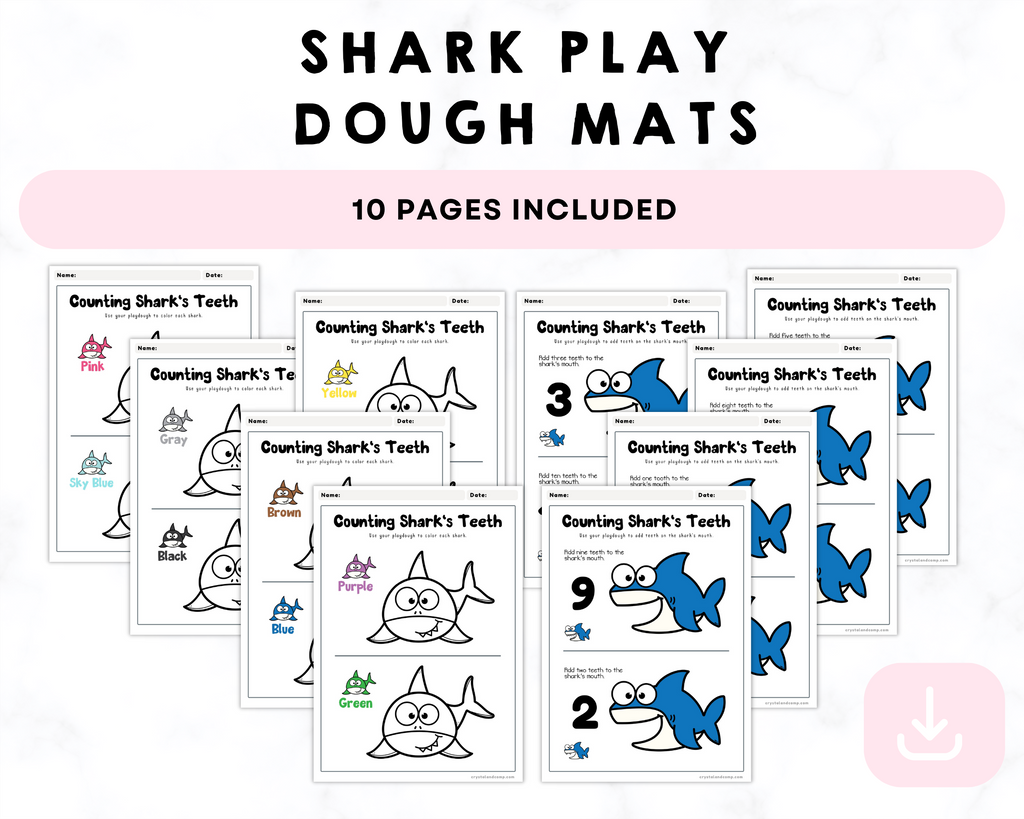 Printable Shark Play Dough Mats
Printable Shark Play Dough Mats
description
Dive into a world of imaginative play and learning with our Shark Play Dough Mats, specially designed to captivate the minds of young explorers and foster essential skills for early childhood development.

🌊 **Discover the Ocean's Wonders:** Each mat features a unique and engaging underwater scene, populated by friendly sharks and their underwater friends. From colorful coral reefs to deep-sea adventures, your child will embark on exciting journeys with every page.

🖌️ **Unleash Creativity:** These play dough mats serve as a blank canvas for your child's creativity. Let their imaginations run wild as they mold, shape, and design the underwater elements using soft, pliable play dough.

🔢 **Learn Through Play:** Education meets fun as kids engage with numbers, letters, and shapes, hidden within the vibrant ocean scenes. Watch as their cognitive and fine motor skills are sharpened while they play.

🌟 **Key Features:**

1. 🌊 10 Unique Mats: A variety of captivating ocean-themed scenes to explore.
2. 🎨 Creative Expression: Encourage artistic freedom with space for endless designs.
3. 🧠 Educational Fun: Learn numbers, letters, and shapes while having a blast.
4. 🍭 Child-Safe: Made from durable, non-toxic materials, perfect for little hands.
5. 💦 Easy Cleanup: Wipe clean or use laminating sheets for endless reuse.

🎁 **Perfect for All Occasions:** Whether it's a rainy day indoors, a playdate, or a classroom activity, these mats are ideal for sparking joy and fostering learning.

👪 **Family Bonding:** Watch your child's eyes light up as they proudly share their underwater masterpieces with you, building unforgettable memories together.

🛒 **Get Your Shark Play Dough Mats Today:** Dive deep into the world of educational play and creativity with our 10-Page Shark Play Dough Mats for Preschoolers. Don't let this opportunity swim away!

Please note: This is a digital product. No physical items will be shipped. After purchase, you will receive a link to download your printable pack.

Contact us
Crystal & Co.
P O Box 55263
Hurst, Texas 76054
crystalandcomp@yahoo.com
Sign up to our mailing list