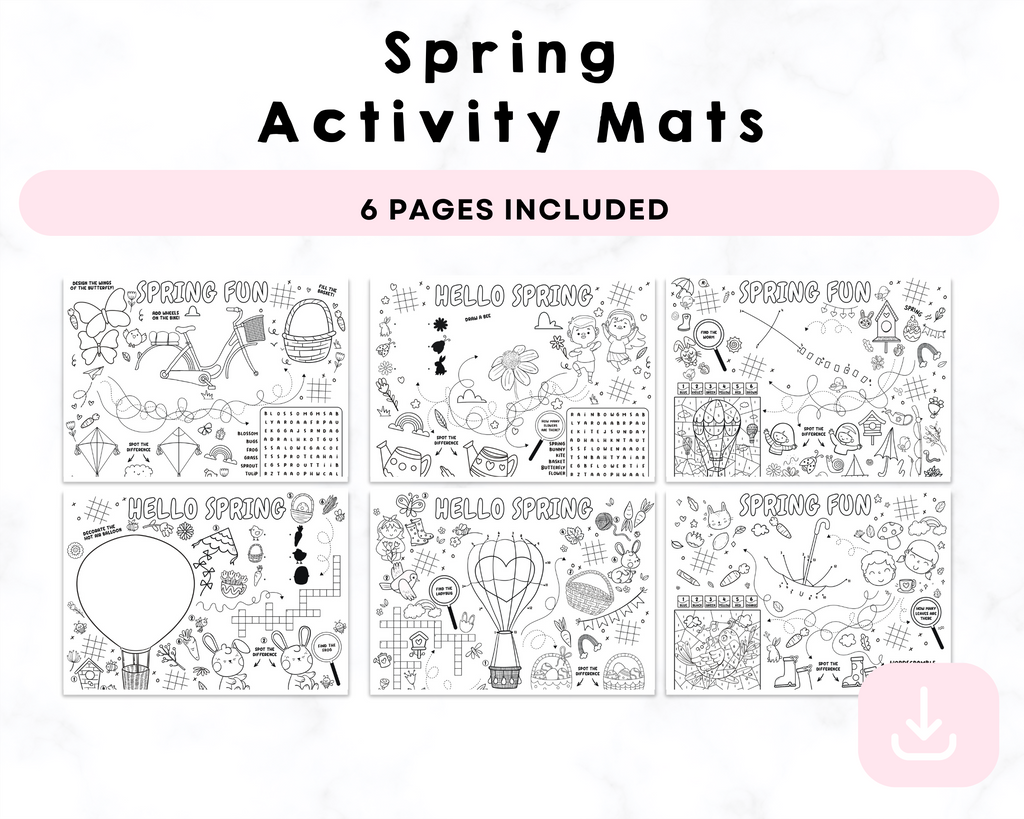 Printable Spring Activity Mats
Printable Spring Activity Mats
description
Title: "Spring Fling Activity Mats for Preschoolers: 6 Pages of Printable Fun!"

Description:
Dive into the vibrant world of Spring with our delightful "Spring Fling Activity Mats for Preschoolers." This printable activity set boasts six captivating pages of interactive and educational fun, specially designed to engage and entertain your young learners.

🌼 **Educational Adventure:**
Watch as your little ones embark on an educational adventure with each page of this colorful set. From exploring the wonders of nature to mastering essential early learning skills, these mats are crafted to encourage creativity, critical thinking, and motor skills development.

🖍️ **Coloring Extravaganza:**
Let your preschoolers unleash their creativity as they bring these delightful Spring scenes to life with their favorite colors. The intricate illustrations and charming characters will spark their imagination, making each coloring session a joyous and enriching experience.

🐦 **Whimsical Spring Themes:**
Spring comes alive in every page with cheerful illustrations featuring blooming flowers, buzzing bees, playful butterflies, and adorable animals. Your little ones will love immersing themselves in the charming world of Spring, adding their personal touch to each enchanting scene.

🧠 **Skill-Building Activities:**
The activity mats are designed to enhance various essential skills, including:

- **Counting & Numeracy:** Count the petals on the flowers or the buzzing bees—learning numbers has never been this entertaining!

- **Shape & Pattern Recognition:** Identify different shapes and patterns found in nature, promoting cognitive development.

- **Fine Motor Skills:** Enhance motor skills by coloring within the lines and completing engaging activities.

🌸 **Easy-to-Print Convenience:**
Print these charming activity mats from the comfort of your home and enjoy unlimited access. No need to wait for shipping; you can start the Spring adventure right away!

Add a burst of Springtime joy to your preschooler's learning experience with our "Spring Fling Activity Mats." Download, print, and let the educational fun and creativity flourish!
Please note: This is a digital product. No physical items will be shipped. After purchase, you will receive a link to download your printable pack.
Contact us
Crystal & Co.
P O Box 55263
Hurst, Texas 76054
crystalandcomp@yahoo.com
Sign up to our mailing list