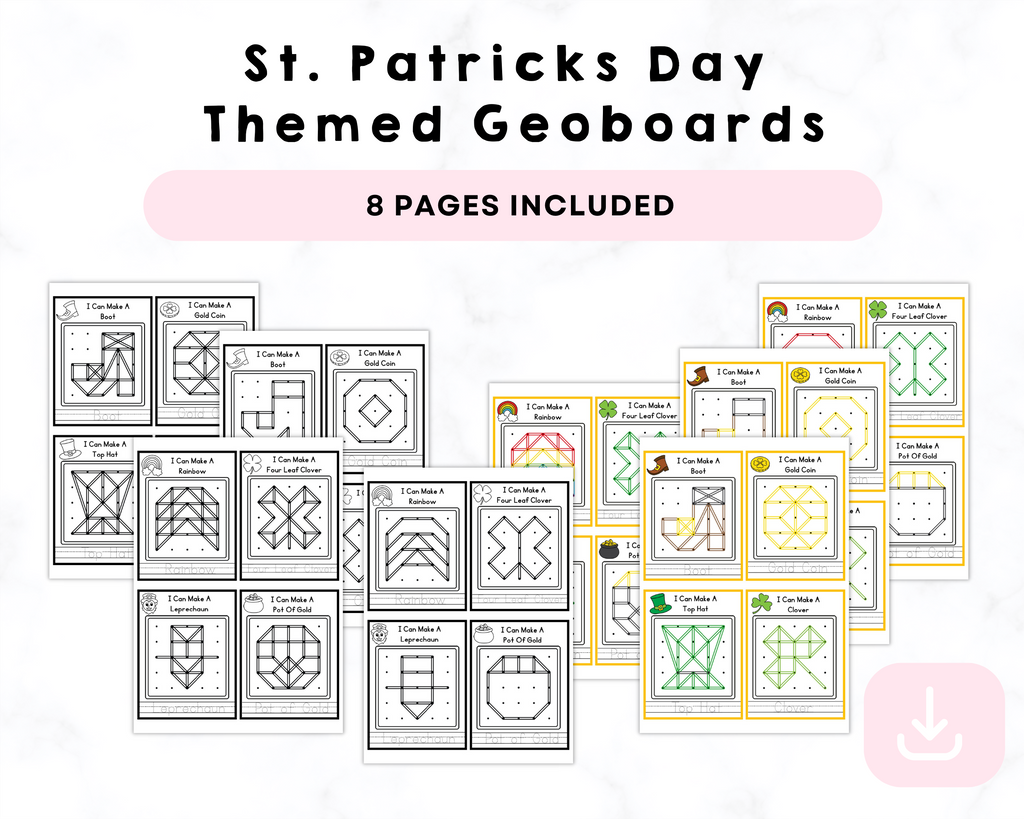 Printable St. Patricks Day Themed Geoboards
Printable St. Patricks Day Themed Geoboards
description
Make this St. Patrick's Day a memorable and educational experience for your little ones with our vibrant and engaging 8-page Printable St. Patrick's Day Themed Geoboards! Crafted with love and designed for preschoolers, these geoboards are the perfect blend of fun and learning.

🔍 **What's Inside?**

Each printable set includes eight delightful pages featuring St. Patrick's Day-themed designs that capture the imagination of young minds. From leprechauns to pots of gold, your child will explore the world of shapes and colors in an entertaining and hands-on way.

🧠 **Educational Benefits:**

1. **Fine Motor Skills:** Watch as tiny hands grasp rubber bands and create beautiful shapes, enhancing fine motor skills and hand-eye coordination.

2. **Math Exploration:** Introduce basic geometry concepts as your child creates triangles, squares, and more, fostering a love for learning early on.

3. **Creativity Unleashed:** Encourage imaginative play as your little one designs rainbows, shamrocks, and other St. Patrick's Day wonders.


Please note: This is a digital product. No physical items will be shipped. After purchase, you will receive a link to download your printable pack.

Contact us
Crystal & Co.
P O Box 55263
Hurst, Texas 76054
crystalandcomp@yahoo.com
Sign up to our mailing list