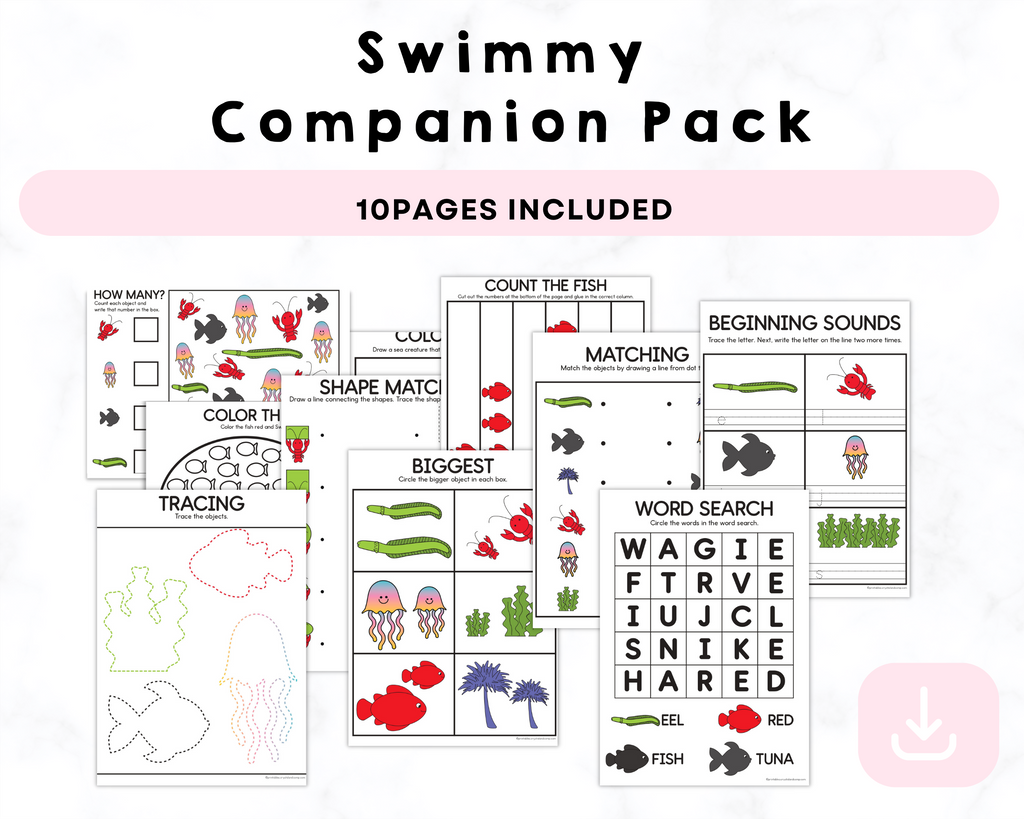 Printable Swimmy Companion Pack
Printable Swimmy Companion Pack
description
Are you ready to take your underwater adventure to the next level? Our 10-page Printable Swimmy Companion Pack is here to make your swimming journey an educational and enjoyable one. Whether you're a parent, teacher, or swim enthusiast, this pack is designed to engage and educate young swimmers, keeping them entertained while they explore the watery world with Swimmy the Fish.

**What's Inside:**

1. **Tracing Trails**: Get those little fingers moving as children trace the paths through coral reefs, helping Swimmy find his way home. This activity promotes fine motor skills and concentration.

2. **Counting Seashells**: Practice counting with the colorful seashells Swimmy collects. This is a great way to introduce early math skills and strengthen number recognition.

3. **Word Search Adventure**: Dive into the ocean of words with our fun word search puzzles. Kids will have a blast while enhancing their vocabulary and word recognition.

4. **Matching Fins**: Match Swimmy's colorful fins to their corresponding silhouettes. It's a fantastic way to teach shapes and improve visual discrimination skills.

5. **Shape Match Challenge**: Engage young minds with an exciting shape-matching game. Swimmy is on a mission to find his favorite sea creatures, and kids can help by matching them to their outlines.

Make a splash in your child's learning journey with our Swimmy Companion Pack. Order now and watch your little swimmers dive into a world of fun and knowledge!
Please note: This is a digital product. No physical items will be shipped. After purchase, you will receive a link to download your printable pack.
Contact us
Crystal & Co.
P O Box 55263
Hurst, Texas 76054
crystalandcomp@yahoo.com
Sign up to our mailing list