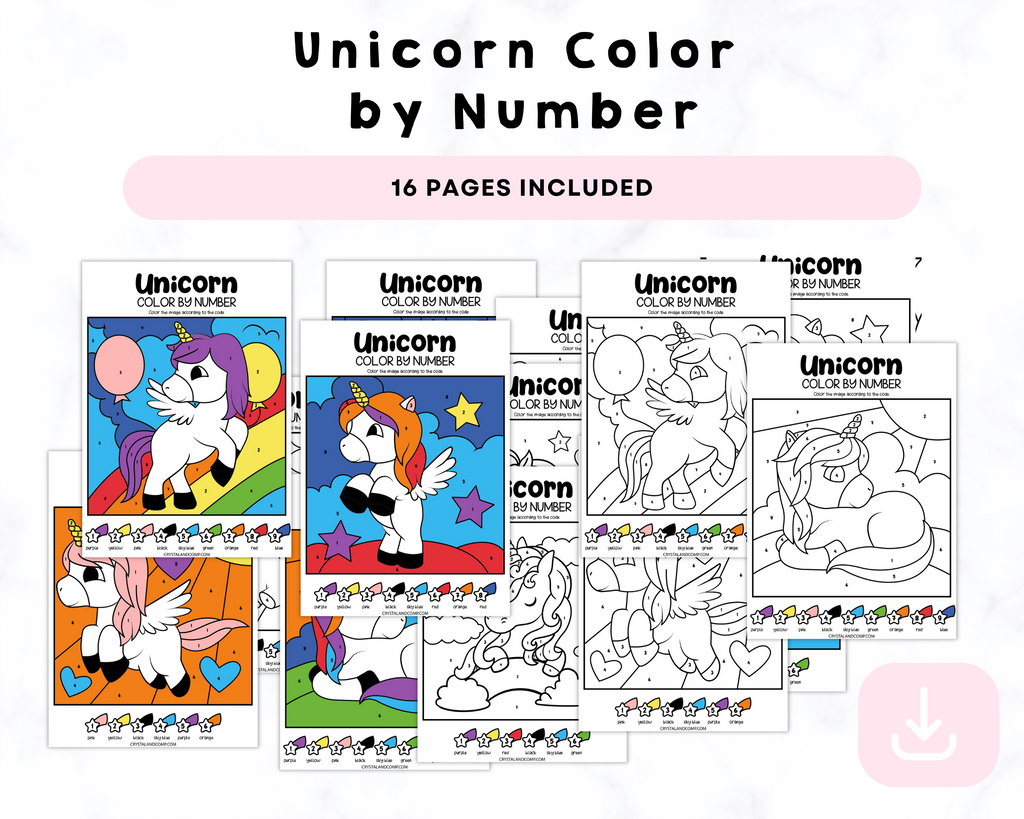 Printable Unicorn Color by Number
Printable Unicorn Color by Number
description
Introduce your little one to the enchanting world of unicorns with our captivating 16-page Printable Unicorn Color by Number activity book! This delightful coloring adventure is specially designed for preschoolers, providing a fun and educational way for them to explore the world of colors and numbers.

🌈 **Features** 🌈
🦄 **16 Whimsical Unicorn Designs**: Your child will embark on a colorful journey with 16 charming unicorn illustrations, each waiting to be brought to life with a splash of vibrant colors.

🔢 **Easy-to-Follow Color by Number**: Learning has never been this fun! Your preschooler will develop their number recognition skills as they follow the simple color-by-number instructions on each page.

🎨 **Creative Expression**: Unleash your child's artistic talents and watch as they choose their favorite colors to fill in these magical unicorns. Encourage creativity and self-expression through art!

📚 **Educational and Entertaining**: This activity book not only offers creative fun but also supports early childhood development. It helps improve fine motor skills, hand-eye coordination, and concentration.

🏆 **High-Quality Printables**: Our printables are designed with the highest quality in mind. Enjoy crisp, clear designs that are perfect for both home and school use.

🎁 **Perfect Gift**: This Printable Unicorn Color by Number book makes an excellent gift for birthdays, holidays, or just because. It's a wonderful way to show your little one how much you care.

🖍️ **Materials Required**: All you need are some colored pencils, crayons, or markers, and your child is ready to embark on a coloring adventure!

✨ **Bring the Magic Home** ✨

Transform coloring time into an enchanting experience with our Unicorn Color by Number Printable for preschoolers. Watch your child's eyes light up as they fill these unicorn pages with color, turning them into vibrant works of art. Whether it's a quiet afternoon at home or a fun activity at school, our Unicorn Color by Number Printable promises endless moments of creativity and joy.

Add a touch of magic to your child's life today with this delightful Unicorn Color by Number Printable. Download, print, and let the coloring adventure begin!

🌟 **Order now and make learning magical!** 🌟

Note: This is a digital product, and you will receive a downloadable PDF file upon purchase. No physical product will be shipped.
Contact us
Crystal & Co.
P O Box 55263
Hurst, Texas 76054
crystalandcomp@yahoo.com
Sign up to our mailing list