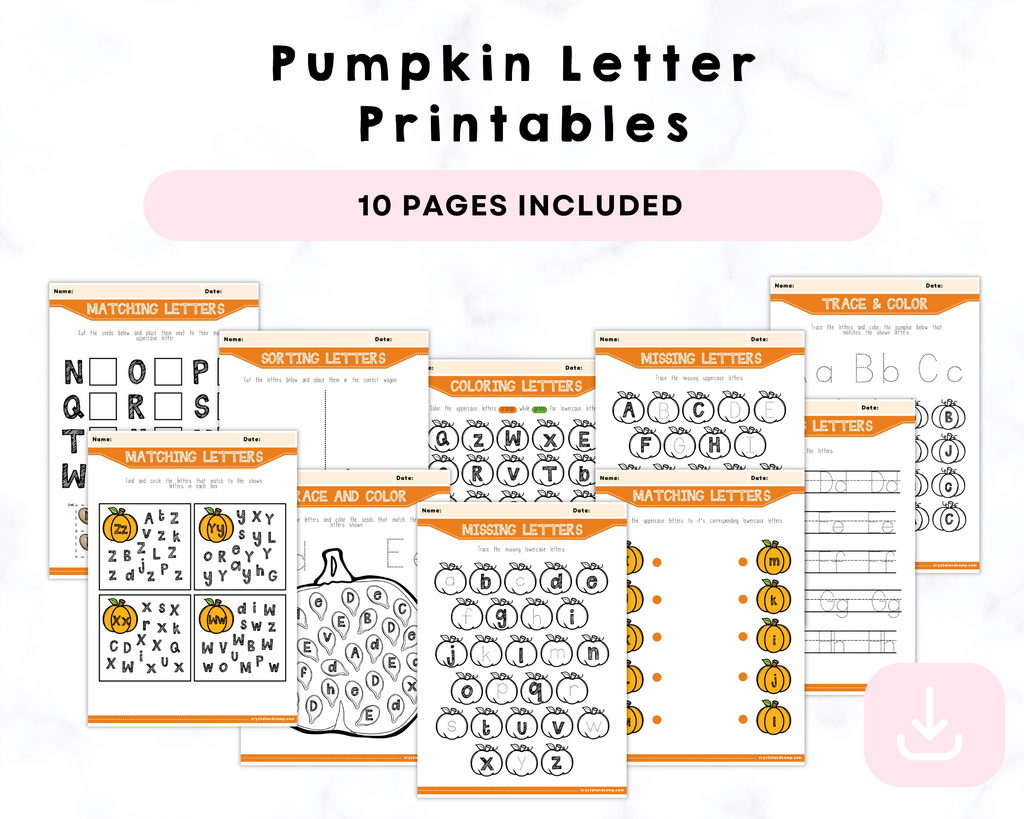 Pumpkin Letter Printables
Pumpkin Letter Printables
description
Introducing our delightful 10-Page Pumpkin Letter Printables for Preschoolers – a fantastic educational resource designed to make learning engaging, interactive, and fun for your little ones. These vibrant and engaging printables are carefully crafted to support your child's early literacy development. Let's dive into the world of letters, colors, sequencing, missing letters, and sorting with our pumpkin-themed learning adventure!

🎃 **Educational Fun with Pumpkins!** 🎃

**What's Included:**
1. **Matching Letters:** Dive into the pumpkin patch and match uppercase and lowercase letters with friendly pumpkin characters. It's a great way to reinforce letter recognition and boost memory skills.

2. **Coloring Magic:** Let your little artist's imagination run wild as they bring these cheerful pumpkins to life with their favorite colors. Coloring enhances fine motor skills and creativity.

3. **Sequencing Challenge:** Arrange pumpkins in alphabetical order and discover the sequence of letters from A to Z. It's a fun way to teach letter order and sequence awareness.

4. **Missing Letters Mystery:** Solve the missing letter puzzles and help the pumpkins find their way home. This activity fosters critical thinking and problem-solving skills.

5. **Sorting Letters:** Sorting pumpkins by their letters will help kids understand letter patterns and develop early literacy skills.

**Why Choose Our Pumpkin Letter Printables?**

✅ **Educational Excellence:** These printables are designed by experts to support preschoolers' cognitive development.

✅ **Engaging Designs:** Our charming pumpkin-themed illustrations captivate young minds and make learning enjoyable.

✅ **Versatile Learning:** Explore a wide range of letter-related activities in one package.

✅ **Convenience:** Download and print at your convenience. No need to wait for shipping!

✅ **Parent-Friendly:** Perfect for busy parents and homeschooling. Encourage learning at home!

**Give Your Child a Head Start in Literacy with Our Pumpkin Letter Printables!**

Grab your pumpkin-themed printables today and embark on a wonderful learning journey with your child. Let's create bright, educated, and curious minds, one pumpkin at a time! 🎃📚🖍️

Order now and watch your child's love for learning grow!



Please note: This is a digital product. No physical items will be shipped. After purchase, you will receive a link to download your printable pack.