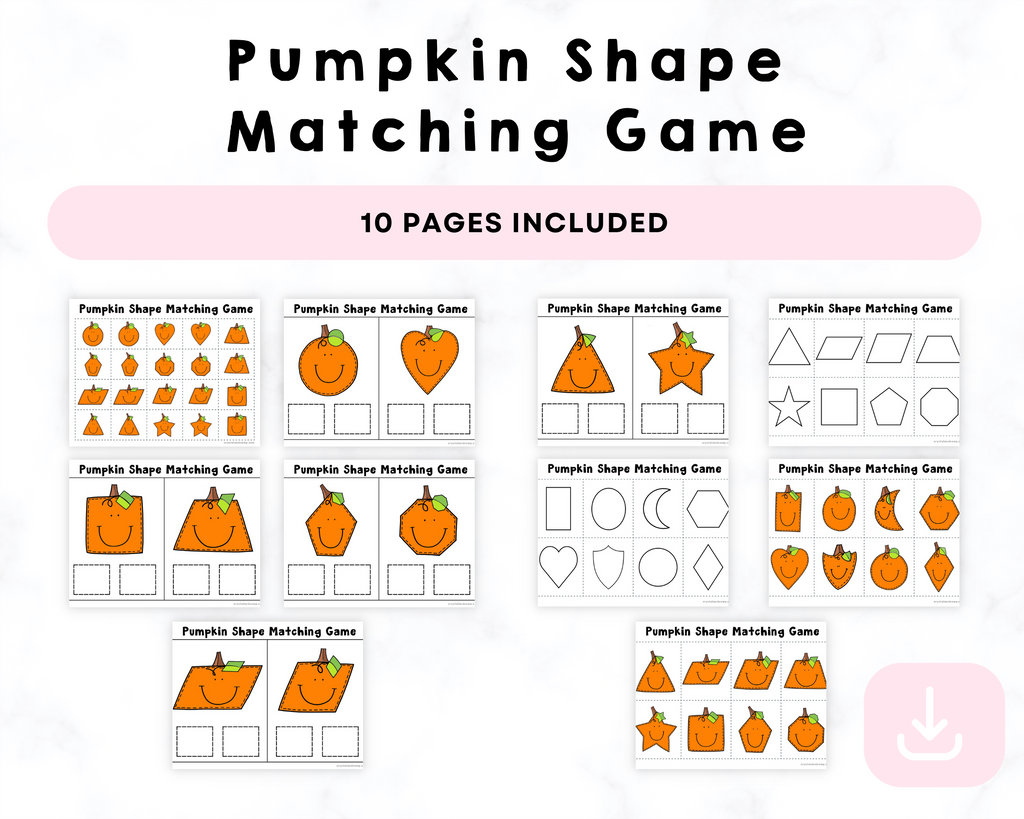 Pumpkin Shape Matching Game Printables
Pumpkin Shape Matching Game Printables
description
Introducing our Pumpkin Shape Matching Game Printables for Preschoolers - The Perfect Fall Learning Activity!

Are you ready to add a touch of autumn fun and education to your preschooler's day? Our 10-page Pumpkin Shape Matching Game Printables are the perfect solution! This engaging and entertaining educational resource is designed to help your little one develop essential cognitive and fine motor skills while embracing the festive spirit of fall.

🍂 What's Included:
1. **10 Vibrant Pumpkin Shape Cards:** Each pumpkin card features a unique shape, beautifully illustrated with eye-catching autumn colors. Your child will love the delightful visuals, making learning fun and engaging.

2. ** Adorable Shape Pieces:** From circles and squares to triangles and stars, our Pumpkin Shape Matching Game Printables offer a variety of shapes to enhance your child's shape recognition abilities.

3. **Interactive Learning:** Your preschooler will delight in matching the shape pieces to their corresponding pumpkin cards. This hands-on activity encourages critical thinking and problem-solving skills while having a blast.

4. **Fall-Themed Fun:** With pumpkins, leaves, and cozy fall imagery, this game will get your child into the autumn spirit while learning through play.

🎨 Why Choose Our Pumpkin Shape Matching Game Printables?

- **Educational Excellence:** These printables are carefully designed to align with early childhood learning standards, ensuring your child receives quality education while enjoying themselves.

- **Easy to Use:** No complicated setup is required. Just print, cut, and you're ready to play! Perfect for busy parents and teachers.

- **Versatile:** Whether you're a teacher looking for a classroom activity or a parent seeking educational playtime at home, our Pumpkin Shape Matching Game Printables are versatile and suited for various settings.

- **Promotes Independence:** Watch your child's confidence grow as they master shape recognition independently.

🎃 Embrace the joy of fall and enhance your child's cognitive development with our Pumpkin Shape Matching Game Printables. These delightful, autumn-themed resources are a fantastic addition to your educational toolkit. Get your set today and watch your preschooler thrive as they play and learn simultaneously!

🌟 Order now to unlock a world of educational fun this fall season! Your child's learning journey starts with our Pumpkin Shape Matching Game Printables.


Please note: This is a digital product. No physical items will be shipped. After purchase, you will receive a link to download your printable pack.