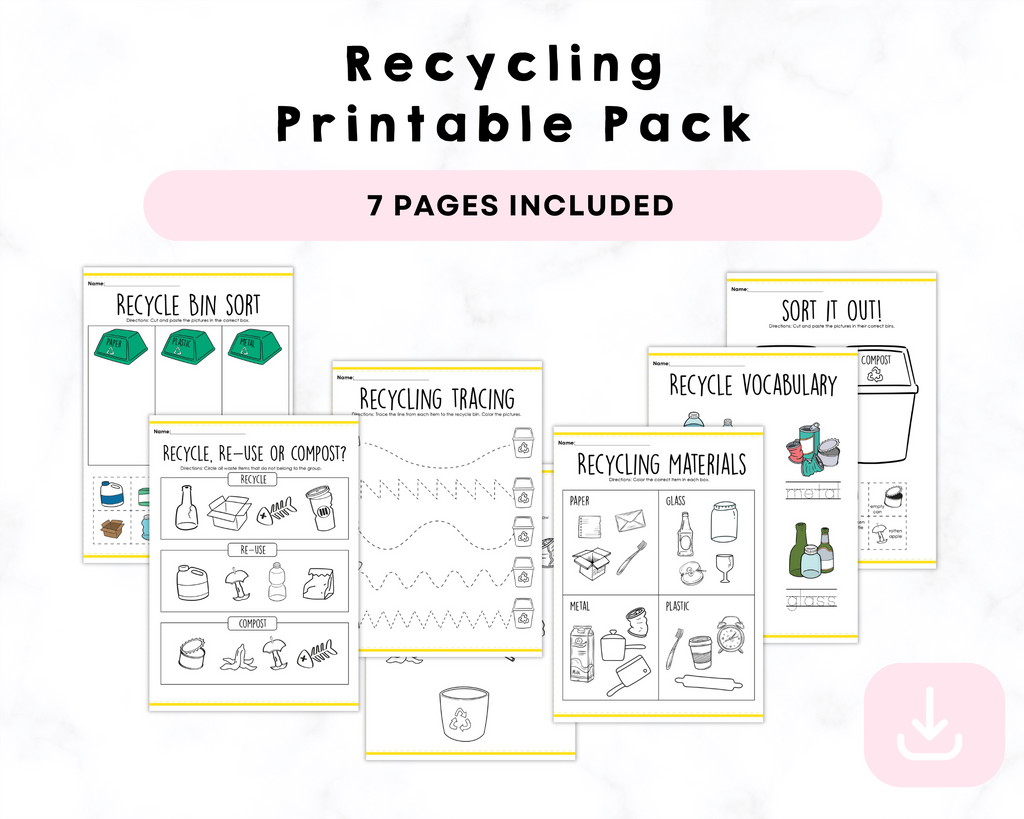 Recycling Printable Pack Printables
Recycling Printable Pack Printables
description
🌱♻️ Ignite Eco-Friendly Learning with Our 7-Page Recycling Printable Pack for Preschoolers! 🌍🎨
Introduce the wonders of recycling to young minds with our engaging 7-page Recycling Printable Pack! Tailored specifically for preschoolers, this pack is a gateway to understanding the importance of sustainability in a fun and educational way.
🔍 What's Inside?
From tracing recycling symbols and materials to learning recycle vocabulary, each page is an immersive experience in the world of sustainability.
🔄 Educational Adventures:
Recycling Tracing: Enhance fine motor skills as children trace recycling symbols and materials, reinforcing the importance of reusing and reducing waste.

Recycling Materials: Engage in activities identifying and categorizing recyclable materials, nurturing an understanding of responsible waste management.

Recycle Vocabulary: Introduce eco-conscious vocabulary, fostering language development and an understanding of sustainable practices.
📝 How to Use:
Print, trace, learn, and recycle! These printables are designed to make learning about recycling interactive and engaging. Perfect for parents, educators, and caregivers seeking to instill eco-awareness in young learners through hands-on activities.
🎁 Perfect Gift for Little Eco-Heroes!
Inspire a love for the planet with our Recycling Printable Pack. Whether for home activities, classroom engagement, or as an educational resource, these printables instill valuable lessons for a greener future.
📥 Instant Download:
No waiting, just learning! Instantly download your printables and embark on an eco-friendly journey of discovery and understanding.
Contact us
Crystal & Co.
P O Box 55263
Hurst, Texas 76054
crystalandcomp@yahoo.com
Sign up to our mailing list