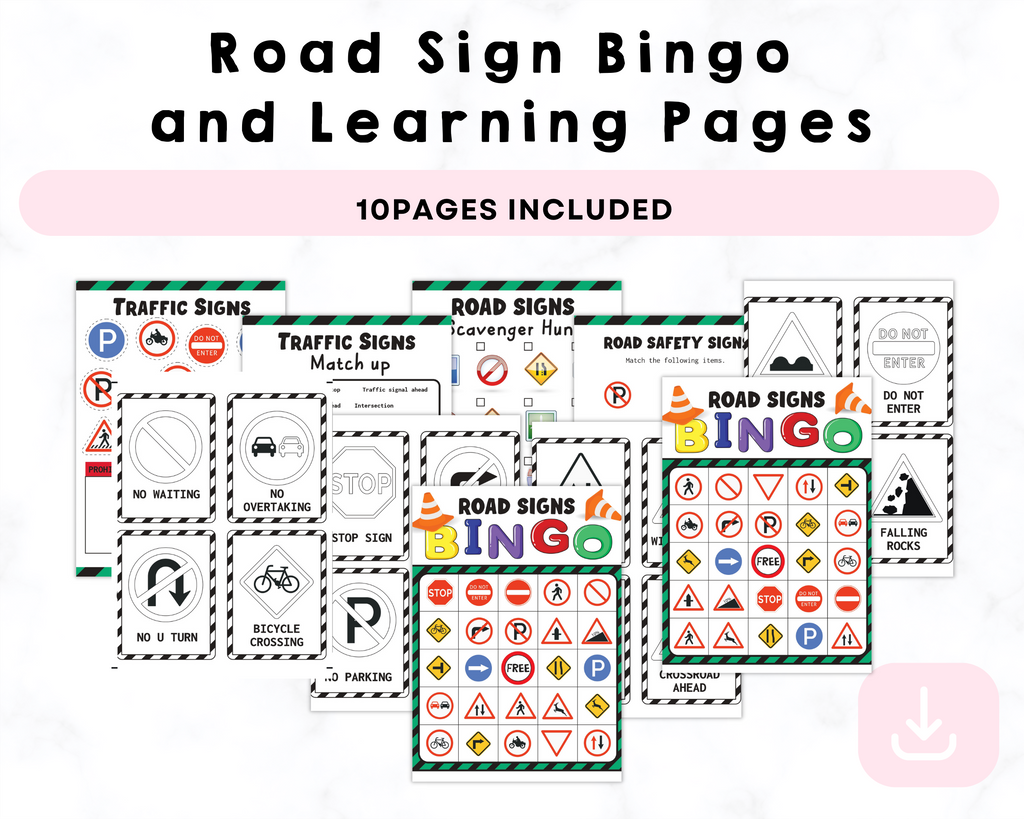 Road Sign Bingo and Learning Pages Printables
Road Sign Bingo and Learning Pages Printables
description
🚦🚗 Hit the Road to Learning with Our 10-Page Road Sign Bingo and Learning Pages Printable! Explore, Identify, and Play with Traffic Signs! 🌟🛑
Navigate the world of traffic signs and road safety with our engaging 10-page Road Sign Bingo and Learning Pages Printable! This pack combines educational content with interactive games and activities centered around recognizing and understanding traffic signs.
🛣️🚸 Educational Adventures:
Road Sign Bingo: Engage in a fun and interactive bingo game that helps recognize and match various traffic signs.

Identifying Road Signs: Foster awareness and understanding of road signs through identification exercises and matching activities.

Coloring Road Signs: Encourage creativity by coloring and personalizing road signs, making learning fun and artistic.

Scavenger Hunt Fun: Embark on scavenger hunts to spot and identify real traffic signs, adding a hands-on element to learning.
📝 How to Use:
Print, play, learn, and explore! These printables offer a dynamic blend of games and educational activities suitable for parents, educators, and caregivers seeking to introduce road safety and traffic sign comprehension in an engaging way.
🌟 Why Choose Our Printable Pack?
Interactive Learning: 10 pages filled with games and activities that make learning about traffic signs immersive and enjoyable.

Practical Applications: Encourage real-world engagement by incorporating scavenger hunts for identifying traffic signs outdoors.

Promoting Safety: Lay the groundwork for road safety awareness and responsible behavior from an early age.
🚦🎨 Perfect for Little Explorers!
Inspire road safety awareness and traffic sign comprehension with our Road Sign Bingo and Learning Pages Printable. Whether for at-home activities, educational resources in classrooms, or as an interactive learning tool, these printables offer a playful yet educational journey through traffic signs.
🛒 Add to Cart Now and Let the Traffic Sign Adventures Begin! 🚦🔍🚗

Please note: This is a digital product. No physical items will be shipped. After purchase, you will receive a link to download your printable pack.

Contact us
Crystal & Co.
P O Box 55263
Hurst, Texas 76054
crystalandcomp@yahoo.com
Sign up to our mailing list