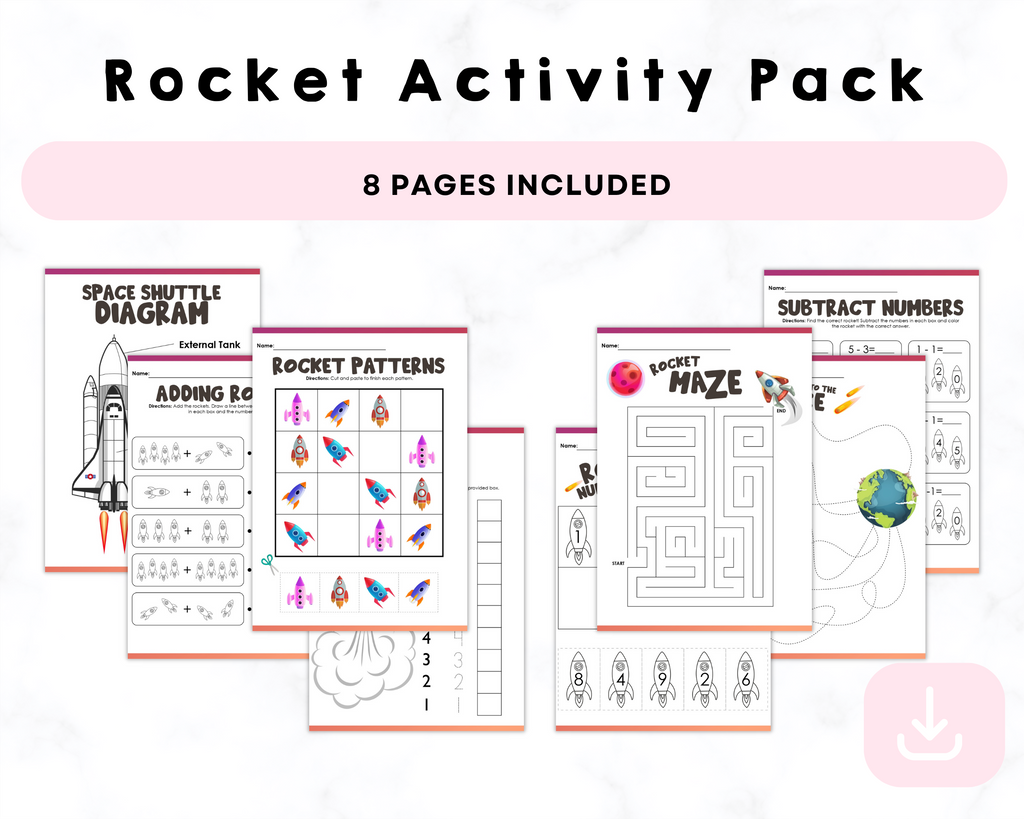 Rocket Activity Pack Printables
Rocket Activity Pack Printables
description
Introducing our 8-page Rocket Activity Pack Printables, a stellar journey designed to ignite the imagination of preschoolers! Packed with intergalactic fun, this comprehensive activity pack is carefully crafted to engage and educate your little ones.

🚀 **Rocket Patterns:** Blast off into creativity with captivating rocket patterns that will have your preschooler reaching for the stars! From sleek and streamlined to whimsically detailed, these patterns are perfect for fostering fine motor skills and sparking artistic expression.

🌌 **Space Shuttle Diagram:** Embark on an educational adventure as your child explores the intricacies of a space shuttle with our detailed diagram. From the cockpit to the thrusters, this visual aid provides a captivating glimpse into the world of space exploration, making learning an out-of-this-world experience!

🌀 **Rocket Maze:** Get ready for a cosmic challenge with our rocket maze! Your little astronauts will navigate their way through twists and turns, enhancing problem-solving skills and perseverance. Watch as they conquer the maze, just like a real-life space mission!

➖ **Subtract Numbers:** Turn math into a cosmic voyage with our subtraction exercises. Designed to make learning fun, these activities will have your preschooler mastering basic math concepts while exploring the universe of numbers. Count down to success with every correct answer!

Fuel the curiosity of your preschooler and watch them soar with our Rocket Activity Pack Printables. Bring the wonders of space into your home and let the learning adventure begin! 🌌🚀✨

Please note: This is a digital product. No physical items will be shipped. After purchase, you will receive a link to download your printable pack.

Contact us
Crystal & Co.
P O Box 55263
Hurst, Texas 76054
crystalandcomp@yahoo.com
Sign up to our mailing list