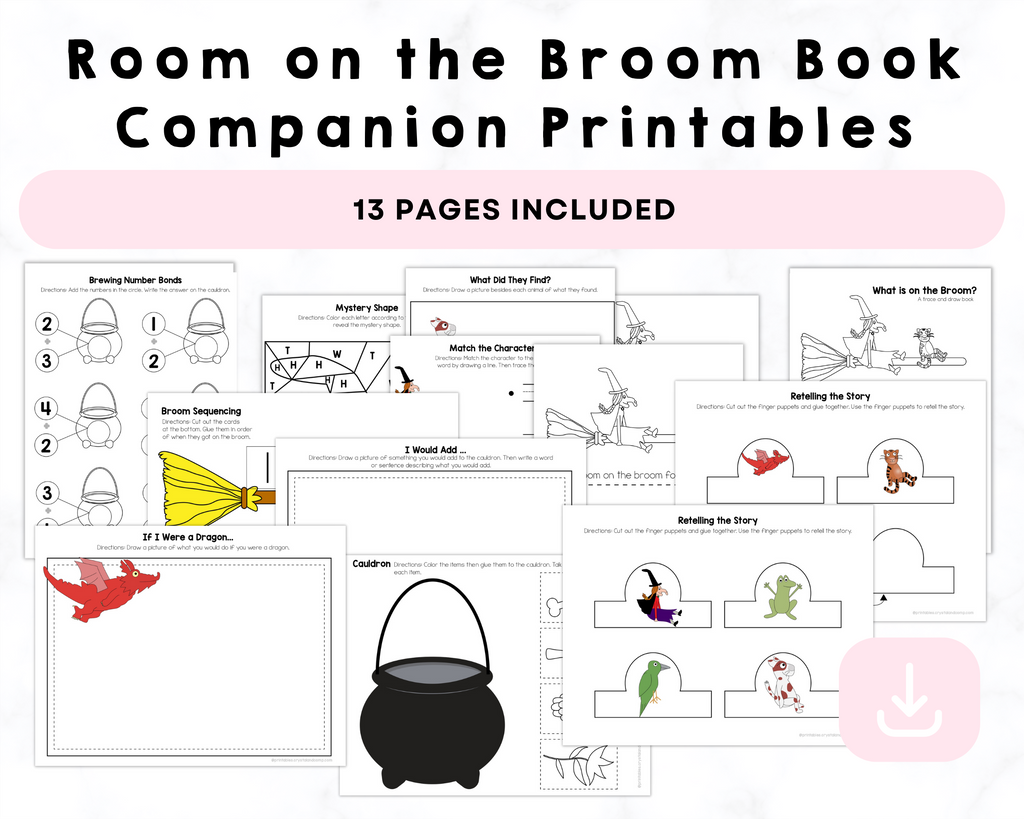 Room on the Broom Book Companion Printables
Room on the Broom Book Companion Printables
description
Introducing our enchanting Room on the Broom Book Companion Printables a 13-page wonderland of creativity and learning! Dive into the magical world of this beloved tale with our thoughtfully crafted printables designed to enhance your child's reading experience.

**1. Coloring Fun:**
Unleash your child's artistic flair with carefully illustrated pages featuring beloved characters from Room on the Broom. From the friendly witch to her delightful animal companions, your child can bring this enchanting story to life with vibrant colors and boundless imagination.

**2. Matching Mastery:**
Engage young minds in critical thinking and observation skills with our captivating matching activities. Connect characters, objects, and themes from the story to foster a deeper understanding of the narrative while honing cognitive abilities.

**3. Story Retelling Adventures:**
Encourage storytelling and language development by reimagining the whimsical tale of Room on the Broom. Our printables provide prompts and visuals to assist your child in retelling the story, enhancing their comprehension and communication skills.

Each of the 13 pages is carefully designed to captivate your child's attention and stimulate their creativity. Whether they're coloring the characters, mastering matching puzzles, or recounting the magical journey of the witch and her friends, our Room on the Broom Book Companion Printables promise an educational and delightful experience.

Get ready to embark on a literary adventure where learning meets fun, and imagination takes flight. Add this enchanting companion to your cart and watch as your child's love for reading and learning soars to new heights!

Please note: This is a digital product. No physical items will be shipped. After purchase, you will receive a link to download your printable pack.

Contact us
Crystal & Co.
P O Box 55263
Hurst, Texas 76054
crystalandcomp@yahoo.com
Sign up to our mailing list