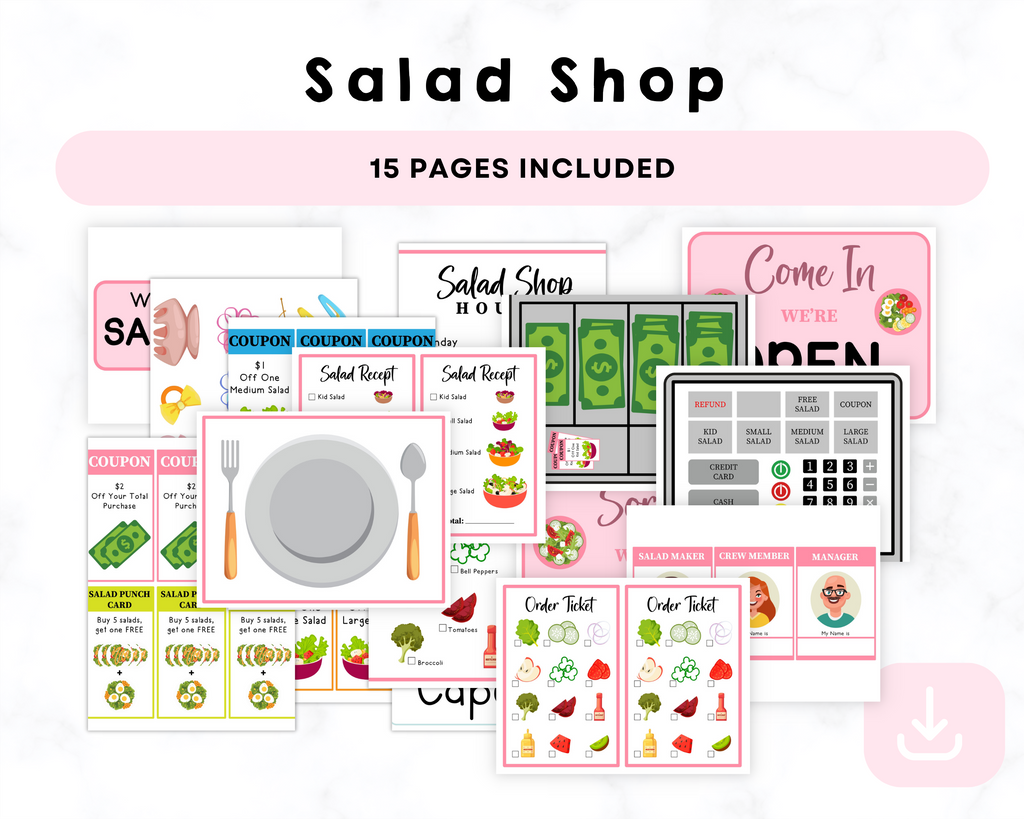 Salad Shop Play Pretend Printable
Salad Shop Play Pretend Printable
description
Introducing our Salad Shop Play Pretend Printables - a delightful and educational set that will whisk your child's imagination into a world of culinary creativity! With 15 pages of colorful and engaging printables, this playset is perfect for fostering imaginative play and teaching your little one about the wonderful world of salads.

**Product Features:**

1. **Vibrant Salad Ingredients:** Your child will have a blast choosing from an assortment of beautifully illustrated vegetables, fruits, and toppings to create their dream salad. From crisp lettuce leaves to juicy tomatoes and crunchy croutons, the possibilities are endless.

2. **Customizable Menus:** Our printable set includes various menu templates, allowing your child to become the chef of their very own salad shop. They can write down their daily specials or offer unique salad combinations that spark their creativity.

3. **Order Forms and Price Tags:** Encourage numeracy and communication skills as your child takes on the role of both chef and cashier. The order forms and price tags add a fun, educational element to their playtime.

4. **Cutting and Assembly Activities:** For a hands-on experience, we've included cut-out ingredients and assembly instructions, fostering fine motor skills development and coordination. Your child can 'chop' their veggies and build salads step by step.

5. **Imaginative Play Scenarios:** Whether your child is hosting a salad shop for their toys or engaging in a pretend picnic with friends, these printables offer countless opportunities for storytelling and creative play.

6. **Learning Through Play:** While having fun, your child will also learn about healthy eating, ingredient recognition, counting, and social skills as they interact with friends or family during playtime.


Order today and let the salad-making adventures begin! Add this delightful set to your cart now and encourage your child's imaginative journey through culinary exploration.
Please note: This is a digital product. No physical items will be shipped. After purchase, you will receive a link to download your printable pack.
Contact us
Crystal & Co.
P O Box 55263
Hurst, Texas 76054
crystalandcomp@yahoo.com
Sign up to our mailing list