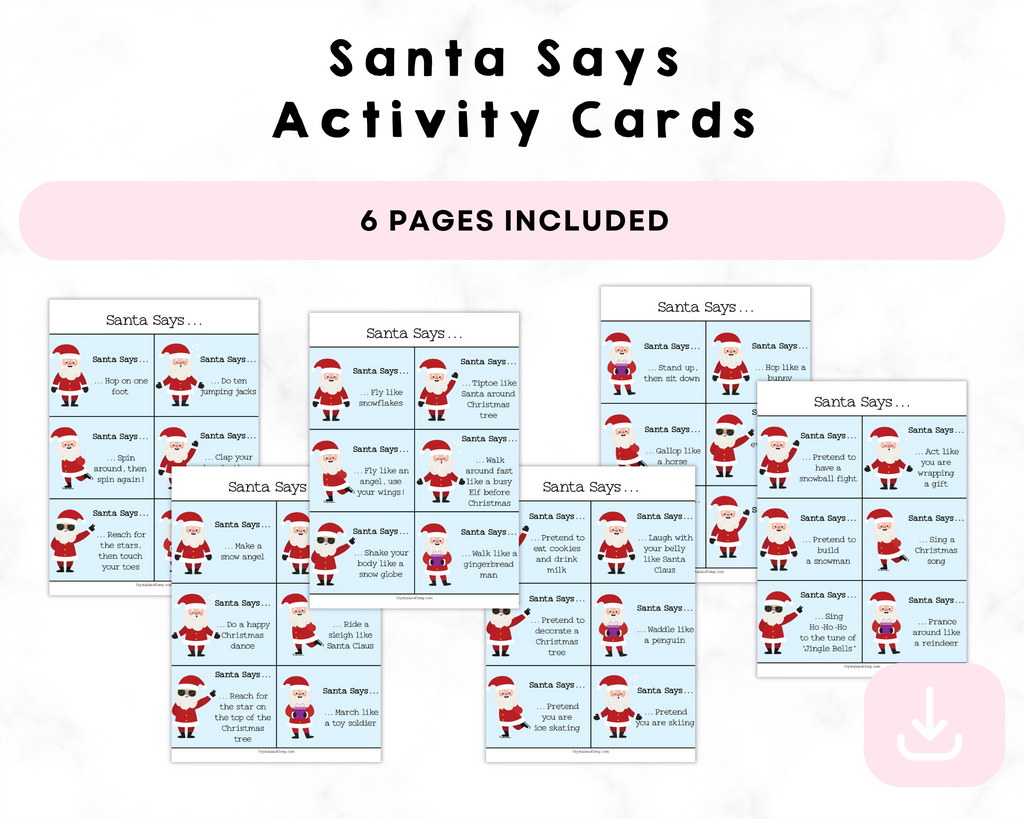 Santa Says Activity Cards Printable
Santa Says Activity Cards Printable
description
Introducing our delightful 6-page Santa Says Activity Cards Printable, designed to especially spark the magic of the holiday season and bring Santa's cheerful spirit into your home with these engaging and educational activity cards.
🎅 **Engaging Learning Experience:**
Immerse your little ones in a world of creativity and learning with our Santa Says Activity Cards. Each page is carefully curated to enhance cognitive skills, promote imagination, and boost early development in a fun and festive manner.
🎨 **Colorful and Festive Designs:**
The engaging visuals will captivate your child's attention and make learning a delightful adventure.
📚 **Educational and Printable:**
Our printable activity cards are perfect for busy parents and educators looking for convenient and educational resources. Easily print these cards at home and let the holiday learning fun begin!
👨‍👩‍👧‍👦 **Family Bonding:**
Share precious moments with your little ones as you guide them through the delightful activities. These cards provide an excellent opportunity for family bonding, laughter, and creating cherished memories during the holiday season.
🎁 **Gift the Magic:**
Looking for a unique and thoughtful gift idea? Our Santa Says Activity Cards Printable makes an excellent present, ensuring the holiday season is filled with joy, learning, and festive cheer.
🚀 Ignite the magic of Christmas and educational exploration with our 6-page Santa Says Activity Cards Printable. Get your digital download today and let the jolly adventures begin! 🎅🎉
Please note: This is a digital product. No physical items will be shipped. After purchase, you will receive a link to download your printable pack.
Contact us
Crystal & Co.
P O Box 55263
Hurst, Texas 76054
crystalandcomp@yahoo.com
Sign up to our mailing list