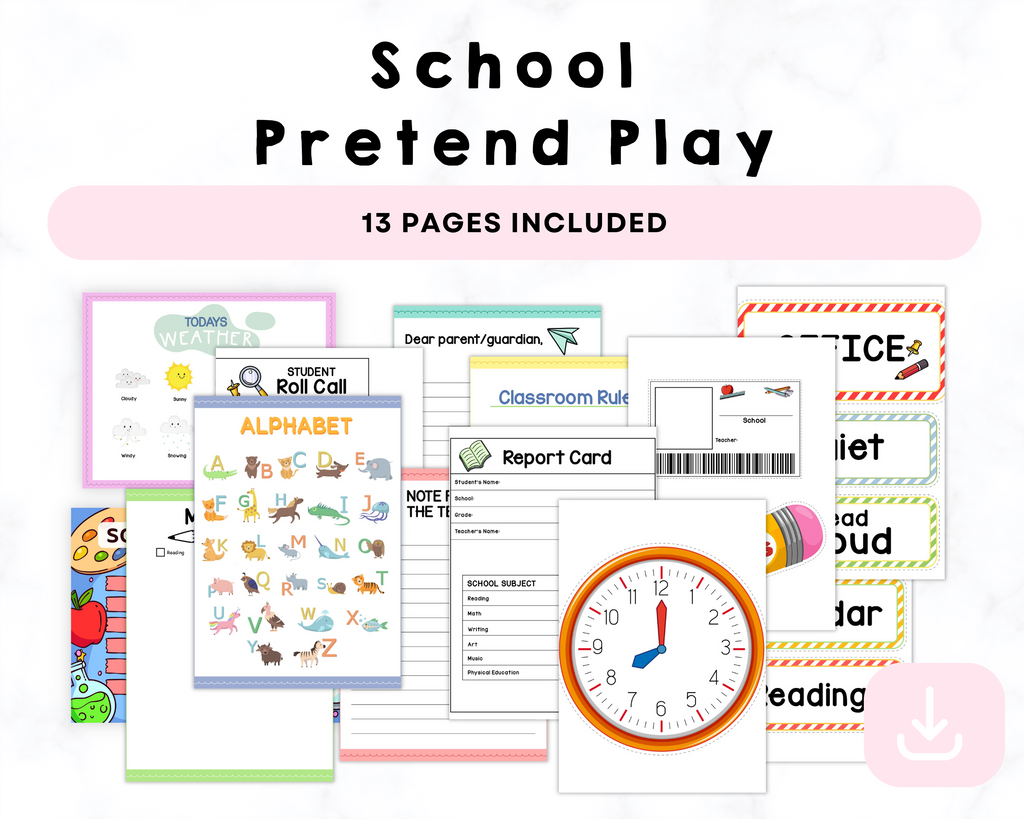 School Teacher Pretend Play Printable
School Teacher Pretend Play Printable
description
Transform your child's playtime into a world of learning and imagination with our School Teacher Pretend Play Printables! This set of 13 engaging and educational pages is designed to spark creativity, encourage role-playing, and enhance early childhood development. Whether you're a teacher looking to inspire your students or a parent eager to make learning fun, these printables are the perfect addition to your collection.

Key Features:

1. **Exciting Pages**: Our printables include a variety of 13 unique pages, each with its own educational theme. From classroom rules to lesson planning, these printables cover it all.

2. **Realistic Props**: These printables offer realistic school-related props, including worksheets, lesson plans, attendance records, and more. Your child will feel like a real teacher in no time!

3. **Develop Essential Skills**: As your child plays, they'll naturally develop crucial skills such as problem-solving, communication, and organizational abilities.

4. **Inspire Creativity**: Encourage imaginative play with our teacher-themed pages, fostering a love for learning that will last a lifetime.

5. **Versatile Learning Tool**: Perfect for both homeschooling and playtime, these printables can be used in various settings to stimulate curiosity and knowledge.

6. **Printable and Reusable**: Designed for convenience, you can print these pages as many times as you like. They're reusable, making them a fantastic resource for ongoing play and learning.

7. **Eco-Friendly**: We care about the environment. These printables are designed with eco-friendly principles, allowing you to reduce waste and save resources.

Order now and watch your child's creativity and knowledge bloom with our School Teacher Pretend Play Printables!
Please note: This is a digital product. No physical items will be shipped. After purchase, you will receive a link to download your printable pack.
Contact us
Crystal & Co.
P O Box 55263
Hurst, Texas 76054
crystalandcomp@yahoo.com
Sign up to our mailing list