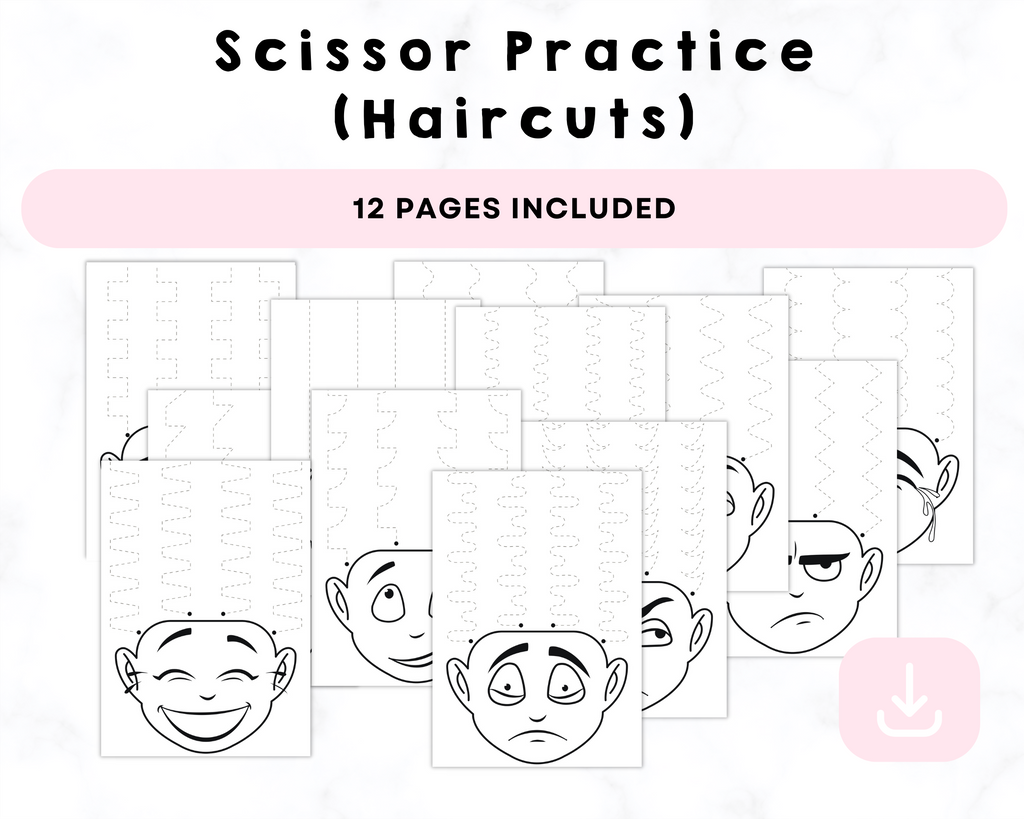 Scissor Practice (Haircuts) Printables
Scissor Practice (Haircuts) Printables
description
Introducing our 12-Page Scissor Practice (Haircuts) Printables - the perfect companion for budding hair stylists in the making! Encourage your little ones to master the art of cutting with these engaging and creative printables designed to make learning scissor skills a blast.

 **Skill Building:** Watch as your child's scissor skills improve and evolve with each carefully guided cut, promoting hand-eye coordination and fine motor development.

 **Educational and Interactive:** Not only do these printables enhance scissor proficiency, but they also incorporate educational elements, encouraging color recognition and pattern identification.

**Safe and Kid-Friendly:** Crafted with safety in mind, our printables feature rounded, easy-to-cut lines, ensuring a safe and enjoyable cutting experience for your little ones.

**Print and Play:** Simply print the pages and let the haircutting adventure begin! This instant download allows for immediate enjoyment and endless scissor practice sessions.

🎨 **Creative Learning at its Best:**
Let your child's imagination run wild as they craft their own hairstyling masterpieces! Our printables provide a canvas for artistic expression while refining cutting techniques.

👩‍🎨 **Perfect for Classroom or Home Use:**
Whether used in a classroom setting or at home during playtime, these printables are an excellent addition to any learning environment. They offer a unique blend of fun and education, making scissor practice an enjoyable journey.

🛒 **Get Yours Today:**
Don't miss out on the opportunity to enhance your child's scissor skills in a playful and engaging way. Grab our 12-Page Scissor Practice (Haircuts) Printables now and watch your little one become a confident hair stylist in the making!

Please note: This is a digital product. No physical items will be shipped. After purchase, you will receive a link to download your printable pack.

Contact us
Crystal & Co.
P O Box 55263
Hurst, Texas 76054
crystalandcomp@yahoo.com
Sign up to our mailing list