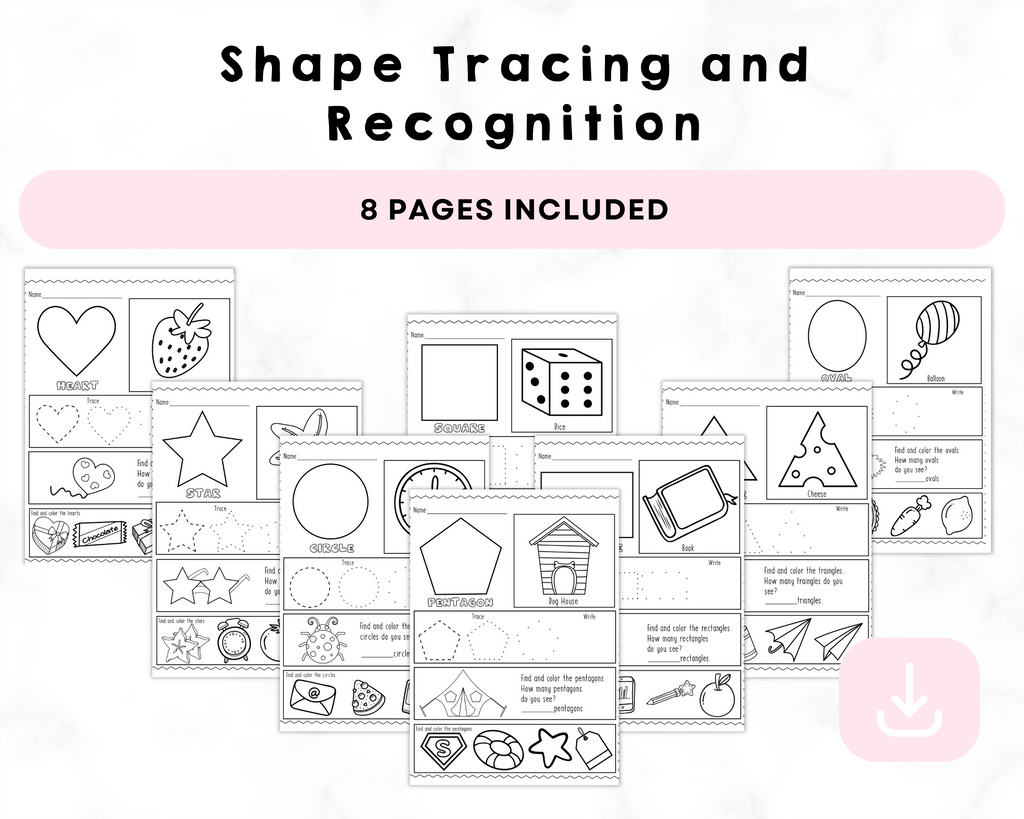 Shape Tracing and Recognition
Shape Tracing and Recognition
description
Introduce your little one to the exciting world of shapes and colors with our 8-page Shape Tracing and Recognition Printables! These engaging printables are perfect for early learners, designed to make the journey of learning shapes an enjoyable and creative adventure.

**Key Features:**

**Coloring Shapes:** Each page features captivating shapes to color, allowing children to unleash their creativity and experiment with a spectrum of colors.

**Shape Recognition:** Help your child identify and differentiate between common shapes like circles, squares, triangles, and more.

**Handwriting Practice:** Improve fine motor skills through tracing and writing the names of shapes, laying the foundation for clear and precise handwriting.

 **Color Exploration:** Encourage creativity and self-expression as children choose colors for the shapes, fostering an early understanding of color theory.

**What's Included:**

- 8 thoughtfully designed printable pages featuring a variety of shapes for tracing and coloring.

- Clear and simple instructions to make learning a breeze for both children and parents.

- Engaging visuals that captivate young minds and keep them eager to learn.

These Shape Tracing and Recognition Printables are a valuable addition to any learning environment, whether it's at home or in a classroom. Watch as your child embraces the joy of learning while developing essential skills for their academic journey.



Please note: This is a digital product. No physical items will be shipped. After purchase, you will receive a link to download your printable pack.
Contact us
Crystal & Co.
P O Box 55263
Hurst, Texas 76054
crystalandcomp@yahoo.com
Sign up to our mailing list