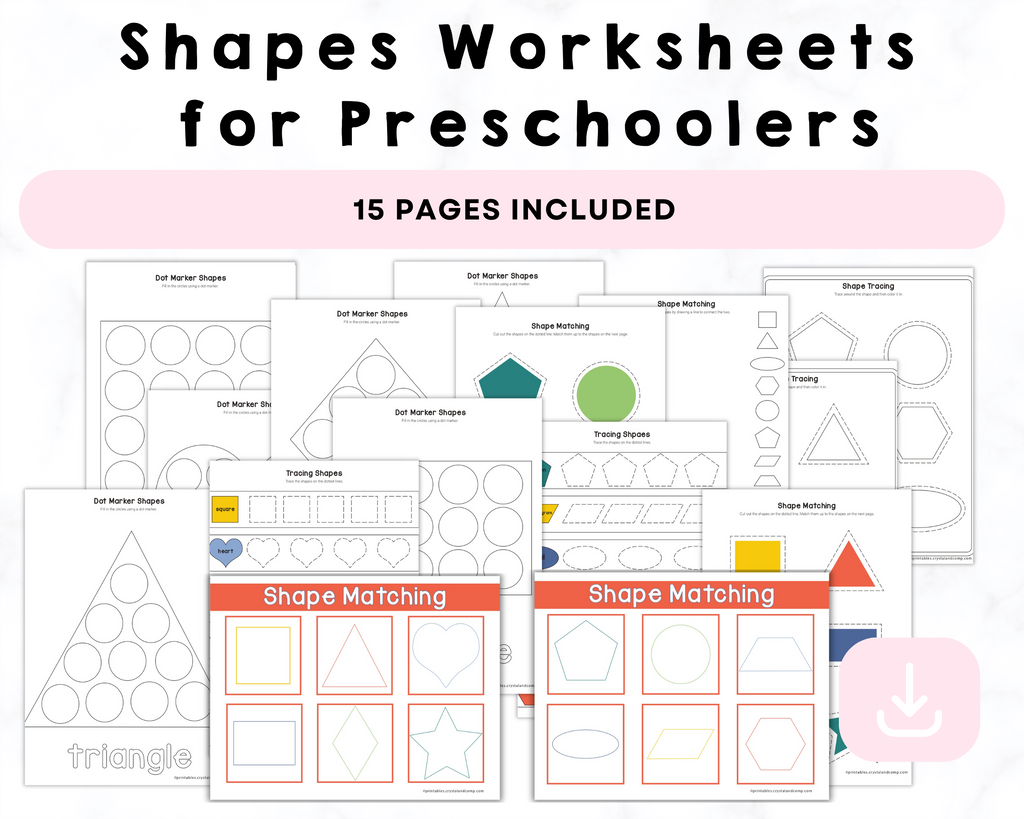 Shapes Worksheets for Preschoolers
Shapes Worksheets for Preschoolers
description
Introduce the fascinating world of shapes to your little ones with our comprehensive 15-page Shapes Worksheets for Preschoolers. Packed with engaging activities, this educational bundle is designed to make learning shapes a delightful and interactive experience for young minds.

**Key Features:**

**Coloring Shapes:** Encourage creativity and fine motor skills as your child colors various shapes in vibrant hues. From circles to triangles, our worksheets provide ample space for artistic expression while familiarizing children with fundamental shapes.

**Identifying Shapes:** Help your preschooler develop shape recognition skills through exciting identification exercises. Each worksheet presents different objects, prompting children to identify and mark the corresponding shapes, aiding in their understanding and memory retention.

**Shape Matching:** Enhance cognitive abilities by challenging your child to match shapes to their corresponding outlines. This activity promotes critical thinking and problem-solving, ensuring a fun and engaging learning process.

 **Shape Tracing:** Hone motor skills and refine hand-eye coordination as little ones trace over well-defined shapes. Our worksheets offer guided tracing lines for each shape, enabling children to master proper shape formation with ease.

**Why Choose Our Shapes Worksheets for Preschoolers:**

- **Educational Fun:** Transform learning into an enjoyable adventure with our vibrant and captivating worksheets that seamlessly blend education and entertainment.

- **Comprehensive Content:** With 15 thoughtfully designed pages covering coloring, identifying, matching, and tracing shapes, this bundle provides a well-rounded learning experience for young learners.

- **Preschooler-Friendly Design:** Created with preschoolers in mind, the worksheets feature clear and simple instructions, engaging visuals, and age-appropriate activities to keep children excited and eager to learn.

Equip your child with essential shape knowledge while fostering creativity and cognitive growth. Our 15-page Shapes Worksheets for Preschoolers promise hours of learning and fun, setting the foundation for a lifetime of academic success.

Please note: This is a digital product. No physical items will be shipped. After purchase, you will receive a link to download your printable pack.

Contact us
Crystal & Co.
P O Box 55263
Hurst, Texas 76054
crystalandcomp@yahoo.com
Sign up to our mailing list