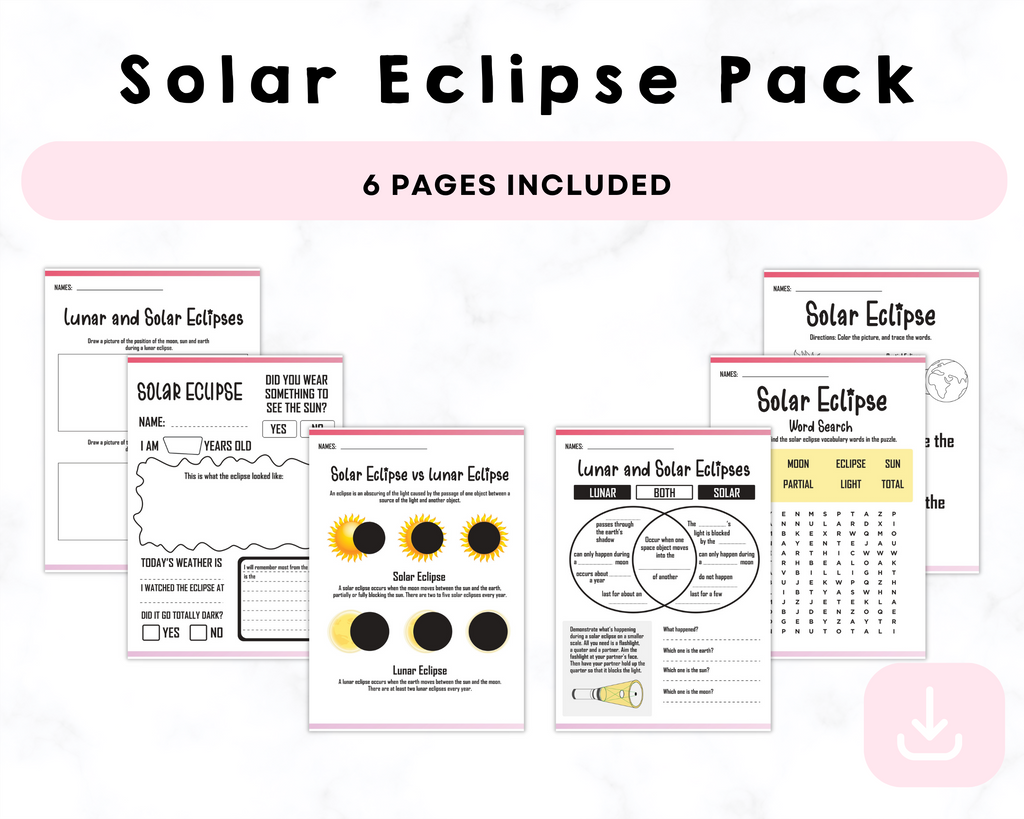 Solar Eclipse Pack Printables
Solar Eclipse Pack Printables
description
🌞✨ **Explore the Wonders of the Sky with Our Solar Eclipse Pack Printables for Preschoolers!** ✨🌑

Immerse your little ones in the mesmerizing world of celestial events with our 6-page Solar Eclipse Pack Printables! Designed specifically for preschoolers, this educational and fun-filled package is perfect for introducing them to the magic of solar and lunar eclipses.

**What's Inside:**

1. 🌕 **Lunar Eclipse Drawing:** Unleash your child's creativity with a step-by-step guide to drawing a lunar eclipse. Watch as they bring the moon to life with their own unique touch.

2. ☀️ **Solar Eclipse Definition:** Make learning exciting! Our pack includes a simple yet informative explanation of a solar eclipse, tailored for young minds. It's the perfect opportunity for your little one to grasp the concept of this celestial phenomenon.

3. 🎨 **Color the Picture:** Let your child's imagination run wild as they add vibrant colors to an enchanting solar eclipse scene. This not only enhances their artistic skills but also reinforces the understanding of the sun, moon, and Earth in alignment.

4. ✏️ **Trace the Word:** Foster early writing skills by guiding your preschooler to trace the word "Eclipse." This hands-on activity makes learning to write a joyful experience, setting the foundation for future literacy.

**Why Choose Our Solar Eclipse Pack Printables:**

- 🌟 Educational and Entertaining: Combine learning with fun, ensuring your child stays engaged throughout the activities.

- 🌈 Vibrant and Engaging: The colorful visuals captivate young minds, making the learning process enjoyable.

- 🤝 Parent-Child Bonding: Share precious moments with your little one as you explore the mysteries of the sky together.

- 📚 Curriculum Aligned: Our pack is designed to complement early childhood education standards, providing a valuable addition to your child's learning journey.

Transform learning into an adventure with our Solar Eclipse Pack Printables. Order now and embark on a celestial journey with your preschooler! 🚀🌌


Please note: This is a digital product. No physical items will be shipped. After purchase, you will receive a link to download your printable pack.

Contact us
Crystal & Co.
P O Box 55263
Hurst, Texas 76054
crystalandcomp@yahoo.com
Sign up to our mailing list