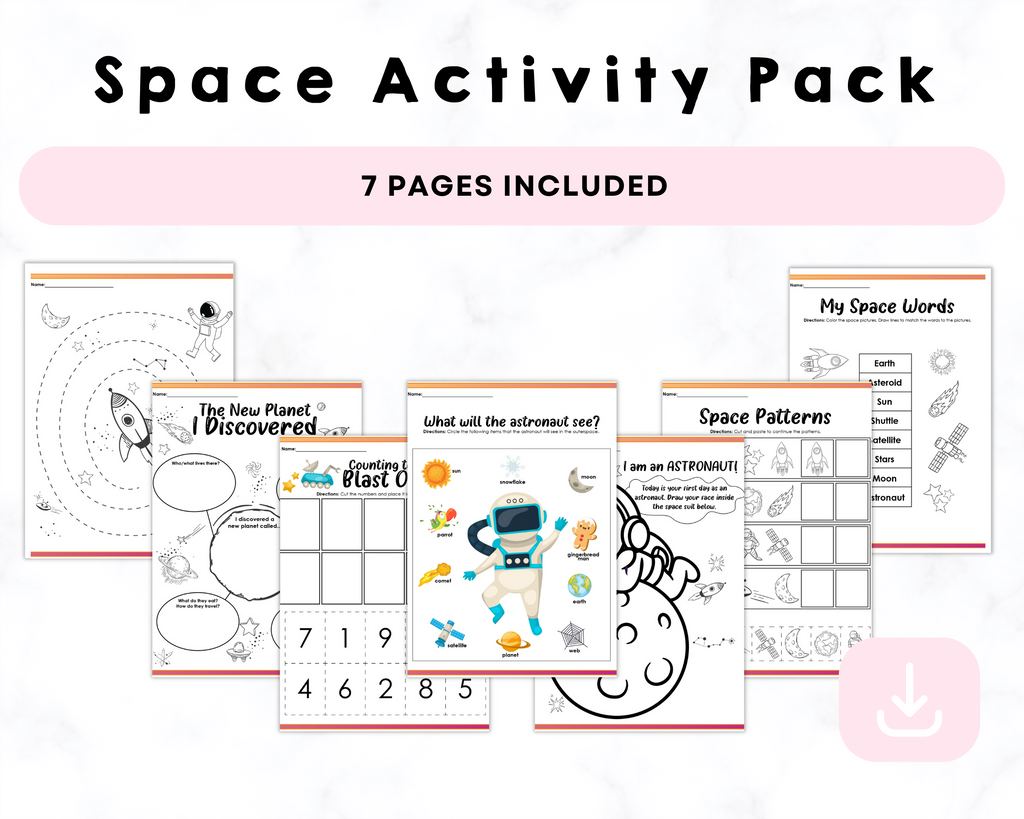 Space Activity Pack Printables
Space Activity Pack Printables
description
Unleash the wonders of the universe with our 7-page Space Activity Pack specially designed for preschoolers. Packed with captivating activities, this printable set promises to spark imagination, promote early learning, and provide hours of cosmic fun.

**🌌 What's Inside:**

1. **Counting Comet Challenge:** Blast off into the world of numbers as your little one counts colorful comets streaking across the page. This activity not only hones counting skills but also introduces basic math concepts in a space-themed setting.

2. **Astronaut's Viewpoint:** Ever wondered what an astronaut sees in space? Dive into the cosmic perspective with vivid illustrations that let preschoolers imagine the awe-inspiring sights beyond our atmosphere. From distant planets to twinkling stars, the adventure begins here!

3. **Storytelling Constellations:** Encourage creativity and language development with our Storytelling Constellations activity. Connect the dots to form constellations, and let your child weave tales of interstellar adventures. This interactive storytelling experience is a stellar way to enhance language skills.

4. **Space Patterns Puzzle:** Engage young minds in pattern recognition with our Space Patterns Puzzle. As they piece together rockets, planets, and stars, they'll not only unlock the secrets of patterns but also reinforce fine motor skills.

5. **My Space Words Workbook:** Build a cosmic vocabulary with the "My Space Words" workbook. From astronaut to spaceship, this section introduces and reinforces essential space-related words through fun and educational exercises.

**🌠 Why Choose Our Space Activity Pack:**

- **Educational Fun:** Each page is carefully crafted to blend entertainment with education, making learning an enjoyable adventure.

- **Printable Convenience:** Accessible and printable from the comfort of your home, these activities are perfect for busy parents and teachers.

- **Versatile Learning:** Whether used at home or in the classroom, our Space Activity Pack adapts to various teaching styles and learning environments.

- **Preschool Approved:** Designed with preschoolers in mind, the activities align with early childhood developmental milestones.

Don't miss the chance to fuel your child's curiosity about the cosmos. Grab our Space Activity Pack Printables today and watch as they embark on an educational journey through the stars!


Please note: This is a digital product. No physical items will be shipped. After purchase, you will receive a link to download your printable pack.