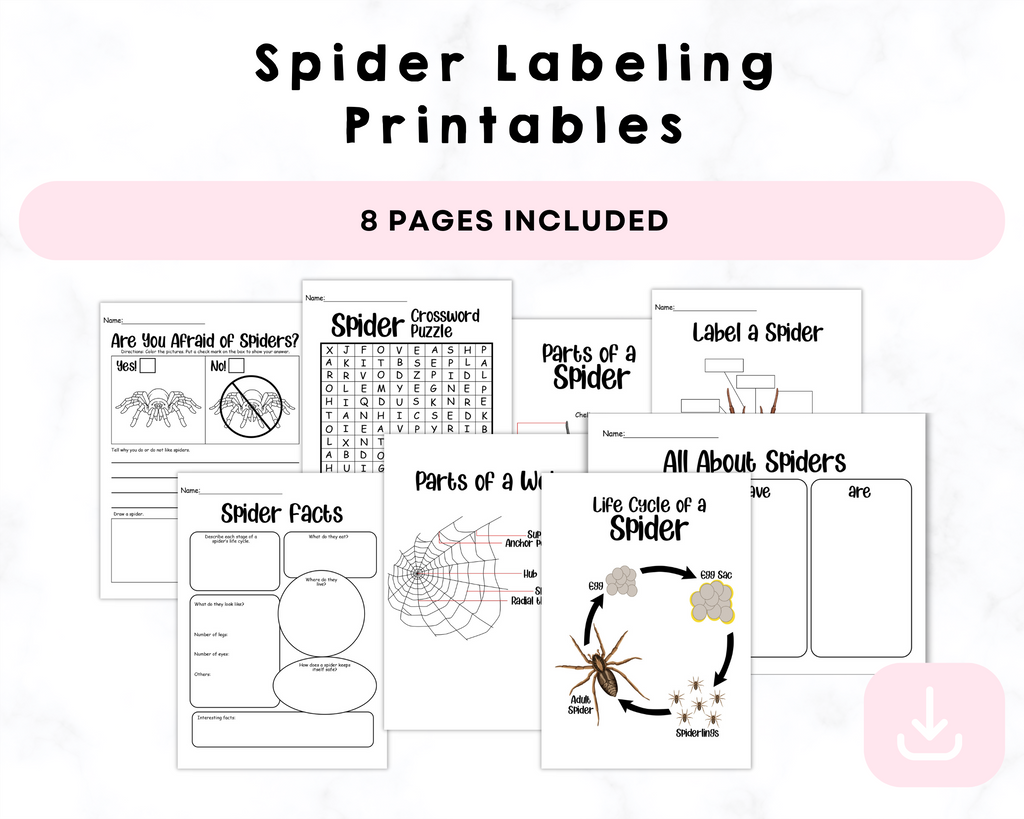 Spider Labeling Printables
Spider Labeling Printables
description
Introducing our captivating 8-page Spider Labeling Printables for Preschoolers! Delight your little learners with an educational journey through the fascinating world of spiders. This meticulously designed set is tailored to engage young minds, fostering curiosity and understanding of spider anatomy and life cycles in an interactive and enjoyable manner.

**The Spider Life Cycle**
Dive into the spider's life cycle, from tiny eggs to adorable spiderlings and eventually mature spiders. Beautifully illustrated visuals accompanied by simple language will captivate your child as they learn about the different stages of a spider's life.

**Spider Crossword Puzzle**
Challenge your young one's vocabulary and problem-solving skills with our spider-themed crossword puzzle. This interactive activity will encourage critical thinking while enhancing their understanding of spider-related terminology.

** Parts of a Spider**
Discover the anatomy of a spider through colorful diagrams and clear labels. From eight legs to intricate spinnerets, your preschooler will learn the names and functions of each part, sparking an early interest in the world of arachnids.

**Spider Labeling Sheets**
Our set includes labeling sheets, allowing your little one to apply what they've learned. They can label body parts and stages of the spider's life cycle, reinforcing their knowledge in a fun and hands-on way.

Get ready to nurture your child's inquisitive mind and provide them with an educational experience like no other. Our Spider Labeling Printables for Preschoolers offer a stimulating and engaging platform for early learners to delve into the intriguing world of spiders while honing essential skills. Order now and let the learning adventure begin!
Please note: This is a digital product. No physical items will be shipped. After purchase, you will receive a link to download your printable pack.
Contact us
Crystal & Co.
P O Box 55263
Hurst, Texas 76054
crystalandcomp@yahoo.com
Sign up to our mailing list