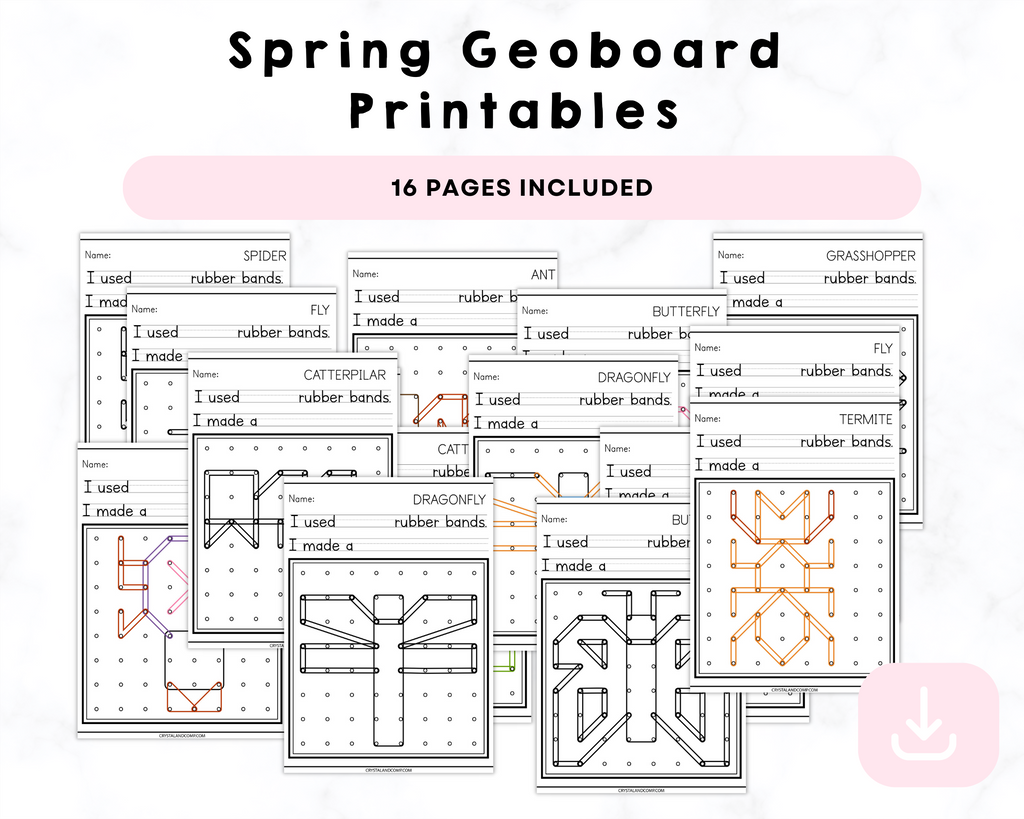 Spring Geoboard Printables
Spring Geoboard Printables
description
Introducing our Spring Geoboard Printables: a delightful 16-page activity pack designed to engage and educate preschoolers during the vibrant season of Spring. This product is carefully crafted to foster creativity, fine motor skills, and a love for learning from an early age.

**Product Features:**

1. **Seasonal Delight:** Our Spring Geoboard Printables capture the essence of the season, featuring cheerful designs that incorporate elements like flowers, butterflies, and more.

2. **Educational Fun:** Each of the 16 pages presents exciting geometric challenges, encouraging children to create shapes, patterns, and pictures using rubber bands on the geoboard. It's a hands-on way to introduce basic geometry concepts.

3. **Fine Motor Skills:** As young learners stretch and maneuver rubber bands to form shapes, they enhance their fine motor skills, aiding in hand-eye coordination and muscle development.

4. **Creativity Unleashed:** Let imaginations blossom with the variety of templates provided. From blooming flowers to buzzing insects, these printables inspire creativity and artistic expression.

5. **Print and Play:** Simply print the pages, and preschoolers can dive into a world of geometric exploration. The convenience of printing these resources allows for immediate play and learning.

6. **Perfect for Home or Classroom:** Ideal for both home and classroom settings, our Spring Geoboard Printables make a fantastic addition to any preschooler's learning toolkit.

**How to Use:**

1. **Print and Prepare:** Download and print the pages, ensuring a sufficient supply of rubber bands and a geoboard for each child.

2. **Engage and Explore:** Guide children to choose a printable and place it on the geoboard. Encourage them to stretch rubber bands over the dots, connecting them to create various shapes and designs.

3. **Discuss and Learn:** Use the activity as an opportunity to discuss the shapes and patterns being created. Introduce new geometric terms and challenge their creativity with open-ended questions.

4. **Celebrate Achievements:** Praise their efforts and celebrate the beautiful creations they've made, fostering a positive learning experience.

This Spring Geoboard Printables set is more than just a fun activity; it's a gateway to a world of mathematical discovery and artistic imagination for the little ones. Make Spring a season of growth and learning with this engaging educational resource.
Please note: This is a digital product. No physical items will be shipped. After purchase, you will receive a link to download your printable pack.