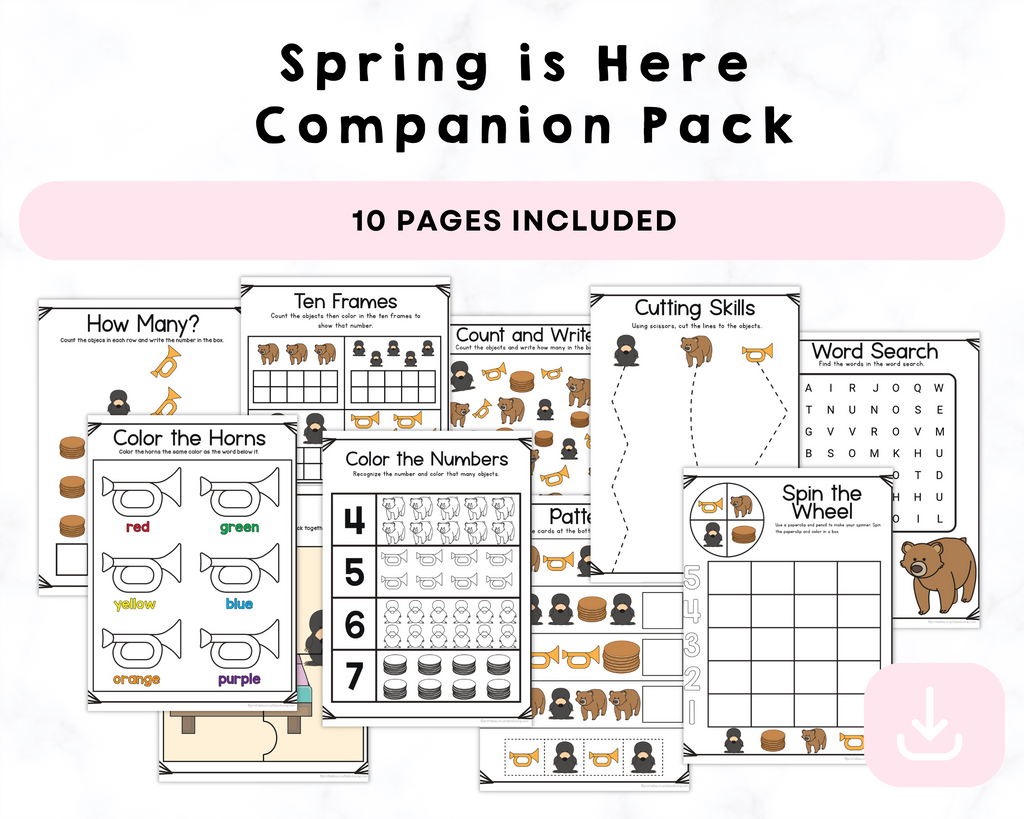 Spring is Here Companion Pack Printables
Spring is Here Companion Pack Printables
description
Introducing our 10-page Spring is Here Companion Pack, designed especially for curious preschoolers! Packed with vibrant colors, engaging activities, and a dash of educational fun, this companion pack is the perfect way to celebrate the blossoming season.

**Page 1: Color the Numbers**
Let your little ones dive into the world of numbers with our delightful 'Color the Numbers' activity. Each number is paired with a spring-themed image, encouraging both counting and creativity.

**Page 2: Cutting Skills**
Enhance fine motor skills and creativity with our 'Cutting Skills' page. Children can practice cutting along the lines to create beautiful spring shapes, boosting their dexterity and precision.

**Page 3: Word Search**
Challenge your budding wordsmiths with an exciting 'Word Search' puzzle. Packed with spring-related words, this activity will keep them engaged while enhancing their vocabulary and pattern recognition.

**Page 4: Spin the Wheel**
Take a spin into learning and laughter with our interactive 'Spin the Wheel' activity. This delightful feature encourages children to explore various aspects of spring while adding an element of surprise and excitement to the pack.

This 10-page Spring is Here Companion Pack is thoughtfully crafted to make learning enjoyable for your little ones. Each activity is designed to stimulate their creativity, develop essential skills, and foster a love for learning. Get ready to welcome spring with open arms and a world of educational fun!
Please note: This is a digital product. No physical items will be shipped. After purchase, you will receive a link to download your printable pack.
Contact us
Crystal & Co.
P O Box 55263
Hurst, Texas 76054
crystalandcomp@yahoo.com
Sign up to our mailing list