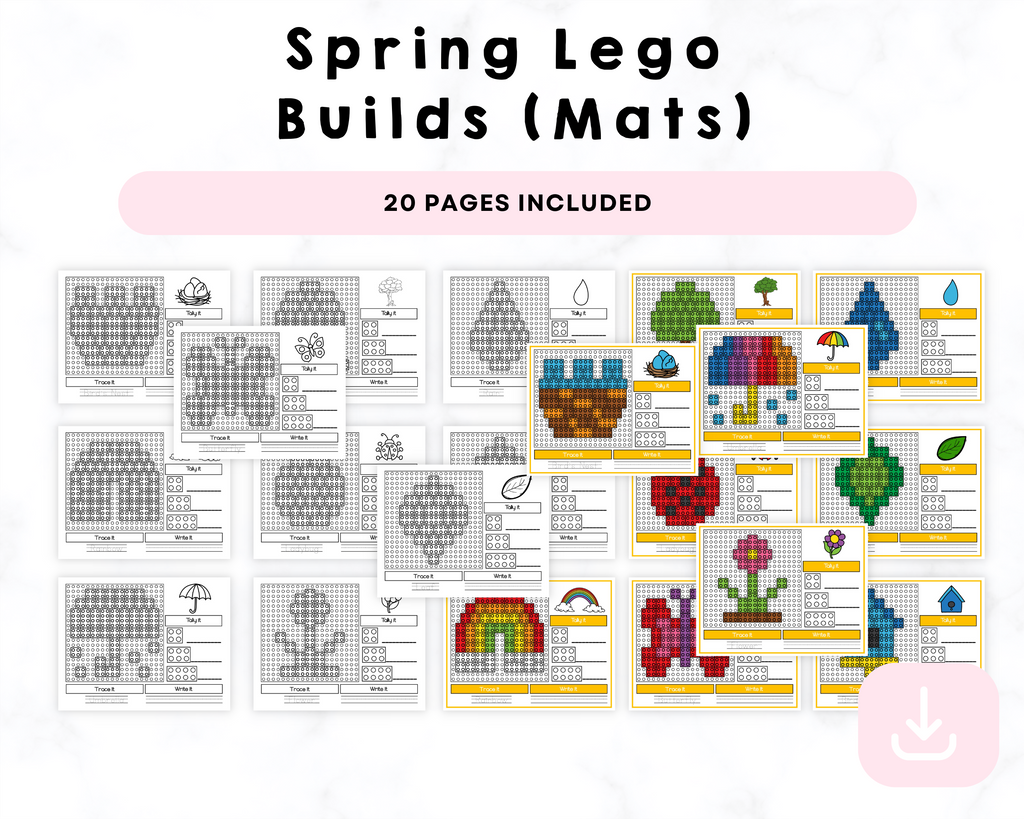 Spring Lego Builds (Mats) Printable
Spring Lego Builds (Mats) Printable
description
🌸 **Spring into Creativity with Our 20-Page Lego Builds (Mats) Printable for Preschoolers! 🌼🧱**

Elevate playtime to a whole new level with our Spring Lego Builds (Mats) Printable! This 20-page set is designed to inspire young builders, bringing the freshness of spring into their imaginative world. Watch as your preschoolers embark on a creative journey, one Lego at a time!

🔍 **What's Inside?**

Explore 20 vibrant pages featuring delightful spring-themed scenes and prompts. From blooming flowers to buzzing bees, each page is a canvas for young builders to bring their Lego creations to life. Foster fine motor skills, spatial awareness, and endless imaginative play with this unique and versatile printable set.

🌱 **Educational Benefits:**

1. **Fine Motor Development:** Engage little fingers in the intricate world of Lego building, promoting dexterity and precision.

2. **Imaginative Play:** Encourage storytelling and creativity as children construct their own springtime adventures with Lego bricks.

3. **Seasonal Exploration:** Introduce the wonders of spring in a hands-on way, linking playtime with real-world concepts.

📝 **How to Use:**

Simply print, lay out the mats, and let the building begin! These printables are perfect for solo play, group activities, or as a refreshing addition to your preschool curriculum. Enhance learning through play as children construct, deconstruct, and reconstruct their spring-themed masterpieces.

🌟 **Why Choose Our Lego Builds (Mats) Printable?**

- **Springtime Magic:** Professionally illustrated mats capture the essence of spring, providing a visually engaging and themed building experience.

- **Versatile Learning:** Ideal for open-ended play, our printable set accommodates various skill levels and allows for a range of creative expressions.

- **Easy to Print:** Hassle-free printing ensures quick access to endless hours of educational and imaginative play.

Please note: This is a digital product. No physical items will be shipped. After purchase, you will receive a link to download your printable pack.

Contact us
Crystal & Co.
P O Box 55263
Hurst, Texas 76054
crystalandcomp@yahoo.com
Sign up to our mailing list