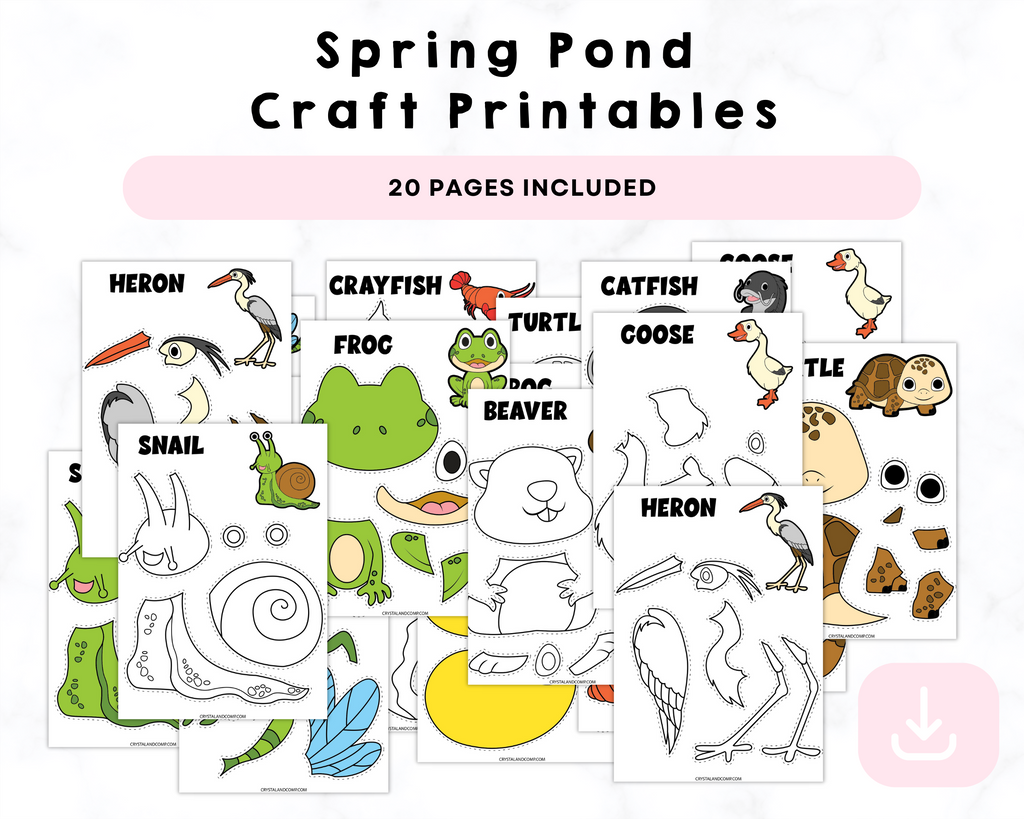 Spring Pond Craft Printables
Spring Pond Craft Printables
description
Introducing our delightful Spring Pond Craft Printables for preschoolers, a 20-page wonderland of creativity and learning! Dive into the vibrant world of spring with these engaging and educational printables designed specifically for young crafters.

🌼 **Explore the Beauty of Spring:**
Immerse your little ones in the enchanting season of spring with these 20 pages of carefully curated pond-themed illustrations. From blooming flowers to adorable critters, your preschoolers will discover the wonders of nature.

🎨 **Colorful Adventures Await:**
Watch as their imaginations come alive with a palette of vibrant colors! Encourage artistic expression and creativity as they bring the pond scenes to life using their favorite crayons, markers, or colored pencils.

✂️ **Perfect for Cutting and Pasting:**
Enhance fine motor skills and coordination as your little crafters engage in cutting and pasting activities. From frogs on lily pads to buzzing dragonflies, these printables offer exciting opportunities for hands-on crafting.

👶 **Designed for Preschoolers:**
Our craft printables are thoughtfully designed with young learners in mind. Simple outlines and clear designs make it easy for preschoolers to independently engage with the activities, fostering a sense of accomplishment and independence.

🌟 **Educational and Fun:**
Beyond the creativity, these printables provide a valuable educational experience. They promote shape recognition, color identification, and early counting skills, setting the stage for future learning.

🏞️ **A Pond-themed Adventure:**
Let your preschoolers embark on a journey through the pond as they meet cheerful frogs, graceful swans, and playful turtles. Each page tells a story, making learning enjoyable and imaginative.

💌 **Instant Digital Download:**
Receive these printables instantly upon purchase, so your little ones can start crafting and creating their pond adventure in no time. The convenience of digital download ensures a quick and seamless experience.

🌿 **Promote Bonding and Learning:**
Engage in quality time with your child as you guide them through this creative journey. Share giggles, stories, and learning moments while enjoying the wonders of spring together.

🌸 **Springtime Memories Await:**
Capture the joy and excitement of spring with our Spring Pond Craft Printables. Create lasting memories as your preschoolers proudly display their colorful pond scenes around your home.

Immerse your preschoolers in a world of color, creativity, and learning with our Spring Pond Craft Printables. Let the magic of spring unfold on paper, fostering growth and imagination in every young artist.
Please note: This is a digital product. No physical items will be shipped. After purchase, you will receive a link to download your printable pack.