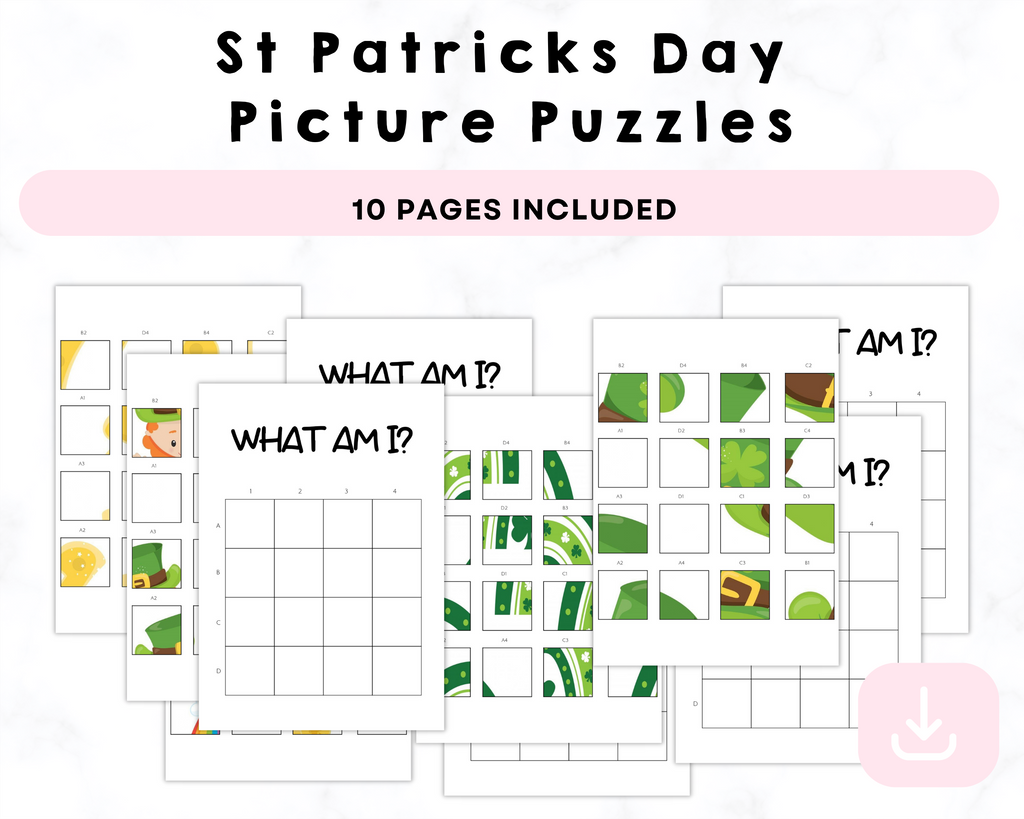 St Patricks Day Picture Puzzles Printables
St Patricks Day Picture Puzzles Printables
description
🍀 **Embark on a Puzzling Adventure this St. Patrick's Day with Our 10-Page Picture Puzzles for Preschoolers! 🌟🧩**

Make learning fun and festive with our St. Patrick's Day Picture Puzzles! Engage young minds with these 10 captivating pages of printable puzzles that blend the magic of St. Patrick's Day with the thrill of problem-solving.

🔍 **What's Inside?**

Each set includes 10 charming pages featuring delightful St. Patrick's Day illustrations transformed into puzzles. From mischievous leprechauns to shimmering rainbows, your little one will piece together the holiday spirit while developing crucial cognitive skills.

🧠 **Educational Benefits:**

1. **Problem-Solving Skills:** Watch as your preschooler hones problem-solving abilities by figuring out how the pieces fit together to complete each puzzle.

2. **Fine Motor Development:** Enhance fine motor skills as tiny fingers grasp, place, and maneuver puzzle pieces.

3. **Visual Discrimination:** Foster visual discrimination skills as children identify and match corresponding parts to create a cohesive picture.

📝 **How to Use:**

Simply print, cut, and let the puzzling begin! These printables are perfect for individual play, group activities, or as an engaging addition to your St. Patrick's Day lesson plans. Instantly turn any learning environment into a festive and educational celebration.

🌟 **Why Choose Our Picture Puzzles?**

- **Vibrant Illustrations:** Professionally crafted St. Patrick's Day designs that captivate and inspire young imaginations.

- **Varied Difficulty:** From simple puzzles for beginners to more complex challenges, there's a puzzle for every skill level.

- **Versatile Learning:** Ideal for both independent and collaborative play, promoting social interaction and teamwork.


Please note: This is a digital product. No physical items will be shipped. After purchase, you will receive a link to download your printable pack.

Contact us
Crystal & Co.
P O Box 55263
Hurst, Texas 76054
crystalandcomp@yahoo.com
Sign up to our mailing list