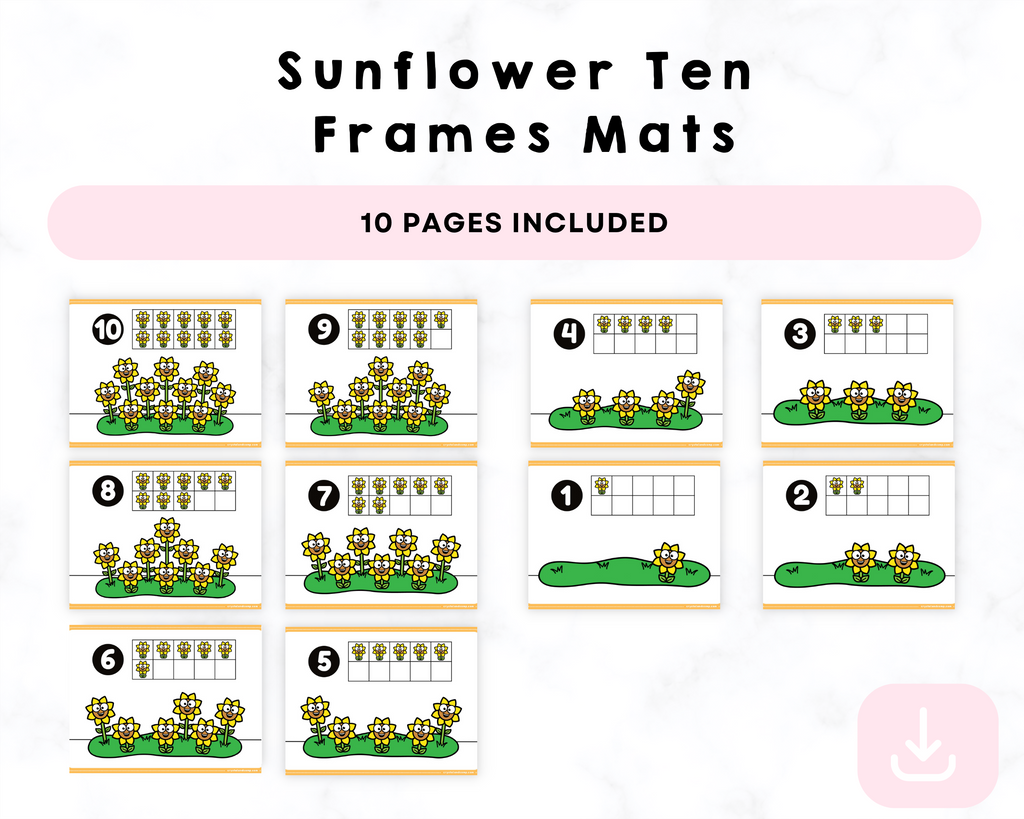 Sunflower Ten Frames Mats Printable
Sunflower Ten Frames Mats Printable
description
🌻🔢 Explore Counting Fun with Our 10-Page Sunflower Ten Frames Mats! Engaging Math Activities with Sunny Sunflower Designs! 🌟🌻
Dive into an exciting math adventure with our 10-page Sunflower Ten Frames Mats! Designed to make counting enjoyable and visually stimulating, these mats offer an interactive way for young learners to practice numbers and basic math concepts.
🔢🌻 What's Included?
Discover ten vibrant mats featuring charming sunflower designs with ten frames! Each page showcases a different sunflower-themed ten frame, allowing children to explore numbers, counting, and simple arithmetic in a delightful setting.
🌻🧮 Educational and Engaging Adventures:
Number Sense: Engage in counting and understanding numbers up to ten using ten frames.
Math Exploration: Foster basic addition and subtraction concepts in a playful sunflower-themed environment.
Visual Learning: Utilize ten frames as a visual aid for early mathematical comprehension.
📚👧👦 How to Use:
These printable mats are perfect for educators and parents seeking hands-on math activities. Use them during math lessons, as part of a homeschooling curriculum, or as fun math stations for young learners.
🌟🌻 Perfect for Early Math Skills:
Ideal for early numeracy development, our Sunflower Ten Frames Mats offer an entertaining way for kids to engage with numbers and mathematical concepts, all while enjoying the vibrant charm of sunflowers.
🔢🌻 Get Your 10-Page Sunflower Ten Frames Mats for Counting Fun Today! 🌟🧮🌻
Please note: This is a digital product. No physical items will be shipped. After purchase, you will receive a link to download your printable pack.
Contact us
Crystal & Co.
P O Box 55263
Hurst, Texas 76054
crystalandcomp@yahoo.com
Sign up to our mailing list